Ask an Expert
Ask an Expert: How much more should I price my apartment than the most recent sale in my line?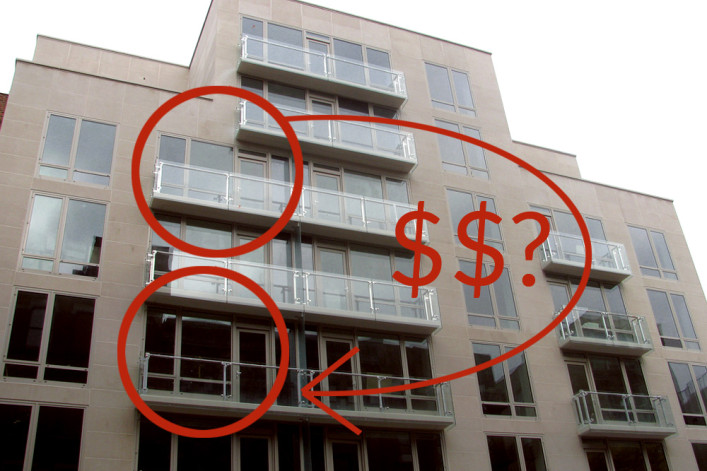 Q. Assuming all other things are equal (condition, light, view, etc), how much more should I price my condo than the most recent apartment that sold in my line and closed in October? 
A.  There's no one-size-fits all formula, say our experts, but there are a number of sound strategies for arriving at a reasonable price.
Shirley Hackel, real estate broker, Warburg Realty: Resist the temptation to price over the most recent sale of your line and instead set the asking for your condominium apartment at the recorded closed price of the unit that closed in October. Everyone will take notice that this is fair and realistic. It's far more effective to price on the mark rather than over the mark, as multiple buyers are likely to drive the price over the ask.  
When a well-priced offering comes to market, inventory-starved buyers and their agents rush to view. Within days, sellers' agents are collecting multiple bids, reviewing terms and evaluating financial profiles of prospective purchasers. 
Keep in mind that mortgage rates are higher than they were in October and creeping up. There's pressure on buyers not to wait but to buy now to take advantage of still low rates while they can.
I also recommend you hire an experienced agent to manage the marketing and the competitive bid process that will ensue. A skilled agent will strip the process of ego and emotions to maximize your return.
I w
ould try to understand what possible differences there are between that unit and yours even though it is in the same line. Is there a view break? Was the layout reconfigured? How does the condition compare? Was it highly personalized?
If all things point to "the same" then I would try to find out how long the other property was on the market, whether it was occupied by a tenant, and why it was sold (estate sale, divorce, lawsuit, job transfer, etc.).
 I'd also take a look at macro neighborhood trends here: http://aggregate-data.millersamuel.com  Look at average neighborhood prices and prices by number of bedrooms.
Then  look at active listings. Are there similar listings priced below the last sale in your building?   Does your line typically have several active listings at one time, but now there are none? Then price it higher.  Conversely, if you've got competition, price it on the lower side.
Deanna Kory, real estate broker, The Corcoran Group: According to Corcoran's market reports, the price of studios, one-bedrooms and two bedrooms are up about 3 percent since October, while three-bedrooms are flat. But there's a lot more to consider when figuring out how to price your apartment.
Building location makes a huge difference. The better the location, the higher the increase. Also consider demand for your size unit. Typically, two- to three-bedrooms can bear the most aggressive increase. It is best to consult a real estate broker for a specific analysis, but for a rough rule of thumb 5 to 10 percent above is generally a good place to start. 
Also consider how your floor height and view compare to the most recent sale. Usually developers add anywhere from $2-8K per floor for a 1-2 bedroom unless the view becomes super dramatic.  If the view of your unit is better or worse, it will affect the increase. 
If your apartment is renovated more recently or to a higher quality, or vice versa, that will affect value. And how the apartment shows is an often overlooked aspect that can add 3-5 percent or more! If you have a gorgeously decorated or staged apartment relative to the other, the increase will be greater. 
Roberta Axelrod, real estate broker and asset manager, Time Equities: It is best to consult a real estate broker for a specific analysis, but as a rough rule of thumb, 5 to 10 percent above the most recent comparable sale is generally a good place to start. That includes 5 percent to leave some negotiating room and an additional estimated 5 percent to account for the current rising market. 
That said, you need to adjust for items that aren't the same. Even if the unit is in the same line as yours, it will be on a different floor, which may have implications for view, light, noise etc. 
In addition, the availability of similar units in the building specifically and in the market generally needs to be factored in.  Also, unless you are willing to wait to sell, you may need to make a downward seasonal adjustment. 
Gordon Roberts, real estate broker, Warburg Realty: I'd get an opinion of value from the broker who handled the October sale, and ask if your apartment has improvements or other features, such as being on a higher floor, that could justify a higher asking price. The broker might even have an under-bidder who'd be a ready buyer for you.  
Although the most recent comparable sale in your building is an important element in pricing your apartment, I'd also look beyond your building to and evaluate pricing on current competition, days on market, price reductions, and the like. Going to a few open houses is also a good idea, and can help you see your apartment in a broader context, as a buyer would.
We find current buyers to be savvy and cautious, so you want to be careful not to overprice, or price way ahead of the market.  For that reason, one cannot simply say "take the October sale and add 10% to the selling price so you have room to negotiate." You do want to have some wiggle room in your price, but not so much that it strikes the wrong psychological chord and serves to drive away potential purchasers.
---
Trouble at home? Get your NYC apartment-dweller questions answered by an expert! Send us your questions.
See all Ask an Expert.
Related:
Ask an Expert: How much cheaper is an apartment in landlease building?
Ask an Expert: How much should maintenance fees affect the price of an apartment?
Ask an Expert: Should we sell our apartment when there's competition in the building?
Ask an Expert: How much is a higher floor worth?
The true value of an on-site storage unit
Will converting my half-bath into a laundry room hurt my resale value?
Brick Underground articles occasionally include the expertise of, or information about, advertising partners when relevant to the story. We will never promote an advertiser's product without making the relationship clear to our readers.