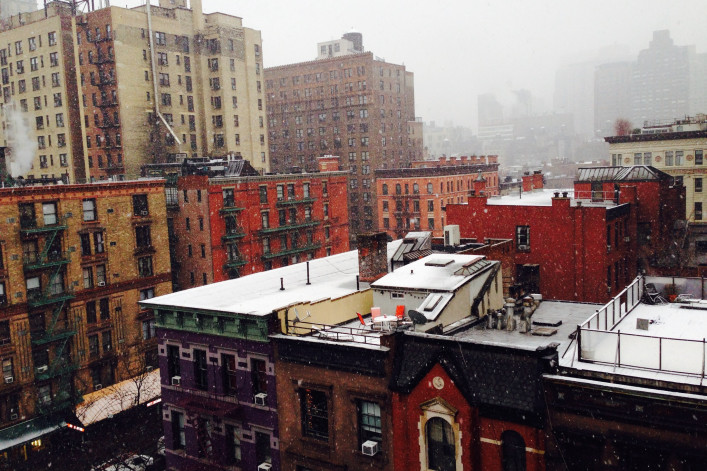 It's not expected to be a school-canceler, but the few inches of snow we're due for today will be enough to get the shovels scraping along the pavement. Accordingly, we've brushed off our snowday tips for vertical dwellers, along with some good-to-know info for more severe snowstorms.
Shoveling
If you live in a NYC apartment building, you're probably off the hook as far as manual labor, since shoveling is included in your maintenance charges/common charges/rent. (Exception: You live in a self-managed co-op/condo where residents are expected to pitch in.)
Even if you don't have to hoist a shovel yourself, it's always nice to offer a warm thank you and perhaps a steaming cup o' joe to the staff battling the elements on your behalf.
"On snow days where the staff spends most of the day outside cleaning, I'll usually buy the guys lunch, and believe me that goes a long way," resident manager Joseph Shkreli told BrickUnderground one recent winter. "It's not the point that they don't have to buy lunch that day. It is the appreciation that they feel that they have received for their hard work."
In possession of your very own brownstone?  If it's a fabulous townhouse with a radiant heated sidewalk with auto snow sensor, you have no problems whatsoever. 
But if you own a regular run-of-the-mill brownstone, remember to shovel and salt appropriately as defined by these city guidelines.  You might also take a moment today to make sure your insurance is up to date. 
"Home insurance will cover you if you are sued by a pedestrian who falls on a sidewalk--even if you didn't fully shovel and salt it," says insurance broker Jeff Schneider of Gotham Brokerage.
Plowing
Depending on how much snow arrives, it's not a bad idea to pick up a good pair of earplugs so you can sleep your way through the snowplows banging their way down your street tonight.
You can track the progress of snowplows and check your street's snow removal category with on the city's PlowNYC site.  
Digging out your car the day after a big storm
If you're lucky enough to find someone else to dig it out, expect to pay around $20-$25 if the snow is still fresh  (the easiest kind to remove) in a medium-sized storm.  Double that if you wait until the snow has hardened into an icy vise around your vehicle.
To get regular alerts on alternate-side-of-the-street parking suspensions, sign up here.
Indoor and outdoor etiquette
Tip extra-generously for any deliveries received.
When you take your dog out for an expeditious piece of business, remember that snowstorms are no excuse for "forgetting" to clean up after your pooch.  It's also good form to yellow the snow at a respectful distance from your building's awning. Your doorman and neighbors will thank you.
On your way back in, brush the snow off your dog and stamp your boots outside before heading through the lobby.  If you leave your slushy boots outside your front door to dry, bring them in the next day--not next week. 
Wondering whether you still have to pay your nanny if she takes a snow day? The answer is "maybe." (More on that here.) 
Emergency updates
Hopefully you're already signed up to receive emergency alerts from the city about everything from watermain breaks to tornados to blizzards, but if not  click on over to Notify NYC and subscribe for text, email or phone alerts.
Related posts:
Ask an Expert: Do renters have to shovel snow?
Real estate want: A dream townhouse with magic sidewalks
Do snow days apply to nannies?
Brick Underground articles occasionally include the expertise of, or information about, advertising partners when relevant to the story. We will never promote an advertiser's product without making the relationship clear to our readers.