The Market
PropertyShark QuickTip: How to check for liens before you make an offer (and why you should)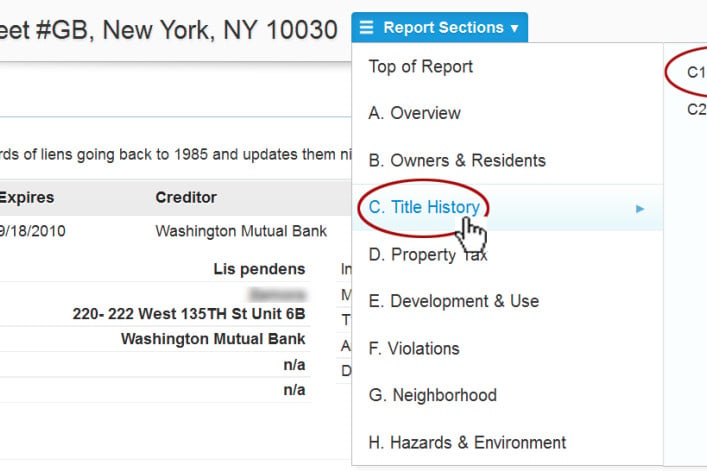 QUICKTIP:  Creditors' liens against a property can make a seller more negotiable. On the flip side, liens can also complicate a sale and underscore the need for a thorough property inspection, a sharp broker, and a diligent attorney.  
To learn about any liens before you make an offer, simply type the address into real estate data website PropertyShark to view a detailed property report ($9.95 each, or $39.95/month for 150 reports a month).
Then scroll to the Title History section, where you'll see all liens filed against the property going back to 1985--contractor liens (a.k.a. mechanics' liens), tax liens, liens for building code violations, and much more.   
Here's why you should care:
Time & hassle: When there are liens against the property, creditors will need to get involved before you can close.
"In most cases, the proceeds of the sale pay off the liens," says PropertyShark real estate data specialist Nancy Jorisch.  But the process can delay closings since more paperwork is required, and, if the value of the liens exceeds the property's purchase price, the bank will need to agree on what they'll settle for. 
Leverage: Knowing about a property's liens can be important information strategically. You may negotiate a better price if the owner needs to sell quickly to satisfy debts. 
Neglect: Both old and new liens can signal that repairs and maintenance to the property may have been neglected or done on the cheap--and that a thorough property inspection is in order.
"Even if a lien was placed two owners ago and paid off when the property was sold, it's valuable information because it tells you that there may have been some property neglect," says PropertyShark's Jorisch.  A lien for unpaid taxes or mortgage payments, for instance, indicates that owners were under financial stress--and any repairs that weren't absolutely necessary probably were not done or were done on the cheap.
"If the previous owners had a small oil tank leak, for example, they might have just patched it up quickly and tried instead to put that money towards the mortgage," says Jorisch. "You really should double-check the infrastructure before buying a home with a history of liens."
Problems with the building: While liens against the building itself won't stop the sale of individual apartments, they may indicate that the building is financially strapped, poorly managed, or embroiled in a dispute with a contractor (resulting in a mechanics' lien).  You and your attorney should conduct due diligence accordingly.
Nearby threats to property values: Mortgage-related liens in nearby properties could put downward pressure on local property values. To see foreclosure and pre-foreclosure activity in your prospective neighborhood, visit PropertyShark's maps of NYC Distressed Properties.
---
PropertyShark.com is a real estate website that provides in-depth data for more than 75 million properties in New York City, Philadelphia, Los Angeles, San Francisco Bay Area, and other major US markets. The company covers most of the U.S. with a primary focus on the New York real estate marketplace. Click here to see what services and data are offered in your area.
More from PropertyShark.com:
How to buy an apartment that's not for sale
How to find the real owner behind an LLC
3 more ways to find the real owner of a NYC property 
PropertyShark Map of the Month: Toxic sites in New York City
PropertyShark Map of the Month: See every groundfloor retail space in NYC--for your buying, renting and shopping convenience
Brick Underground articles occasionally include the expertise of, or information about, advertising partners when relevant to the story. We will never promote an advertiser's product without making the relationship clear to our readers.