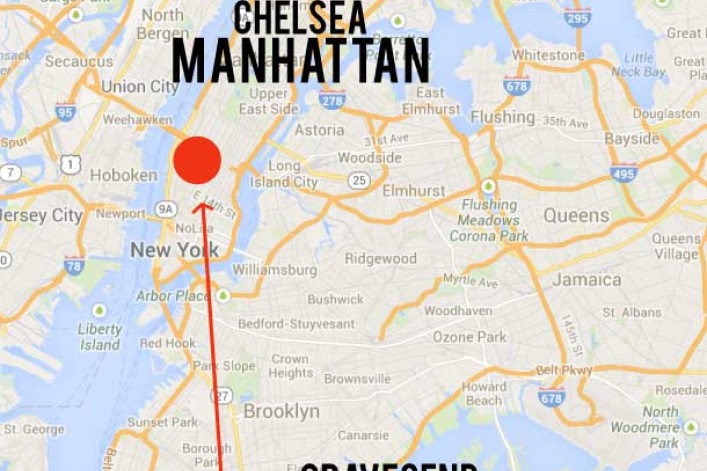 Three years ago when I graduated from college, I moved from my family's home on Lake Street near Avenue S in Gravesend, Brooklyn, into a three-bedroom apartment on 26th Street and Sixth Avenue in Chelsea, Manhattan with two roommates. 
Growing up in Gravesend was homey and familiar. My mother grew up three blocks from where I grew up, my grandmother lived down the block and my school and my parish were all a block away. The neighborhood had a strong Italian-American presence I could identify with and the sense of community was a big plus. 
Gravesend has become more multicultural since I grew up there, and it's a great place to live if you like a diversity of culture, thought and opinion. The neighborhood's many eateries are a big plus. I love Sahara, a Turkish restaurant on Coney Island Avenue and Avenue T, Joy Li, a Chinese restaurant on Avenue U and East Eight Street, and L&B Spumoni Garden, an Italian restaurant on 86th Street between West 10th and 11th streets.
Also nearby is the Ocean Parkway running trail, which I think is quite picturesque, especially in the spring and fall months. You can literally jog your way to a different Brooklyn neighborhood. 
I also liked that I could walk a few blocks in any direction and find a mode of transportation to take me anywhere in the city. The F, N and D train lines were a few blocks from my home, and the B3 Avenue U bus and B12 Kings Highway buses were just as close. I felt as though I had New York City at my fingertips. 
I started looking for an apartment in Manhattan when I began my professional career as a management consultant. My office is on East 42nd Street and Madison Avenue, and I wanted to find a place that was convenient to get to work from.
There were a couple of other key requirements my roommates and I had when searching for an apartment: We were looking for a no fee building with a doorman, preferably on the West Side, an area that was easily accessible to other neighborhoods and a young and trendy area that had a lot going on within walking distance. The apartment that we found in Chelsea fit all of those criteria. 
We rented a two-bedroom apartment that was converted into a three-bedroom. We weren't allowed to put up a full wall or install a door to create the third bedroom, and instead the building put in a bookshelf, which goes up about two thirds the way to the ceiling. That bedroom cuts the living room in half.
The apartment rents for about $6,000 per month, and we each pay between $1,800 and $2,200. It's expensive, and that can definitely be a negative. But there are many pluses to living in the building.
We live on the 33rd floor and the views are some of the best in all of New York City. We have a washer and dryer in our apartment, but there is a laundry room for units that don't have those facilities. There is a valet service where you can bring down clothes for dry cleaning that will be returned the same day, and there is a maid service that you can opt for.  
I like that Chelsea is a very young neighborhood, and our specific section of Chelsea is very up and coming. There are new bars and restaurants popping up along West 26th Street all the time.
Want to try a new Korean hotspot or southern fusion place? You can find a place in Chelsea. Eataly, a high-end Italian food market and mall near the Flatiron, is a favorite spot of mine. They have a ton of small restaurants in Eataly proper, and I highly recommend Manzo. The Ainsworth, an American restaurant and sports bar on 26th Street between Sixth and Seventh avenues, is a big draw. Also popular is the Flatiron Room, a cool speakeasy that's only a block away. 
The proximity of my apartment to Madison Square Park is a great plus. That area is fun and beautiful, and it's not as overwhelming as some might find Central Park; it's Flatiron's own little haven. Even more convenient in Chelsea than in Gravesend is public transportation, which is saying something. All train lines are accessible from the neighborhood. 
Overall, Gravesend is great for families and is a good neighborhood for those who have a tie to it, such as family or a history with the neighborhood, but for where I am in my life, Chelsea is the best place for me. 
---
Transitions highlights New Yorkers' first impressions as they transition from one neighborhood to another. Want to tell us your transition story? Drop us an email.
Brick Underground articles occasionally include the expertise of, or information about, advertising partners when relevant to the story. We will never promote an advertiser's product without making the relationship clear to our readers.