Transitions
Alphabet City to Greenwich Village: What I gained in convenience, I lost in charm and NYC nuttiness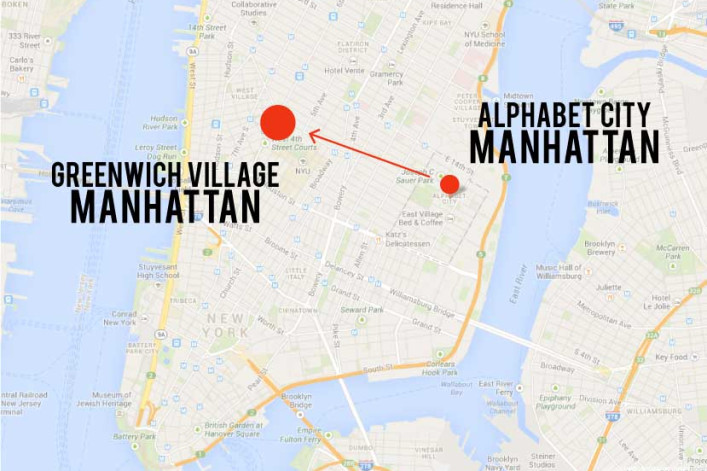 When I started out in Alphabet City, my rent was $1,650 for a reasonably sized fourth floor walk-up studio, but utilities pushed it closer to $2,000. On the corner of 11th Street and Avenue B, the building had a lot of personality. Graffiti covered its north wall, and there was a real backyard—complete with a swing, fire pit, barbeque and tons of sunflowers.
The building only had six apartments in it, a very absent super, and a landlord that lived somewhere in the Deep South. 
The commute to my office, located on West 33rd Street and Tenth Avenue, was brutal. If everything was running smoothly, it would take about 30 minutes. On a bad day, it was over an hour.
The M14 bus never ran on schedule, and the L train, two avenues away, felt like it barely ran during the week, and often shut down on the weekend. I found myself staying in Alphabet City on weekends; it was a pain to get anywhere else by public transportation. 
That said, the neighborhood was not short on activities. My block was home to many great restaurants and bars in every price range, from high-end taqueria Mercadito to B Side, home of $3 drink specials.
While the rent, backyard and local dives were good, the building needed major improvements, especially as major construction on a luxury building began next door and had begun to affect the foundation of the 100-year-old boarding house I called home.
I was getting frustrated with carrying my groceries from the train—Trader Joes in Union Square is closest large, cheap grocery store. Even my pharmacy and gym were at least a 15- minute walk from my apartment. 
I was in the market to buy, and settled on a junior one-bedroom in Greenwich Village, on Eighth Street between Greene and Mercer. Because the construction had gotten so bad, my landlord allowed me to break my lease when it was convenient for me.
After almost three years in the studio, I was sad to leave but relieved that my new pad was around the corner from almost every subway: 4/5/6 was right in Astor Place, N/Q/R on Broadway and A/C/E a five-minute walk away on Sixth Avenue. The Path  train was also right on Sixth Avenue and West 9th Street, and my work sometimes requires I travel to Jersey City so this was an added bonus. 
While the two neighborhoods are so close together, my move made a world of difference, both good and bad. What I gained in convenience—there are two big name pharmacies, a grocery store, and a gym on my block—I lost in quirkiness and personality.
Eighth Street is home to many NYU buildings, and dorms, and attracts chains like Chipotle and Crumbs rather than Alphabet City's charming San Loco and Butter Lane. 
Overall though, I am happy with my move. It's much easier to see friends, explore the city and get to work from my new, more central location. It's nice being a homeowner, and to have a real bedroom.
While Greenwich Village is more logical, I do find myself in Alphabet City at least once a week for the nightlife. If Avenue A ever gets a subway line, I'll put my apartment on the market in a flash to get back to the oddities of Alphabet City.  
---
Transitions highlights New Yorkers' first impressions as they transition from one neighborhood to another. Want to tell us your transition story? Drop us an email.
Brick Underground articles occasionally include the expertise of, or information about, advertising partners when relevant to the story. We will never promote an advertiser's product without making the relationship clear to our readers.