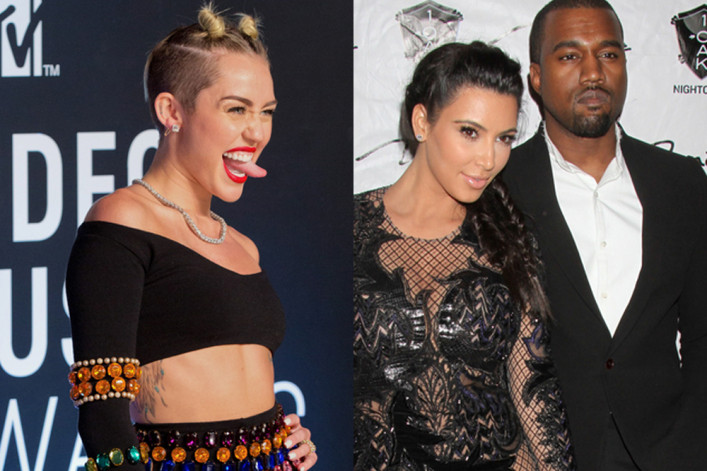 New Yorkers are used to living with, next to, above or below all kinds of people -- yup, even celebrities. But for this celebrity edition of Would  You Rather we are testing their limits. We asked: Would you rather live next to the attention-craving Miley Cyrus, or celebrity coupling of the year Kim Kardashian and Kanye West?
Miley There's isn't a penthouse loft big enough for Kanye and his ego. Miley Cyrus is cool. I like that wrecking ball song. As long as she doesn't bring her dad to sing Achy Breaky Heart, I'm down. - Liza, Moriningside Heights
Miley I don't care as long as it isn't Amanda Bynes. But Miley, I guess. At least there's just one of her vs. two of them.  - Katrin, Chelsea
Miley Miley Cyrus. She's not really that as crazy as everyone is making her out to be. What has she done aside from a bit of twerking? Remember Britney shaved her head and bashed a car with an umbrella. That's crazy. Miley? Meh.  - Brady, Brooklyn Heights
Miley Miley will always be [Disney Channel's]Hannah Montana to me. Cute and cool. Kim K, Kanye, and Knorth West? They're real klassy with a K. Wouldn't want them in my building. No way. - Geoff, Chelsea
Miley Kim Kardashian is an idiot who should stay living in L.A. in a house with a fence around it. She should not be allowed to live in close proximity with New Yorkers. Miley is awful in her own way but I'll take it. And if she gets back together with that Liam Hemsworth hunk...Well I wouldn't mind running into him at the building gym! - Sheila, Harlem
Kim and Kanye Kim and Kanye, man. She's hot and he's cool. They can move right in. -Mikey, Midtown West
Verdict: Kim and Kanye (and Baby North West): 1, Miley Cyrus: 5
Winner: Miley Cyrus, by a landslide. 'Cause a bit of twerking never killed anyone.
Related posts:
Would you rather...live a great apartment in a so-so neighborhood or a great neighborhood and a so-so apartment?
Would you rather have a galley kitchen or an open kitchen?
Would you rather...have a live-in super or a doorman?
Would you rather...live in a penthouse or a townhouse?
Would you rather...live above the Second Avenue Subway construction or above a Subway sandwich shop?
Would you rather... have pre-war charm or modern convenience?
Would you rather...have a two-bathroom apartment or a one-bathroom with a washer-dryer?
Would you rather...live in a fabulous 4th floor walk-up, or a plain-vanilla elevator building abode?
Brick Underground articles occasionally include the expertise of, or information about, advertising partners when relevant to the story. We will never promote an advertiser's product without making the relationship clear to our readers.