Live
Doormen speak: What's a good holiday tip, the best cash alternatives, the best time to tip, and more
The best way to understand and ace tipping season is to speak to the people for whom it's a pretty big deal: doormen. For that reason, we made it our business to find out about their best tips ever, how much they expect, what they think is a fair tip, the best alternatives to cash, and much more. 
[This post first ran in 2013 and was updated in November 2017.]
The best tip ever
Among the more than two dozen doormen we interviewed, the record-breaking tip was $1,000. Most others said their highest tips from individuals were between $200 and $350. 
The average tip
Most doormen said they received on average $25-$75 per apartment. That number skewed much higher on the Upper East Side where $50-$100 is considered fair. More is obviously appreciated. Most doormen in co-ops and condos told us they're bringing in anywhere from $3,000 to $13,000 in total holiday tips.
"The majority of families will give $100 and above. For some families I'll see $300, $500," said one Upper East Side co-op doorman. "It all just depends—how long they've been here, whether they own or rent the apartment. Those factors change the amount given."
But the amount can also depend on the size of the building.
"In smaller buildings, bigger tips are more common. Here, many of the tenants give around $20-$50 at the holidays," said a doorman at an over-600-unit Union Square-area condo building. That makes sense if you think that the building residents have dozens of people to tip, though it may seem unfair to doormen who work just as hard in a larger building (if not harder).
One Prospect Heights doorman in a rental building adds that it can also depend on the a resident's financial year. 
"Tips depend on the person and how their pockets are doing," he says. "Some people will give $50, some will give $500-$600."
The takeaway: be generous and within your means.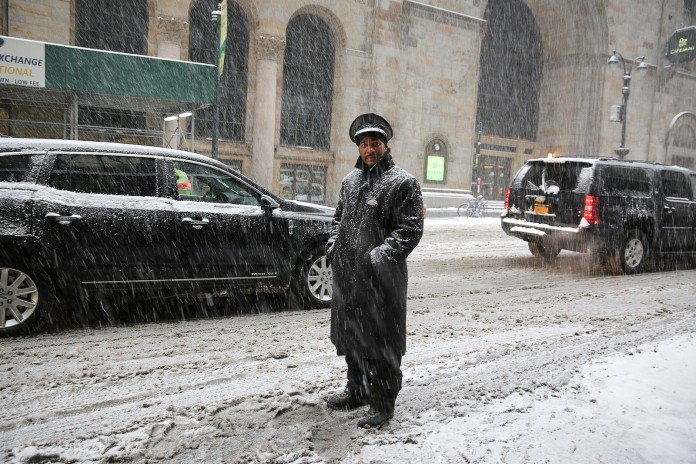 When to tip
On holidays
"I prefer holiday time. I think of it as a gift, and it's nice to have that gift during the best time of year"—Doorman in a luxury condo building in Hunters Point, Queens

"I like holiday tipping. It's festive. It's nice to have that at the end of the year. Plus, when it gets cold and there's a bit of snow, people get the holiday spirit, people are very generous. If there's no snow and it's not cold, the mood is very, very different. I can tell in the tips."—Doorman in a Harlem condo building

"Every now and then you'll get handed tips during the year, but that only happens every once in a while... I'd rather be taken care of at the holidays."—Doorman in a rental building in Prospect Heights

"Holidays, definitely. The tips go straight to presents for my kids."—Doorman in a luxury condo building in Hunters Point
Throughout the year
"I prefer throughout the year, especially because people move in and out so much. You never know if someone who you help carry things for daily is going to stay until the holidays."—Doorman in a luxury rental in Hunters Point, Queens
Both is best
"I get both here. This building is new, it's nice, and I'm here almost 60 hours a week. They're generous and most people will double tip: holiday and regular. That's what I really want to get."—Doorman in a luxury condo building in Long Island City
Earlier in the holiday season
"I would have people tip way earlier, like before Black Friday. That's when I actually need the money, instead of during the week of Christmas."—Doorman in a luxury condo in Hunters Point
Desired changes in the tipping system 
No more tipping pools
"Tipping pools are so impersonal. I like getting a special gift with a card from someone, a nice note."—Doorman in a luxury condo building in Hunters Point
"I don't like when somebody hands me all the tips and I'm expected to hand them out to everybody. Give your gift personally! It's a gift. I don't want to hand them out!"—Doorman in a Harlem condo building
Tipping for helpful work
"Maybe just tipping for being helpful, not because it's a holiday. The people who live here, I don't think they know how much it helps us to get that extra cash on a week where we didn't get enough hours."—Doorman in a luxury rental building in Hunters Point
Don't forget the other guys
"It's pretty obvious to tip the door guys and super, but we got 15 guys working here. No one tips the guy who fixes the boiler 'cause they don't really know him, but he's a good dude. He deserves a tip. All the maintenance guys do."—Doorman in large condo building in Astoria
What to give instead of cash
A simple thank-you or acknowledgement
"Tips depend on the person, and you might get a couple hundred, but the most rewarding thing is when people say thank you for your job. The money, it helps, but that's not the most important."—Doorman at a Prospect Heights co-op who's been in the business for 25 years
"The most annoying thing in this job is to say hello to someone as they're coming or going and get nothing in return. Just acknowledging a person and showing you appreciate them goes a long way."—Doorman in a Park Slope co-op
Cookies or other food
"Some residents do bake us goodies, which I appreciate. One apartment has kids that bake me cookies, but not just for holidays, it's more year-round."—Doorman at a Carnegie Hill co-op
"I work on Christmas Day, and sometimes people will invite you over to their apartment to eat. Lots of people will also give food. In January, I'm still eating what they gave me. Others will give bottles of wine and cheese baskets."—Doorman at a Prospect Heights rental building
Gift cards
"Gift cards are always nice. I like shopping. Some people's thing is cookies, but usually there's cash or a gift card, too. But I like cookies when the kids make them and give them to you."—Doorman in a Harlem co-op 
Christmas and other winter-themed gifts
"Getting cards is nice. I like those. There are some people who get all the doormen Christmas ornaments. That's cool too. Even if they don't tip, it's a cool present to remember them by."—Doorman in a large condo building in Astoria
"Sometimes little gifts are better than money. During the winter, I sometimes get hats, scarves, gloves. One nice tenant got me a great tie. It's the little things, too."—Doorman in a large Union Square rental building
Personal gifts
"Instead of cash, some people will give books or gift cards to Barnes and Noble, which I appreciate since I have kids. I'm also an aspiring chef, and some people will trade recipes with me or bring me dishes, out of knowing me and what I love to do."—Doorman in a Prospect Heights co-op
"The best gift I got once was an air conditioner."—Doorman at a Prospect Heights rental building
Year-to-year tipping 
Yes, most doormen keep a record of who gave them what
"I have a chart. We all do, so we know who to thank."—Doorman in a Flatiron condo building
Why people change what they tip  
"It's less about the economy, and more about how long they've lived there. Longer tenants always tip more. Especially the ones I know, that I joke around with. It's basically what you'd expect: the tenants that talk to me most, tip me most."—Doorman at a mid-size Lenox Hill co-op
"It always changes. It depends on lots of things, how many guys [doormen] are working that year, what's up with the management. If they're pissed off at the super, I feel it in my pocket."—Doorman in a large condo building in Hunters Point
"When the economy is broken down, it's not too good. Now that the economy is getting better, the tips are getting better." —Doorman at a Park Slope condo building
Which neighborhood tips best?  
Manhattan
"Manhattan is definitely better to work in during this time of year. I have friends at co-ops and hotels and they say it's definitely better."—Prospect Heights co-op doorman
"In the city at buildings like the Dakota (where John Lennon lived), people would hand me tips on a daily basis."—Doorman at a Prospect  Heights rental 
"In Manhattan, even in Williamsburg, it's better. The people have more money. Here in Long Island City, they've got a champagne taste but a beer budget." —Doorman in a large condo building in Hunters Point
"At the holiday time, nothing compares to working on Central Park West near the high 80s."—Doorman in a Prospect Heights condo who's worked in Manhattan
Anywhere with families
"This is a good neighborhood to work in during the holiday season."—Doorman in a mid-size Park Slope co-op building
"I used to be in FiDi, and those were pretty terrible. They were renters, but like five guys to an apartment. They never tipped. It's better here, more families. They care more."—Doorman in a Hunters Point rental building
Brick Underground articles occasionally include the expertise of, or information about, advertising partners when relevant to the story. We will never promote an advertiser's product without making the relationship clear to our readers.