Transitions
Yorkville to Crown Heights: Our new neighborhood is not exactly happening, but there's a lot more bang for your buck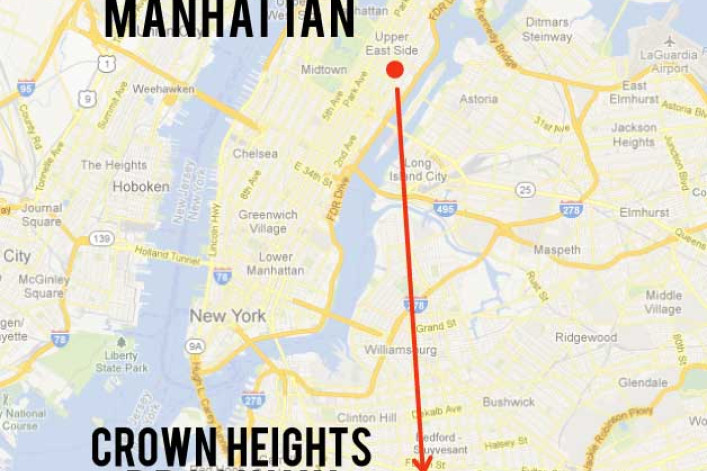 I originally moved to Yorkville, a small neighborhood on the  far east side of the Upper East Side, because I was still in school at NYU and really wanted to stay in the borough. Plus it's one of the more affordable options in Manhattan.
I lived on East 82nd Street and York Avenue for two years, just a couple of blocks from the FDR and East River. Yorkville was a safe and quiet neighborhood, albeit a bit boring and homogenous. The area was mostly full of little old ladies and children with nannies. 
My apartment was a two-bedroom, fifth floor walkup, with a smallish common area and a tiny, yet adorable kitchen. The total rent was $2,050 a month. My bedroom was quite small—just big enough for a twin bed, skinny dresser and small desk—but I did have a good-sized closet. I lived with a roommate who had a slightly larger bedroom, though her closet was in the hallway and her light switch was in the kitchen. All in all though, there was a lot of light and the space felt more cozy than cramped.
The great thing about the location was the proximity to Carl Schurz Park and the East River. It was always nice to go there for a walk or to sunbathe on the lawn. Central Park and the Metropolitan Museum were both just a few minutes on the crosstown bus, or a 25-minute walk.
There were some decent restaurants, like Ko Sushi. The bar scene was just ok, but Brandy's Piano Bar is a lot of fun for those who like show tunes and live music. 
However, the biggest downside to the neighborhood was the very long walk to the subway. Going from York Avenue to Lexington Avenue to catch the 6 train takes about 15 minutes, if you hustle. Friends only visited our place once. After making the hike from the subway and dragging themselves up four flights of stairs, they didn't really want to come back. 
Being able to take a quick cab down to the Lower East Side via the FDR was a draw, but after we graduated and spend fewer late nights on the LES, it wasn't really worth it to stay in Yorkville anymore. 
I recently moved to the traditionally Hasidic Jewish neighborhood of Crown Heights to live with my boyfriend. That was the primary reason, but I also wanted to be in Brooklyn because I knew I'd get more space for less money. 
Crown Heights definitely delivered on that front. Our apartment was gut renovated a year ago and is located on Carroll Street and Albany Avenue on a very quiet, pretty block. Our monthly rent is $1,585, and we have a large bedroom and an enormous living room—so large that we didn't have enough furniture to fill it when we moved in.
The kitchen has tons of cabinet space, nice new counters, and best of all, a washer and dryer. Also, since we're in such a heavily Hasidic neighborhood, there are two sinks in the kitchen for keeping Kosher.
So far, the neighborhood has been a really interesting place to live. The West Indian Day Parade was practically on our doorstep, and then a few weeks later, there were live chickens being sold on the street for Yom Kippur.
The fact that our immediate area is mostly Hasidic means that everything is closed on Saturdays, and at sundown on Friday, a siren goes off to let everyone know it's the Sabbath. All the convenience stores nearby sell only Kosher food and everything is labeled in Hebrew, so it kind of feels like living in a foreign country. Even though we don't exactly fit in, most of our neighbors have been friendly.
Bunch-O-Bagels is already a Sunday morning favorite. Though there isn't a ton to do in the area, we can take the subway one stop to Franklin Avenue on the 3 express for access to all of the cool restaurants and bars near Grand Army Plaza. Plus, we're a nice bike ride away from Prospect Park. 
The subway is a 7-minute walk away, and my commute to work is about 50 minutes door-to-door. The best part is that I get on the express train at the last stop (Utica Avenue), so I always get a seat. I can relax, read my book and drink my coffee—then 30 minutes later, I'm at Grand Central. 
Overall, we're very happy with the location and the apartment. It's much more spacious and feels more like a grown-up's rather than a college kid's, with the added benefit of never having to go to the laundromat!
---
Transitions highlights New Yorkers' first impressions as they transition from one neighborhood to another. Want to tell us your transition story? Drop us an email.
Brick Underground articles occasionally include the expertise of, or information about, advertising partners when relevant to the story. We will never promote an advertiser's product without making the relationship clear to our readers.