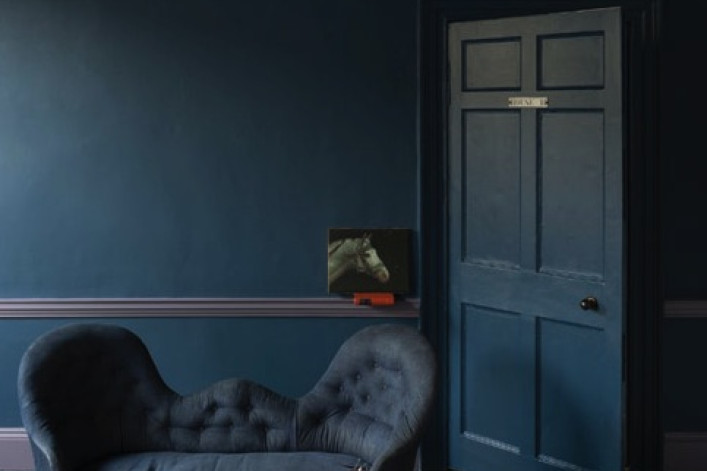 The stark white paint your super used may cover up the previous tenants' paint job, but can make your place feel more like a hospital than a home.
To provide some color inspiration, we polled interior designers, local paint stores and paint companies to find out which shades are most popular in our fair city. And some of the same ones kept coming up again and again. 
What do they have in common?
"They all have a gray undertone, which is what is trending right now," says interior designer Vianca Rojas of Vanessa DeLeon Associates. "They are muted, serene, and simple."
Below, six favorites you might want to consider for your walls.
1. Super Nova 1414 from Benjamin Moore, $36.99- $67.99 per gallon
A rich, saturated dark purple with grayish hues, Super Nova would work well as an accent wall in a bedroom or living room, especially with a muted trim or minimalist décor. 
"A classic color, as elegant and as timeless as it is fashion-forward," says Rojas.
2. Stiffkey Blue No. 281 from Farrow & Ball , $92.50 or $105 a gallon
We're suspecting you won't feel blue if  you pick up a pot of this deep yet vibrant blue shade from English paint manufacturer Farrow & Ball. Named for the famed blue-hued mud of Stiffkey beach in Norfolk, England, the company favors colors that "bring us back in touch with nature."
"I'm loving Stiffkey Blue! I'm going to be using it in a game room soon. It's a moody color so I'll be using it to set a cool, upscale look," says Vaughan. 
3. Casual Day 2032 from Clark+Kensington, $33.99 per gallon
This pale green paint with yellow undertones is reminiscent of early spring. It's great for brightening up a dining room or kitchen, and light enough to liven up a room without overwhelming a small space.  
"Casual Day could be paired as an accent color with Super Nova [#1 above]--perfect for a home office space where the Casual Day is the color of the insets of the bookcases and Super Nova is the wall color," says Rojas.
4. 7660 Earl Grey from Sherwin-Williams, $35 per gallon
Though gray is the color that surrounds us everyday as city dwellers (think sidewalks to skyscrapers), in the past it's been overlooked for interior decorating. Not anymore. Gray is now a hot wall color, and Earl Grey is a cool neutral that creates a modern look and works well with a bunch of accent hues, from yellow to purple. It's no wonder many of our sources pointed to it.
"Neutral tones don't compete with the bold and patterned furniture and accessories in the space," says Rojas.
5. Rich Chocolate 1005-9A from Valspar, $42 or $51 per gallon
Inspired by common colors in the Victorian era and created in collaboration with the National Trust for Historic Preservation, Rich Chocolate is a subdued brown that pairs well with other, lighter earth tones for a warm, elegant look.  It is best used in a larger room (or risk making a small room look smaller), all the better to show off your collection of Victorian antiques — or, ahem, your West Elm furniture.
"Rich Chocolate would be a great entry hall color: dark, somber, setting a dramatic tone for the rest of the apartment. Or it could be a warm, velvety color for a dining room," says Elizabeth Vaughan of In-Site Interior Design.
6. White Dove OC-17 from Benjamin Moore, $36.99-$67.99 per gallon
Of course, white—and all of its variations—will always remain one of the most popular interior paint choices. White Dove, though, stands out (and is probably the most popular of all). A soft, all-purpose white equally suited for trim, ceiling or walls, White Dove was recommended to us by five different hardware stores in New York as a popular paint choice.
Rojas calls it "a classic softly shaded white – perfect for trim and moldings."
But Vaughan says she's not a fan: "I use it regularly for wood trim if there is a warmer color scheme, [but] it is a yellowy white and I really prefer greyer whites."  
Related posts:
NYC Renovation Chronicles: 3 DIY projects worth trying yourself
NYC Renovation Questions: What are the best paint colors for an apartment?
Brick Underground articles occasionally include the expertise of, or information about, advertising partners when relevant to the story. We will never promote an advertiser's product without making the relationship clear to our readers.