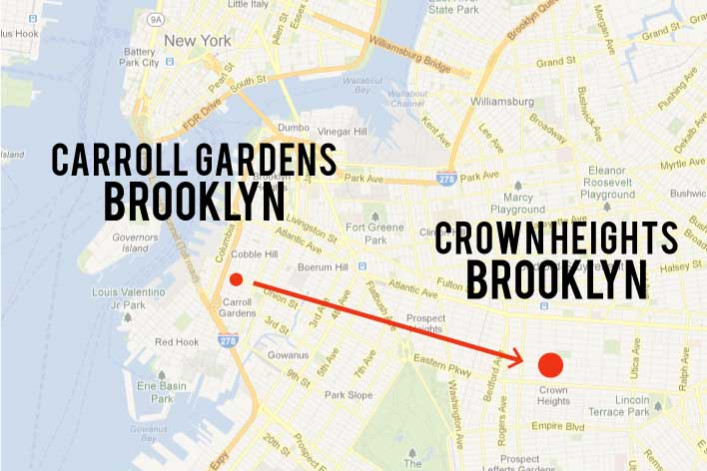 We moved to Carroll Gardens twice. The first time was when we originally moved to New York in 2005, and the second time, a few years later, was after grad school.  
Most recently, we lived above Court Street Grocers. We loved it, loved the neighborhood. It still had a neighborhood feel without tons of foot traffic from outside the neighborhood. By the time we left last spring, it was definitely more crowded, with people spilling out of the restaurants and bars nearby.
The end of Smith Street that we lived on was full of construction,  and it was easy to find street parking there.  And we were nearly equidistant from the Red Hook Fairway and the Court Street Trader Joe's that opened while we there.
Our apartment itself  was 600 square feet, and it was a bit of a weird space--with no real door on the bedroom, and a space divider instead.  Ben is a chef, and the kitchen had a full stove but no dishwasher (we ended up getting a small, half-sized dishwasher), so it was not ideal at all. You also had to walk through the kitchen to get anywhere. It was perfectly functional, just railroad-y.
The building was a co-op with only two rentals--our one-bedroom and another, our neighbor's. After staying as long as allowed by co-op rules, we were given the right of first refusal to buy it. And we gave it a lot of thought. A lot. But the neighbor's apartment, where no work had been done, went for $400,000. That was a bit high for us, and the apartment just didn't seem worth it. And we knew that if we were to start a family, we couldn't live in this apartment; we'd need to sell immediately.
We started looking in February.  We were looking for more space. If we were moving out of a prime neighborhood, we needed to be compensated in terms of the amount of space needed to make it worth it. We needed the next place to be big enough to not have to move again right away  if we started a family.
When we were looking, one thing that was in our minds was that our social life was no longer as much on Smith Street and Court Street but more Fort Greene and Prospect Heights. Many of our friends have aged out of the former neighborhoods and are having families and moving to the latter neighborhoods.
We looked in Gowanus, too, but there was nothing that fit our criteria. We looked in Williamsburg but the idea of walking past aluminum siding to the train was not appealing. I wanted some architecture to make my walk interesting.
The process was incredibly competitive; we'd see places that were interesting but already had eight applications in. We worked we brokers, even with their crazy fees. We tried looking on our own but got jerked around with bait-and-switch postings.
We finally saw our place in Crown Heights on StreetEasy; all the photos were of an apartment under construction. With 650 square feet listed, it sounded small but the photos suggested it was bigger.
 When we saw it, the floors were being done, so we could only peek in, still not getting a full picture of the place.The apartment turned out to be 1,200-square-feet, with an amazing ceiling, original hardwood floors, beautiful moldings. nine closets, a separate dining room and surprisingly quiet. All for $700 less than we were paying in Carroll Gardens.
Now we have the space we were looking for and we're actually able to save, so that when we do buy it won't have to be a 600-square-foot place.
We now live next to an active church, which can be noisy, but in Carroll Gardens, we had the F train outside our window and we actually prefer the church and the diversity it brings to the block.
In Carroll Gardens, we lived near a Superfund site (surrounding the Gowanus Canal).  Now we live near Eastern Parkway-- which gets busy, during the West Indian Day Parade but also everyday with the foot traffic to the Botanic Gardens and museum. Franklin Avenue is close to us with a nice wine shop and dry cleaners, and in the other direction, on Nostrand, there are dry cleaners, too. I'm happy with the markets, smaller places where I can find vegan products as well. We're a little off the beaten path but things are creeping in.
It's funny, a block away from us, there was mobile command center just put up, a police station in a trailer. The center is like a local micro precinct, with lots and of lots cops, just standing there. I didn't feel unsafe til I saw all those cops and wondered---should I not feel safe? A couple blocks over, there are definitely pockets that feel less safe. But you'll find that in every neighborhood.
Smith & Ninth Street, the area around the subway station, was sketchier than our current area when it was closed--and it was closed the entire time we lived there. I was more on edge walking around there than here now. I've never seen anything antagonistic around here. The people are friendly.
There is a lot of intersection of communities here, from the Orthodox Jews who come for the Lubavitch center, to the Carribean/West Indian population. Between Crown Heights and Carroll Gardens, with the lingering Italian community and the International School, where you are as apt to hear French on the street as English, there is diversity in both neighborhoods, under a different definition.
It is sort of a wash with transportation, because though Carroll Gardens was closer to Manhattan, it only had two subways stops, on the same line, and one was closed for the entire time. In Crown Heights, the A train and 2/ 3 are equidistant, both about a 10-minute walk from our place, and the 4/ 5 is  close too. I'm at my office in the Financial District, door-to-door, in 33 minutes. And, with the 4/ 5, you're in Manhattan in a heartbeat.
I do miss the food delivery options in Carroll Gardens. We have Chavela's, which is a great Mexican place but that is about it; even though we're in what would be the delivery zone for the restaurants on Franklin Avenue, they inexplicably don't deliver. Especially if you're vegan, like Ben, it's not that great.
We're still looking to buy eventually and we could see ourselves possibly buying here in Crown Heights. I didn't know this quality of life was possible outside of Carroll Gardens; I didn't know this quality of life was possible in New York City at this price point. 
---
Transitions highlights New Yorkers' first impressions as they transition from one neighborhood to another. Want to tell us your transition story? Drop us an email.
Brick Underground articles occasionally include the expertise of, or information about, advertising partners when relevant to the story. We will never promote an advertiser's product without making the relationship clear to our readers.