Room for Improvement
Room For Improvement: Wishing for an all-white kitchen and some peace and quiet space to work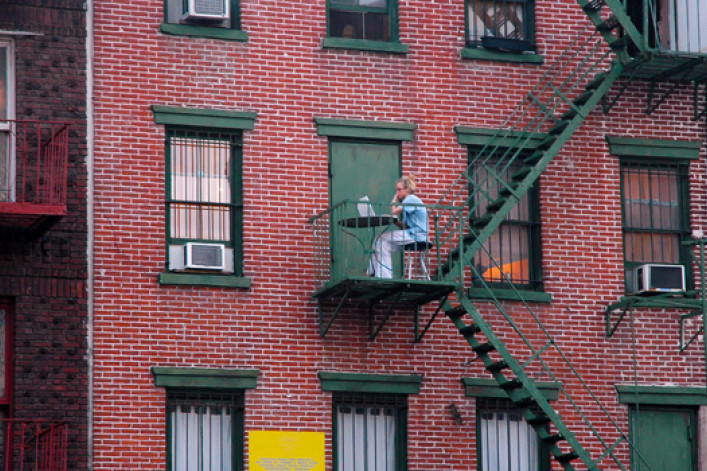 More space, a solution for and a place to do some work in peace:   Five New Yorkers reveal what they'd improve about their city homes, if only they could!
Office space My husband and I both work from home from sometimes. I really wish at least one of us had an office to retreat to for conference calls, or just some peace and quiet to concentrate. And soundproofed, too, so that we aren't disturbed by all the noise on the street, since we're at street level. - Lisa, Washington Heights
Great outdoors I have a view of nothing. I wish I had a better view, or at least that I had some outdoor space. I'm very happy that the building told us they will be doing this work on the roof in the future. And it would such pleasure to experience this soon before it's too cold. But I don't think it will be! -Verena, Park Slope
An obtainable price My rental is currently being sold. I love my apartment so much that I wish I could buy it! I hate NYC prices! Maybe if it wasn't such a great place, it wouldn't be so expensive. So if I would improve anything about my place it would be that it was in not such a great shape so the price would go down. - Cam, Queens
Recycling redone I wish we didn't have to go to the basement to recycle! It's so annoying and, if I'm being honest, makes me not recycle every little thing. My apartment is small and I don't have a lot of space for a huge recycling bin for paper and plastics/ metal. If I recycled everything I would be going down there every day! Some older residents leave their recycling by the elevator… the building staff understand it's harder for them. They should have a trash/recycling room on each floor! -Jen, Tudor City
Dreaming of white kitchen I wish I had a gorgeous, all-white kitchen with white tile, white marble countertops, and white cabinetry. I don't count what I have right now as a kitchen…it's just this weird space you walk past from the door to the living room. There's barely any counter space and since it opens to the narrow hallway, there is no space for an additional work surface. If I could, I would just pull the kitchen out to the living room, and turn the kitchen into a small dining area. -Zachary, Harlem
Related posts:
The 7 worst places to live in a building
10 first time renovation mistakes even New Yorkers make 
Moving to NYC? Here's a crash course in finding an apartment here
Brick Underground articles occasionally include the expertise of, or information about, advertising partners when relevant to the story. We will never promote an advertiser's product without making the relationship clear to our readers.