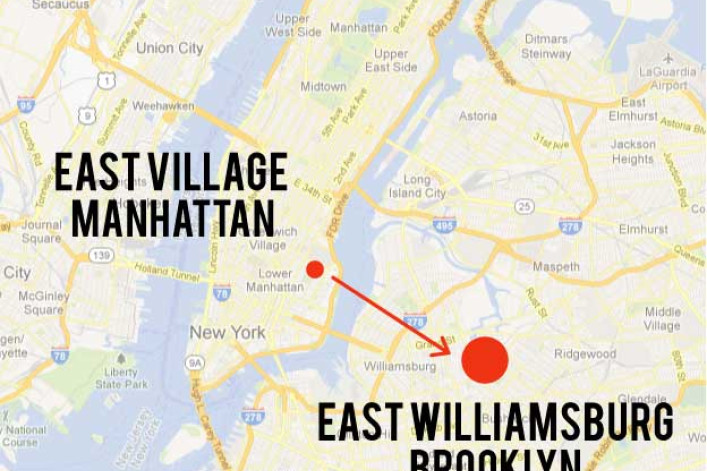 Though spending my college years in downtown Manhattan was often a dream, I needed to experience something new post-graduation. Not just a change of scenery, but boroughs. So I moved to Brooklyn, expecting an exciting and novel lifestyle.
It turns out there are not many noticeable differences between the East Village and East Williamsburg.  Both have excellent food options, great bar scenes, and a relatively young crowd. But less foot traffic and (much) better rent means the transition was more than worth it.
In the East Village, the rent on my windowless, closet-less room in a quaint (read: shoebox-sized) two-bedroom/three-flex on St. Mark's between First Avenue and Avenue A was $1,200 a month.
Living in an area that feels like a constant party--with brunch lines at Café Mogador spilling out to the sidewalk, smokers and chatters hanging out in front of bars like Doc Holliday's and Hop Devil, young couples canoodling on my building's steps at 4 a.m.--was often overwhelming. On the weekends it was a blast, but sidestepping vomit on a Tuesday morning is not exactly my ideal.
Wanting another fairly accessible area that fit my rent budget of $800, I had to find more roommates to make it work. 
We settled rather quickly on Brooklyn, but we also needed a place within blocks of a major train (preferably the L) that could fit five roommates, a decent-sized kitchen for those that cook, but close to cheap eats for the culinary-challenged, a well-walked area for safety reasons, and a total rent of no more than $4,000 for the five of us.
It took one week to narrow our search down to the East Williamsburg neighborhood around the Morgan and Montrose L stops.
After scouting out cramped apartments with rickety ladders to "sleeping areas" above bathrooms and lofts with no separated bedrooms that looked like campsites, we settled on a large apartment in the McKibbin lofts with the help of a no-fee broker (I guess the landlord must have paid the fee).The rent was $3,500.
Though we had to pay a contractor to build three extra bedrooms, factoring in our lower-than-expected rent made it still significantly lower than our overall limit. Plus, because the contractor was a family friend of one of my roommates, he gave us a deal --only charging $7,000.
Ok, so call us a cliché. Five NYU grads moving from the East Village to East Williamsburg. However, there is a reason why this loosely defined neighborhood, bordering Williamsburg, Bushwick and Greenpoint, remains popular amongst twenty and thirty-somethings.
My $700 a month pays for a pad in a now-infamous converted textile factory (that's become notorious for raucous parties and less-than-thoughtful neighbors), with a recently renovated kitchen and a wall of floor-to-ceiling windows with views of Manhattan. It's three blocks away from the Morgan L stop, making my commute to Union Square around 20 minutes.
There are plenty of well-priced eateries and dive bars within blocks, where waiting for a $3 beer takes two minutes. Some of my favorite restaurants I've discovered are 983 Bushwick's Living Room, Mama's Fried Chicken and Nam Nam. As for nightlife, most bars won't disappoint, but the karaoke at Pine Box and dancing at Tutu's are always a good time.
While I sometimes miss the quick walk to Trader Joe's in Union Square, Brooklyn means larger grocery stores with cheaper prices, like Food Bazaar on Manhattan Ave. which sells every spice, cut of meat, and exotic vegetable one can dream of.
There are times when the hipster-ness can get a little intense. The "original" artists and musicians that moved to East Williamsburg within the past five or so years sometimes exude a holier-than-thou attitude toward recent transplants. Some establishments, like organic grocery stores and gimmicky restaurants cater to the hipster crowd, are way overpriced and unduly crowded.
Overall, though, the transition was just what I needed. East Williamsburg still feels as vibrant as the East Village, but it is quieter and cheaper, necessities in my new post-collegiate life.
Also, grabbing a drink at a bar can often lead to new friendships with neighbors, not like in the East Village, which is such an established nightlife spot that the crowds came down from Murray Hill or the Upper East Side.
Because Brooklyn is so new to me, I feel like I get to explore a whole new corner of New York. While I settle into my adulthood, I feel good knowing when I come home at night it's to a home, not just an apartment.
---
Transitions highlights New Yorkers' first impressions as they transition from one neighborhood to another. Want to tell us your transition story? Drop us an email.
Brick Underground articles occasionally include the expertise of, or information about, advertising partners when relevant to the story. We will never promote an advertiser's product without making the relationship clear to our readers.