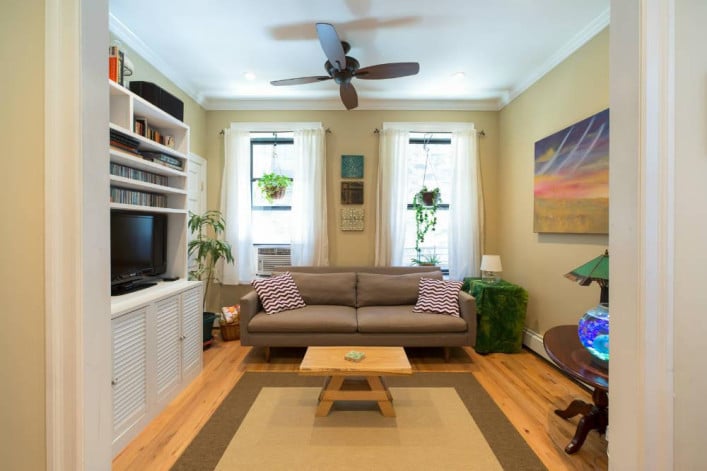 In this week's Buy Curious, guest broker Barbara Ann Rogers of William B. May coaches a divorced mom through the difficulties of finding a 2-bedroom in brownstone Brooklyn for her and her college-age son.
THE WISH LIST:
"I'm recently divorced and have one college-age kid. I know I can't afford a true 2-bedroom, but would love a junior-four type so my son can stay here when he's home from school. My budget is $650,000.
I'd like to live anywhere in brownstone Brooklyn. Can you suggest some neighborhoods/apartments for someone in my situation? Also, do you think I'll have more luck with a co-op or condo?"
THE REALITY:
The good news is that true 2-bedroom apartments exist in your price range in the neighborhoods that interest you. The bad news is that they are snapped up almost immediately after hitting the market and often have multiple offers. Additionally, not many of them are in actual brownstones, if that's what you have your heart set on, but may be in pre-war apartment buildings or converted office buildings.
This market competitiveness means that you will need to be ready to present your best offer right away and will most likely have to pay over the asking price.
You should also consider how your new status will affect how banks look at you in considering you for a mortgage. Be sure that the divorce has not left any inaccurate blemishes on your credit record, and if it has, you should work with a reputable credit consulting service to have them corrected. Additionally, both the bank and the co-op or condo board will want to make sure that your income is sufficient to cover your ongoing maintenance or common charge obligations, as well as your mortgage payments.
What is known as "Brownstone Brooklyn" covers a large area, from Brooklyn Heights all the way south to Carroll Gardens, and southeast to Park Slope, Prospect Heights, Fort Greene, and Clinton Hill. Each neighborhood has unique features and charms. You should narrow your search a bit by determining which area you'd prefer based on this and on what subway lines you'll use most frequently.
As for the question of choosing between a co-op and a condo, realize that the vast majority of owned (as opposed to rental) apartments in NYC are co-ops; condos are mostly found in new construction or conversions. So, especially in the historic neighborhoods you're considering, you're going to be looking primarily at co-ops.
Additionally, co-ops are generally less expensive than comparable condos (although they may have higher monthly carrying costs) and are significantly cheaper to close, especially if you're financing part of the purchase.
Here are some 2-bedroom apartments in your price range in "Brownstone Brooklyn," but not in actual brownstones:
Brooklyn Heights 2-bedroom/1.5-bathroom co-op, $499,000: This is a true 2-bedroom/1.5 bathroom apartment in a converted office building in central Brooklyn Heights. The building has a live-in super, a bike storage room and laundry on every floor; a gym is coming soon. While not in an actual brownstone, it's charming and there's definitely room for your son.
Cobble Hill 2-bedroom/1-bathroom condo, $528,268:  Cobble Hill Towers is the condo conversion of historic buildings originally intended as housing for workers at the area's piers and factories. But note that while this 2-bedroom is within your budget, this is a fifth-floor walk up, and the closest trains, the F and G at Bergen St., are a fairly long walk away.
Park Slope 2-bedroom/1-bathroom condo, $550,000: This is a 2-bedroom/1-bathroom unit in a walk-up building that was converted to condos in 2009. It's located in the North Slope and convenient to many different subway lines. You're also not far from Grand Army Plaza and Prospect Park.
Here are two places in the South Slope (which are less-than-ideal transportation-wise as the only local trains are the F and the G) that also fit your criteria:
Park Slope 2-bedrooms/1-bathroom condop, $575,000: This 750-square-foot 2-bedroom is in a walk-up building, but boasts a common roof deck, a nicely renovated kitchen and in-unit laundry—a big plus for when your son comes home from school with bags of his dirty clothes in tow. It's also close to Prospect Park, but far from all trains except the F and the G. So depending on where you need to go, it may be less desirable than the North Slope.
Park Slope 2-bedroom/1-bathroom co-op, $599,000: This 2-bedroom is a fourth-floor walk-up. And while there is currently no roof deck in the building, the owner of the unit has roof rights, allowing you to eventually build your own deck—which your son will appreciate when he's home from school.
If you are determined to live in a brownstone, rather than merely among them, your search will be much harder. I did, however, find one that could work for you:
Park Slope 1.5-bedroom/1-bathroom condop, $449,000: This unit is the entire floor of the building, but resembles a garret in that the roof slopes towards the front and back, meaning that only the living room has full-height ceilings. Both the bedroom in the front and the home office in the back have sloping ceilings and small windows. Additionally, once you walk up the front stoop of the building, you still have three more flights to climb to the top, so you'd need to be OK with that. This is close to the intersection of 7th and Flatbush Avenues, so it isn't as serene as the side streets in the area, although it does have very good access to multiple subway lines.
Brick Underground articles occasionally include the expertise of, or information about, advertising partners when relevant to the story. We will never promote an advertiser's product without making the relationship clear to our readers.