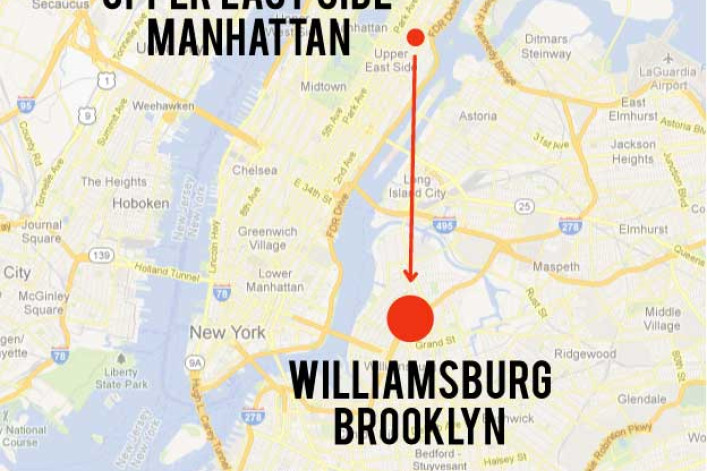 My sublet was ending on the Upper East Side, and I knew I needed a change. I was on 63rd Street between First and Second Avenue, and I liked the apartment –- I had my own half bathroom –- but the area was too...lifeless.
True, the food options weren't terrible. There was Moti Mahal Delux, an Indian place that was next door and quite tasty, as well as a small falafel joint, and a Whole Foods on 57th Street between Second and Third Avenues, but the clothes shopping and home-furnishings shopping, was pretty limited. There was a Bloomingdale's and a Bed Bath and Beyond, and that was about it. The options reminded me of the Long Island malls I grew up with.
I was also pretty much right off the Queensboro Bridge. It was noisy with all of the traffic and car horns during the week, and on weekend mornings, I was blasted with pretty much every genre of music coming out of people's cars.
The commute to my job in the Flatiron District on the F train was mostly fine, and only took about 10 minutes, but it felt like a long walk afterward from Lexington Avenue to my apartment 10 minutes away.
I was hoping to stay in Manhattan, ideally in a new building, but rents have gone up so high that it was pretty much impossible. I was using a broker to find a studio in Midtown, and seriously considered a tiny one for about $1,600 per month. But I also would have had to pay a $2,000 broker fee. It just wasn't worth it.
I started looking in Brooklyn. I was open to a neighborhood around the Jay Street/Metro Tech subway because I take graduate classes there. I also looked at a place in Park Slope. It was really beautiful and had an amazing backyard, but I felt it was too far from Manhattan.
Time was running out, and I was getting desperate. I ended up finding a roommate on Craiglist. We met briefly, and she seemed nice and had a steady job, so I decided to go for it. We found a couple of new buildings in Wiliamsburg on StreetEasy. The first was a nice duplex with two full baths and a spacious common area, but the rooms were tiny.
The second apartment was in a new building near the Lorimer L-train stop. There was in-unit laundry and a roof deck. It was great, but there were three bedrooms and the total rent was $4,050 per month. We needed a third person and ended up posting another ad on Craiglist. The last room was smaller, but thankfully, we were able to find someone.
I think if you are looking with a good roommate, you can find something  by just using Internet listings instead of using a broker. I've bounced around to quite a few apartments and only paid a broker fee once. Of course if you have a higher budget, it makes things way easier.
I am paying about $50 more per month compared to the Upper East Side and I have two roommates as opposed to one, but I like that the apartment is new. It's also  a great, quick commute to work in the Flatiron.
And I love the neighborhood. It feels like it's where I should be. It feels younger than the Upper East Side, though I do see a lot of young couples with small children, which I don't mind, because that's a pretty good measure of safety.
I've lived in so many Manhattan neighborhoods, but I finally feel like I'm actually home and not just visiting.  I feel like I want to stay for an extended period of time. It could be because the apartment is more of what I was looking for as far as amenities, but I think it's the neighborhood, too.
I was feeling an urge to move out of New York to somewhere like San Francisco, but Williamsburg was actually the change I needed. It feels like San Francisco in a way, with the waterfront access and and independent shops, like Painting Lounge, which lets you take painting classes. There's just a more palpable creative spirit in Williamsburg. Whereas with all the different characteristics of Manhattan neighborhoods, you don't get one strong vibe. Everything feels a bit muddied.
Some of the stores I've discovered are boutiques, like Verameat and Norbu for jewelry, and there are so many clothing stores with items that aren't in the big department stores.
For food, Smorgasburg, the weekly food festival in East River Park is great, and Radegast Hall & Biergarten is an all-time favorite.
So far, my first place in Brooklyn has been a success. But I probably wouldn't go further east than Lorimer Street because I don't know the area;  it's a total mystery to me east of Lorimer. Regardless of how up and coming it is, I like being as close to Manhattan as I am now. Sometimes, I think about how much cheaper it would be even just a few stops further down on the L-train, but I feel it still isn't worth it to be that far away from Manhattan.
---
Transitions highlights New Yorkers' first impressions as they transition from one neighborhood to another. Want to tell us your transition story? Drop us an email.
Brick Underground articles occasionally include the expertise of, or information about, advertising partners when relevant to the story. We will never promote an advertiser's product without making the relationship clear to our readers.