Transitions
Boerum Hill to Carroll Gardens: The only thing lacking in our new charming neighborhood is transportation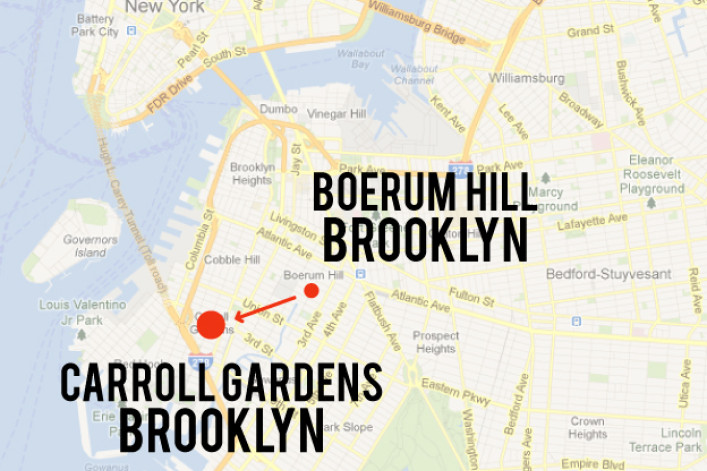 My husband and I recently moved from Wyckoff Street between Hoyt and Smith—just on the cusp of Boerum Hill and Cobble Hill — to First Place and Court Street in Carroll Gardens. The two neighborhoods are not far from each other: Our new place is about a 15 minute walk from the old one. 
The old apartment on Wyckoff Street was a small two-bedroom on the top floor of a three-story building. There was one other apartment in the building and the rental office on the first floor (the garden access to the building was through the first floor, but we didn't have access to it). 
The landlord in our old building kept raising our rent A LOT each year so we decided it was time to move. Arbitrarily increasing the rent without improving the space does not create long-term tenants. We wanted something more stable to stay for longer than a few years. 
The moment we saw the new place we fell in love. We looked at a few other places in Cobble Hill and Carroll Gardens and were also considering Fort Greene, Park Slope and Gowanus. The decision really came down to what was available  at the time in our price range (around $3,000/month).
We found the new apartment in Carroll Gardens--a gem of a place on the garden level of a stunning brownstone--with the ladies at Brooklyn Real Realty on Court Street, who understood our needs/wants immediately and showed us EXACTLY what we were after.
Our new landlord lives in the brownstone, which has been in her family for generations.The only other tenant to occupy our garden apartment was the landlord's aunt! So naturally, the fixtures and floors are in absolutely perfect condition. You can tell they took excellent care of everything. The garden is manicured and beautiful, too.
Like our old apartment, the new one is in the $3K range, so the move wasn't just about finding a super deal, it was also about finding a beautiful place with space that we could make a home for the long term. 
The new place is railroad style… but can easily be broken up into four separate spaces if necessary.  My office fits in perfectly in the middle between the dining room/ENORMOUS bedroom and the spacious living room. In addition to my full-time job, I also run a small business from my home (a women's swimwear/clothing website, Sirene) and need space for my inventory and packing supplies so the additional space was important.
The old apartment had a nice size living room but the bedroom and office were tiny (especially in comparison to the new place)—and we only had a small terrace, big enough for a potted plant and a table-top grill. Our new backyard is huge. We're so excited to have real outdoor space to entertain! (But as with all garden apartments, stock up on mosquito repellant.)
Both neighborhoods are great. The vibe seems the same in both...maybe a little younger in Boerum Hill. There are still families but not as many of the old-school families that Carroll Gardens has.
Boerum Hill is a busy neighborhood. More foot traffic--maybe because of the proximity to the trains (super close to the A/C and 2/3) and Downtown Brooklyn. Carroll Gardens seems more laid back and quiet with less foot traffic. We're not close to A/C or 2/3 but the F and G are nearby.
Boerum Hill has a lot of great shopping and entertainment. Bird is an amazing shop, great for indie clothing. Olive's has great vintage, if you're willing to spend a little extra cash on well-curated pieces.
We use to be close to Union Market on Court Street, which is amazing for groceries. They have super fresh produce. They're a little further away from our new place but I still shop there. Brooklyn Fare on Schermerhorn Street is one of our favorites, and I'm sad we're no longer as close to it…and of course Paisanos on Smith Street. The BEST butcher shop in all of NYC in my opinion. 
In Carroll Gardens there are so many great places, too. I could go on and on about the restaurants and bars in the new hood. I LOVE that we are so much closer to Abilene, Alma, Prime Meats, Frankies…and Smith Canteen has the best coffee and snacks for the morning. 
Carroll Gardens definitely has a more small neighborhood vibe. Our street (First Place) is beautiful and really quiet but still next to all the action. 
The only drawback is that we aren't as close to the A/C or 2/3 train options….we only have the F and G. I work in SoHo, so the F train is right on Broadway/Lafayette, which is a twenty-or thirty minute commute during the week. For other neighborhoods in Manhattan, the commute can be tricky and sometimes involves a few transfers (especially on the weekend.) But I can live with that.
I 100% love the new neighborhood. Barring any crazy rental upticks we want to stay in our place for a LONG TIME…until we can afford to buy, if that is even possible for us in the area anymore. But that's the dream. 
We definitely want to stay in Brooklyn. We're Brooklyn lifers! 
---
Transitions highlights New Yorkers' first impressions as they transition from one neighborhood to another. Want to tell us your transition story? Drop us an email.
Brick Underground articles occasionally include the expertise of, or information about, advertising partners when relevant to the story. We will never promote an advertiser's product without making the relationship clear to our readers.