Take It Or Leave It
Take It or Leave It: Could this $3,595-a-month 1-bedroom duplex lure you to Murray Hill?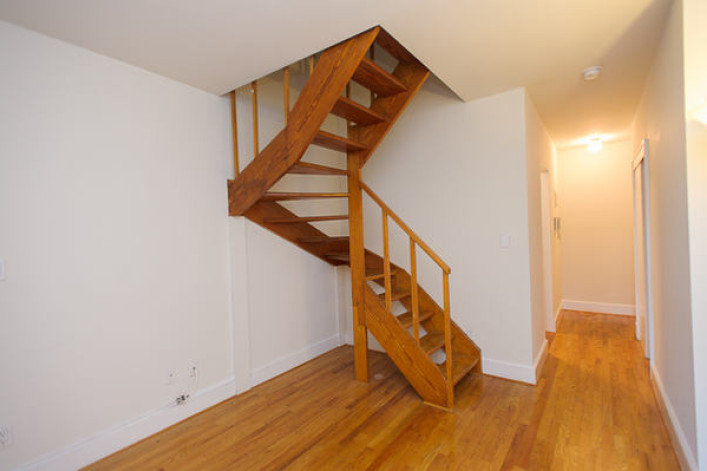 For this week's Take It or Leave It, our panel of long-time renters ponders the pluses and minuses of a 1-bedroom, 2-bathroom duplex in Murray Hill with a private garden.
Our team—who collectively have 43 years of rental experience between them—includes RentHackr founder Zeb Dropkin, freelance writer Lambeth Hochwald, and BrickUnderground senior editor Lucy Cohen Blatter.
The Apartment:
Size: 1 bedroom duplex, 2 bathrooms
Location: 655 Second Ave. between 35th and 36th Streets in Murray Hill
Cost & concessions: $3,595/month, no broker's fee
Flexible Layout: Yes, can convert to 2 bedrooms
Subway: S, 4, 5, 6,7 at 42nd St.-Grand Central; 6 at 33rd St.; B, D, F, M, 7 at 5th Ave.; B, D, F, M, N, Q, R at 34th St.-Herald Sq.; N, R at 28th St.
Pros and Cons:
Zeb: "A duplex that has an outdoor space sounds like a pretty great find. But there are a number of cons here. First, I'm not really a fan of Murray Hill in general. It seems devoid of a real neighborhood feel to me. Second, the 'great landscaped private garden' mentioned in the ad isn't shown in any photos—that's a red flag. Last, the price is right for a 2-bedroom, but this is a 1-bedroom listed as a possible conversion. That's a pain. I don't want to have to build my own walls and bedroom when I move into an apartment." 

Lambeth: "Sharing a storefront with a hair studio, this brick building, including the foyer, seems incredibly tidy. I like that it has two bathrooms, a fun woodsy staircase connecting the two spaces, and that the building allows pets. Plus, the price feels right for a no-fee apartment with a garden—though it's hard to tell what shape the garden is in. A Second Avenue street address is convenient for shopping and eating out, but I'd bet this apartment is loud, especially with the bus rumbling by. It's nice that they're open to converting the place to a 2-bedroom, but I can't figure out how they'll do it unless the main-level living room becomes a bedroom which seems awkward unless a family lives here."
Lucy: "I love the new appliances in the kitchen, and though there's no picture of it, a private garden is, of course, a major plus. However, the wall that separates the bedroom looks suspiciously like a temporary wall—the window gives it away. I'd bet the living room is small and there's no window to the outside. The fact that there's no photo of it all but confirms my suspicions."
Who would this apartment be perfect for?
Zeb: "There are only a couple of reasons I can think of to live in Murray Hill: you work there or you can't live without Curry in a Hurry. If you work in the neighborhood and need a home office, or if you and a roommate are willing to convert the place to a 2-bedroom, then this duplex may be good for you."
Lambeth: "A young couple that doesn't mind living on a noisy avenue."
Lucy: "This place would be good for a single person or couple who work(s) near Murray Hill and wants to be able to walk to work."
The Verdict(s):
LEAVE IT "The lackluster location plus the work of converting this place in order to make it affordable means it just isn't worth it. I'd go find a true 2-bedroom, or save money on a true 1-bedroom in a friendlier location."—Zeb
TAKE IT "The lower level is likely to be very cozy and quiet, and the garden looks large enough to have lots of late-summer barbecues."—Lambeth
LEAVE IT "For that price you can probably get a bigger place in that same neighborhood. I'm suspicious that there are no photos of the outdoor space, which should be the apartment's best feature. And as I said before, I have my doubts about whether this is actually a real one-bedroom."—Lucy
Ready to rent? Check out our How to Rent Guide...and if the apartment you like requires a guarantor that you don't have, see if the landlord accepts Insurent, a guarantor solution from one of BrickUnderground's sponsors.
---
Take It Or Leave It is a weekly column in which a panel of long-time renters weighs in on the pros and cons of an apartment that's currently on the market.
Brick Underground articles occasionally include the expertise of, or information about, advertising partners when relevant to the story. We will never promote an advertiser's product without making the relationship clear to our readers.