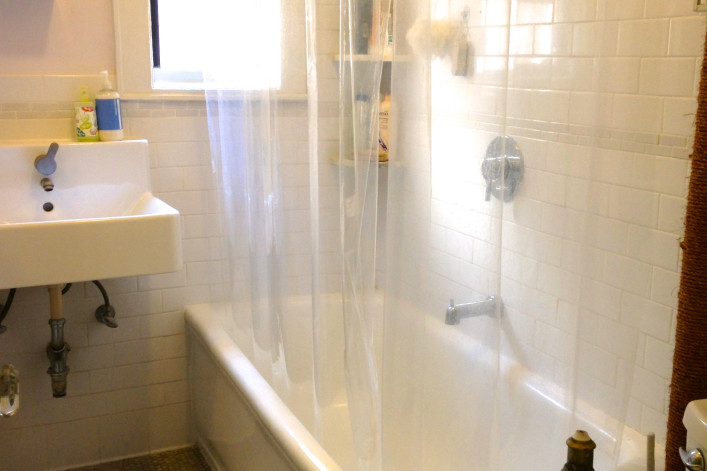 After a round of "auditions" (see Bathroom Redo Part 1 - Finding a Contractor) we felt we had found our guy.
The scope of work included removal of tile, reglazing of tub, replacing the branch lines to the fixtures, painting, and installation of everything that needed installing, from the toilet to the toilet roll holder. 
We had decided our budget should include a reserve fund of about 10% of the cost of the project--cash on hand in case anything should go wrong, The price we had been quoted ($13,850) was the maximum we felt like spending on the remodel. So we asked the contractor if there was any wiggle room and/or any way at all to lower the costs.
We tried to cross things off the list that we didn't absolutely need. Did we really need to move the medicine cabinet? Did we need to tile up quite so high? Our contractor (I was already calling him our contractor) said that doing small cuts like that wouldn't do too much to the price and we'd be better off keeping them in the scope of work. He knocked $1,500 off the price. He said this was a discount he normally gave repeat clients or real estate professionals who refer clients to him.  I think he gave us the discount because he's a young man trying to build a business and every job counted.
I signed the contract and sent over a 10% deposit.
A few more formalities--and some homework
We also signed our building's alteration agreement. The only information it asked for was when the work would start and how long it would take. We put down "100 days" even though we were counting on 2-3 weeks -- again, a little buffer just in case.
Our contractor gave them his insurance information, a copy of our contract, and whatever else is needed to remodel a bathroom. In just a week, we got our approved renovation agreement back from the building manager! I think the speedy approval was due to the fact that not only were they expecting us to gut the bathroom--they were hoping for it. 
We spent our weekends visiting showrooms, looking at bathroom fixtures and buying samples of tile to take home. My contractor and I emailed back and forth discussing the look of the bathroom, his recommendations, and details we wanted to implement. 
For example, he wanted to build a tiny faux radiator cover (pictured below) to hide the  water pipes (also pictured below) that extended about a foot and half upward from the bathroom floor.
One idea I really wanted to implement was a towel rack that would span the length of the wall, like a ballet bar. None of the towel racks I saw in stores would do. But we found a curtain rod  in West Elm that was inspired by industrial pipe fittings. It was the perfect length and style. 
Tile time
The biggest challenge, by far, was the bathroom tile.
We visited numerous tile stores and bathroom showrooms like The Tile Shop, Home Depot on 23rd Street, Poggenpohl, Dal Tile, and Classic Tile, buying sample pieces and sheets.  
We ended up buying everything from what has to be the best tile store on the Eastern Seaboard: Classic Tile in Bensonhurst, Brooklyn. They were not only friendly but gave some really good advice. For instance, when I was considering a gorgeous marble tile for the floor, one of the salesmen pointed out to me that such an expensive tile ($15/ sq ft.) could look odd next to the very basic white subway tile (about $2/sq ft.) look I was going for on the walls.
We ended up choosing a very pretty sky blue/grey penny round mosaic tile and colored grout to go with it. Grout was included in our contract and our contractor was great about finding a grout color that would work well with the tile.
About two weeks before the start day, our contractor and his foreman stopped by to measure the bathroom and give me the quantities of tile I would need for floor, wall, accent, and finishing tiles.
The weekend before the project start (I confirmed over the phone that I could pick up everything I needed on one trip), we drove to down to Bensonhurst to pick everything up. It came to about $600 and what felt like 600 pounds.
Some small snafus--like needing another place to live
All in all, about a month after submitting our renovation agreement to the board, we started the demo.
Our contractor's foreman was on-site the entire time, and our contractor checked in on the progress most days and remained our primary point of contact.
Everything went pretty smoothly. Well, for a renovation. At first, we thought we could live in the apartment while renovation was being done. Our contractor said they could re-install the toilet every day before they left.
Bad idea.
Toilet aside, the dust the demolition created was too much too handle. Good friends who live outside the city came to the rescue by telling with their guest bedroom. We stayed in Greenwood Lake, NY (a nearly three-hour commute to Harlem by car, then train, then Path train, then subway) for the entire three weeks it took to complete the work.
Along the way were few hiccups (of course). We got an official complaint from a neighbor who said  our debris was being kept in front of the building all day.  My super told me to ignore the complaint from the crabby old lady.
Then, I got the wrong color accent tile. Though I maintain my love for them, Classic Tile had given me the wrong box and I had made the mistake of not looking in the box before leaving the store.
Fortunately, I was in the city that day. I hurried home to see the damage. It didn't look bad, the black accent embedded in the wall of  white subway tile. But it wasn't what I wanted. 
"If it's not what you want, then we change it, of course," my foreman said. "But you have to decide before it dries."
Without access to a car, I grabbed the extremely heavy boxes of tile and high-tailed it to Bensonhurst on the subway. It's a bit more than an hour on the train. On the way back up to Harlem, the train broke down, and my shopping cart lost a wheel. That was a long, hard day.
Paying off in the end
But it pays to stick to your guns and not let exhaustion talk you into compromise. Or out of a compromise. For example, there was a wall-mounted Ikea sink we really, really liked--the retro-utility inspired Ann Sink (pictured below). However, our contractor warned us the Ikea could be tricky to work with,  and a few online forums seemed to back him up. Apparently, in the past, people have had issues with Ikea fixtures not being compatible with standard American sizing. 
But we live in New York City, for crying out loud. I was sure we'd be able to find a hardware store that can provide metric sized pipes and screws. Not that we needed to as it turned out.  (FYI, if we had, Ace Hardware is the place to look). Our sink came with its own gasket, jamb nut, and tailpipe.  But our plumber had no complaints about it. It used standard flexible connectors for the faucet.
We hauled the sink home from Ikea, and not ever was another word heard about the matter since. Installation was fine, and it works like a dream. And we love how it looks.
In fact, we love the whole bathroom. 
---
NYC Renovation Chronicles is a bi-weekly column focused (obviously) on renovation, NYC style. Helmed in the past by an architect, a kitchen and bath designer, and a general contractor, the column's new steward is co-op renovator, real estate porn addict and Harlem resident Mayra David. She'll focus on what it's like to DIY or HSI (= Hire Someone Instead) in NYC.
Related posts:
10 things I learned during my year-long renovation
5 things you may live to regret doing in your own apartment
10 first-time renovation mistakes even New Yorkers make
Want to renovate? Here's how to get the money
Here's why you may be overpaying for your NYC renovation
NYC Renovation Questions: What should I ask when checking my contractor's references?
Can't afford/find a two bedroom apartment? The right one-bedroom just might work
NYC Renovation Questions: What should I know about converting a tub to a walk-in shower?
Here's why you may be overpaying for your NYC renovation
NYC: 5 ways to save on your bathroom renovation
Brick Underground articles occasionally include the expertise of, or information about, advertising partners when relevant to the story. We will never promote an advertiser's product without making the relationship clear to our readers.