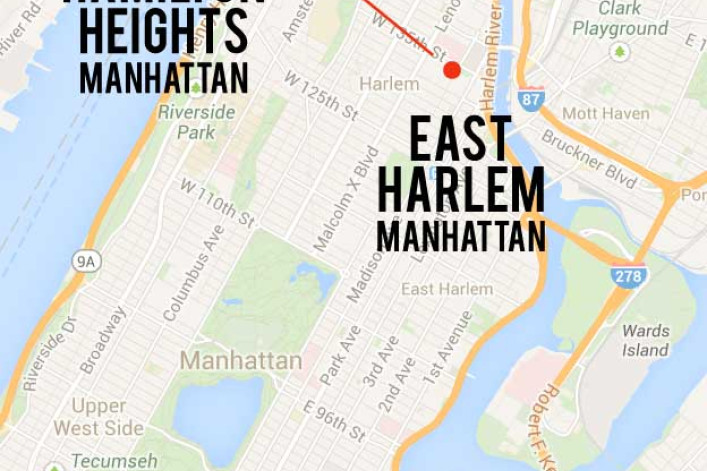 Before moving to Hamilton Heights/West Harlem two months ago, I lived in East Harlem, on 100th Street between First and Second Avenues, in a $2,300 three-bedroom I shared with two other people.  The apartment was what I call "cozy"--old hardwood floors and appliances, but fairly spacious compared to your average NYC apartment. My queen size bed, writing desk, bookshelves, and dressers fit comfortably in my little "nest." 
A few blocks south of my apartment you'd be on the burgeoning Upper East Side, a few blocks north you'd be in the thick of Harlem, and over by Second and Third Avenue you'd be in the projects. Being on this "cusp" was kind of the best of both worlds, but for very different reasons. 
It was an eclectic mix of affordable housing, upscale residential buildings (with middle age yuppies and young professionals living in newly renovated japartments), and doctors who worked at the nearby Metropolitan Hospital  scattered throughout the avenues. If you wanted a beer at 2 a.m., you walked towards the bodega on Second Avenue. If you wanted a fresh five-topping salad for under $5 with a slice of gourmet cheesecake, you walked toward First. If you needed a pair of $10 shoes and jeans, you walked north on Second avenue in the heart of Harlem to browse the neighborhood shops. If you wanted great dining in the evening or drinks with friends, you headed South on Second or Third avenue toward the UES. 
The neighborhood, although changing, holds its roots in the Harlem community. Right across the street from my building was the Harlem RBI--a local organization dedicated to charter schools, scholarships, and the art of baseball--which meant early Saturday mornings I could catch a glimpse of young people playing ball. 
Also, Randall's Island was in walking distance to my 100th Street apartment--the pedestrian bridge is located right on 102nd and FDR, which is now open after a few years of construction. (Note: Dogs can be off-leash in the early morning hours.) I would go to Randall's Island to get away from the noise of the city, meander down the walking path with my coffee and croissant, and take in the skyline views of Manhattan.
The East River Promenade was also a stone's throw away--you can take evening strolls, bike, walk your dog down to the dog park around 86th street, and picnic in the grass at Carl Schultz Park. 
Of course, there were drawbacks, too. The number one problem with this neighborhood is the long walk to the train (about three avenues and four blocks to the 6 train). This will change in the next ten years when the new Second Avenue subway line opens up, which brings me to my next point. The Second Avenue subway line construction drilled on daily--though luckily I was in between avenues so didn't hear the racket constantly.
It was an eyesore though, and still is, assuming you're not a construction junkie -- the gaping holes in the ground, fences, loud murmurs of the air blower, construction trucks beeping back and forth. And walking down Second Avenue, the fence from the construction blocks you from the street and you're kind of barricaded by construction walls. Not the most ideal walk for a single 20-something girl. Nevertheless, nothing negative ever happened on those journeys, even during late night stumbles. Like everywhere in NYC, there were some seedy people lurking around the bodegas at night, but they were generally harmless. 
After spending over two years on the East Side of Harlem, it was time to switch up scenarios. The move was prompted by the fact that management was drastically increasing our rent  (what else is new?). There were also some pretty standard, albeit crazy, roommate issues. After seven years of city living, I finally came to a roommate halt and decided to live alone. 
During my apartment search, I was open to literally anything affordable in Manhattan and Brooklyn. I moved into a one-bedroom on Riverside Drive -- a few avenues away from City College in the West 140s -- at the beginning of May. My place, a furnished sublet found through a friend of mine, is $1,000 a month--and because of the friend status, I didn't have the hassle of downpayments, security, and moving bulky furniture. 
The situation was truly a serendipitous blessing for a young writer/graduate student. I was already familiar with the area because I went to the nearby City College, so I felt comfortable in the neighborhood.
One of the best things about this neighborhood is the close proximity to Riverbank State Park--where there is access to an indoor/outdoor swimming pool, skating, tennis courts, track field, basketball, and more. 
Of course, being so close to the Hudson gives you a nice breeze, but one can still hear the murmuring traffic from the West Side Highway at all hours. 
The restaurant selections up here are slim pickings. Unlike East Harlem there are no Japanese/Thai places or intimate cafes around here. If you get random sushi cravings that need to be sated, forget about it.
The restaurants are mainly Spanish/Mexican/Dominican and they are the real deal (most of the food is super cheap too). A hidden little gem of a place, called
Covo
, is located on the Hudson River Greenway (down the hill by the Riverside Promenade on 135th street)--they dish up some of the best Italian around, including good wines, cocktails, and gourmet salads. 
As for groceries,  Fairway Market is located in the same area (closer to 132nd), but I recommend delivery/cab ride back each and every time--getting your groceries up the steep hill back to Riverside Drive and back east is a cumbersome (and exhausting) task, especially in the summer. Other than Fairway, there aren't really any other grocery selections up here, except for the small local markets on Broadway. 
I'm very close to the 1 train and a short walk up the hill to the B,C and D line on 145th Street. If you take the 1, transfer to the 2-3 at 96th street, you can easily make it to Times Square in 15-20 minutes tops. 
The perks of the neighborhood are the authentic Spanish food, access to the Riverbank State Park and promenade, close proximity to the beautiful campus of City College, and most importantly, the affordability. And living in the Harlem area probably offers the most affordable rents in the city, especially compared to the recently gentrified, highly coveted, hip parts of Brooklyn. 
The drawback, as mentioned, are the lack of diverse restaurants and bars and the crowded, somewhat chaotic, streets of Broadway. The general vibe isn't as welcoming and friendly as the East Side on 100th street, especially if you're a dog owner -- there aren't many places for your pooch to potty and there isn't a close dog park. Also, brush up on your Spanish before moving, as many of the locals don't speak English very well or at all. 
---
Transitions highlights New Yorkers' first impressions as they transition from one neighborhood to another. Want to tell us your transition story? Drop us an email.
Brick Underground articles occasionally include the expertise of, or information about, advertising partners when relevant to the story. We will never promote an advertiser's product without making the relationship clear to our readers.