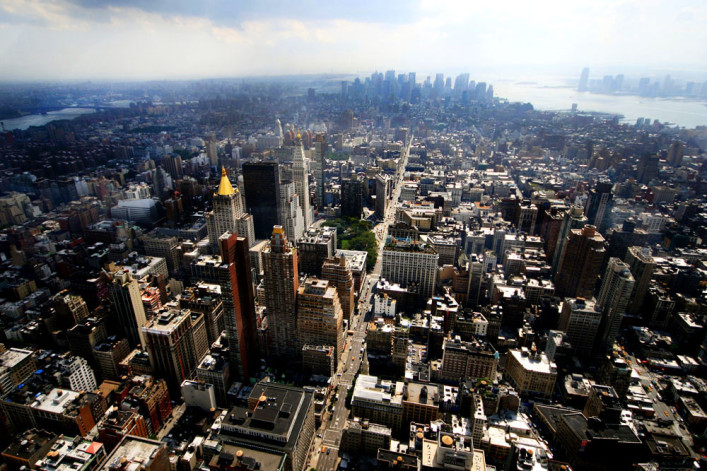 As you've no doubt heard, New York's real estate market is sizzling, with buyers feeling the heat as low inventory constrains options and bidding wars are commonplace.
Here's how experts predict the market will play out this summer--and how you can prepare as a buyer or seller.
The summer 2013 market outlook
Inventory was near a 12-year low in the first quarter of 2013, says Jonathan Miller, president of appraisal firm Miller Samuel. And it's likely to stay that way.
Miller expects an active summer market with strong activity.
"I don't think we're going to get a lot of relief from any of the new development hitting the market," says Miller. New developments are targeted towards the "upper echelon" --which often means high net worth or foreign buyers who pay in all cash.
"It seems like it's pre-2008 all over again, where you've got 100 people coming to open houses and sometimes 10 or more offers coming in over the asking price," says real estate attorney Adam Stone of Regosin, Edwards, Stone & Feder. "From what I hear, it's very frustrating for buyers."
What if you're looking to sell?
Because demand is outpacing supply, asking prices are often increasing. In particular, "All of downtown is busy," says real estate agent Dan Bamberger of the Bamberger Group.
Most sellers can expect strong demand, and usually don't need to be concerned about whether their home will sell if priced appropriately.
"The answer is going to be almost always yes, unless there's something strange about your property," says Stone.
Bamberger encourages sellers to be "flexible" when it comes to holding open houses and to have as many as possible to accommodate summer and weekend vacation schedules. That said, though traditionally weekend open houses can be slower than weekday open houses during the summer, he expects solid traffic both on weekends and weekdays this year because of high demand. 
Perhaps the biggest question for sellers is whether they can get a good deal for their next apartment and ultimately come out ahead after selling for a profit.
Some of Stone's clients have decided to take temporary rentals.
"They've sold, and they're done, they've got their money. And they'll figure out what they can buy afterwards," he says. Being able to offer full cash bids in the future also gives them a big advantage over buyers who need financing.
An important turning point--which may come within the next few months--will be if prices begin leveling off, which could encourage more sellers decide to list their units and help increase supply.
"I expect at some point in time that there will be some new psychology change: We better sell now or prices will go down," says Bamberger.
Generally speaking, sellers should look for an all-cash buyer or a buyer willing to waive mortgage the mortgage contingency in order to avoid any potential financing wrinkles.
If you accept an offer from a buyer who needs financing, bear in mind that in a rising market like this one--and especially in a bidding war situation--there's a bigger possibility that your apartment will appraise too low. So if you do agree to a mortgage contingency, consider a reduced contingency clause.
"You and your buyer agree that if the appraisal comes in too low for the amount of the loan, the buyer will make up the difference in cash and accept a lower loan amount from the lender," says Stone, the attorney.  "For instance, instead of the bank lending 80% of the sales price, it will lend 80% of the appraised value. If you have this limited appraisal contingency and the appraisal comes in $50,000 lower than the sales price, the buyer has to put in $10,000 more cash instead of having the right to cancel the contract."
How to prepare as a buyer
Besides a willingness to go above list price in many cases, buyers who are on the hunt this summer need to have strong financial credentials, says Miller: "It's all about your ability to close."
While cash offers are still expected to hold sway this summer, if you need financing, get yourself prequalified first--a quick process that can usually be completed online. You'll submit a standard uniform residential loan qualification form and details like income, assets and a credit report, says Robbie Gendels, a senior loan officer of National Cooperative Bank in Manhattan. 
Buyers who can put up a 20 percent downpayment and have a credit score of at least 680 will have the best chance of getting a mortgage, says Gendels, noting that employees with regular salaries tend to have an advantage over those who are self-employed.
To compete against all-cash offers, you may need to waive your mortgage contigency (or agree to a reduced contingency as described above), as well as abandon hope of negotiating a funding contingency, which would protect you if the bank decides not to lend for reasons having nothing to do with you personally. The risk of the latter can be mitgated by asking your lender to pre-approve the building too, says Gendels of National Cooperative Bank.
Also important during the summer months: Get a lawyer who is "here, available and can move quickly," says Stone.
And if you are a buyer battling it out in a bidding war...
Thanks to the strong sellers' market, more and more buyers may find themselves embroiled in bidding wars. Here are some tips for coming out on top:
Make an all cash offer if you can. If you can't, and you feel comfortable that you'll be approved for a mortgage, waive any financing contingencies. (As noted above, to get comfortable that the building itself will be approved by your lender, ask your lender to pre-approve the building before you sign the contract.)
Don't be afraid to show interest. Sellers will often think favorably about someone who's passionate about thier apartment. Playing it too cool may be underwhelming for a seller.
Stay in touch with the listings broker to find out things like how long it'll take the seller to accept an offer, how many rounds of bidding there will be and whether anyone's offered all cash.
Try to accommodate the seller. If they want to close quickly, let them. Or do they want to stay in the apartment longer? Sure.
Put a clear deadline on your offer.The seller may be more compelled to take your offer, and at least you'll know the status sooner rather than later.
Apply a personal touch. Some sellers are swayed by a personal letter explaining their situation. Obviously this is something that'll affect long-time owners and not developers.
Move through the due diligence and contract negotiation phase as quickly as you can, and don't get hung up on any issues that are trivial in the grand scheme of things, says Stone. 
If you suspect you're in a race against other buyers, make sure your attorney knows that time is of the essence, and come up with ways to improve your offer.
These may include raising your bid, raising your downpayment (to show you're serious), waiving a mortgage contingency, accepting the seller's demand for a specific closing date, or even allowing the seller to rent back for a short period of time if they need to, says Stone.
Related posts:
Brick Underground articles occasionally include the expertise of, or information about, advertising partners when relevant to the story. We will never promote an advertiser's product without making the relationship clear to our readers.