Design + Architecture
Piscopo Iron Works: For New Yorkers who care what goes into their windowbars, railings and spiral staircases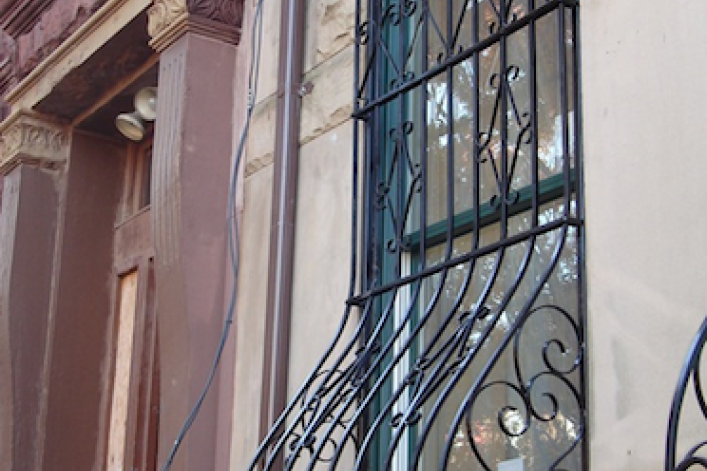 When he was 15—an age when most of his friends spent their summers at camp or running wild on the streets of Brooklyn—Gasper Nogara was at his father's Red Hook ironworks shop learning how to forge intricately decorated wrought-iron railings and fences. And he wouldn't have had it any other way.
"I love making things with my hands. It's my way of expressing myself," says the now 40-year-old Nogara, who took over sole ownership of Piscopo Iron Works—this week's Real. Est. List Spotlight Series subject—following his dad's retirement nearly a decade ago, and relocated the outfit to Crown Heights in 2009. 
The shop, which custom-makes window guards, security gates, balconies, spiral staircases and other wrought-iron items homeowners might want, specializes in brownstone metalwork restoration and reproduction (meaning that Piscopo does the steelwork for many of those charming old brownstones that are being renovated and updated throughout NYC). They also do storefronts, roof rails and other commercial ironwork throughout Brooklyn and Manhattan.
All items are crafted on a job-by-job basis—no pre-fabricated materials are ever used by Nogara or his team of three artisans—so it might take longer and cost slightly more to have a railing forged by Piscopo. But Nogara believes that the wait (not to mention the rate) is worth it.   
"A lot of guys out there are slapping stuff together on the back of a truck and saying it's ironwork," he says, noting that such brazen disregard for safety and code requirements can have tragic consequences if, for example, an improperly fashioned window guard or railing were to give way, causing someone to fall and become injured. "We try to cater to people who want true workmanship. You can buy a burger for $1 or $10. Are you getting the same burger?"
At Piscopo, the same person who takes your order cooks up your burger. Nogara says he never sends out one guy to a home to measure, another to craft the item, and another one to install the finished product. "The same hands that make it are the ones that install it," says Nogara, adding that each and every piece is wholly unique. "You get a real sense of the person doing the work," he says. "It's not cookie-cutter."
A large percentage of the company's work comes from referrals: "I'm a terrible salesperson," he says with a laugh. "But if you do right by people, they'll remember."
How it works
If you're in the market for railings, window guards, staircases or other ornate ironwork, call Piscopo for a price quote. One of the firm's artisans—often Nogara himself—will show up within a day or two to take measurements and guide you to a plan that will work for your home.
If you're not exactly sure what you're looking for, Nogara suggests visiting the Piscopo website to see photos of past work. Once you've settled on what you want, Piscopo will send over a written estimate. If you want to move forward, sign the contract, give your deposit, and the work can begin.
Since each job is so distinct, there aren't set prices. But Nogara's been doing this for so long that he's able to provide ranges for many of the items Piscopo regularly makes. An 8x15 foot deck with stairs goes for $12,000-$15,000. A standard railing can start at $65 a linear foot (and go up to $500 a linear foot if it's particularly elaborate). And guards for 3x5 foot windows are $300-$400 apiece.
It can take a few days to several weeks to fabricate the various pieces, then prime and paint them (typically black, but approximately 10 percent of clients just want their ironwork primed so they can paint it a custom color). Once an item is complete, the artisan who made it will return to install it, so if any adjustments need to be made on site, they can be made immediately.
"This is not IKEA furniture," says Nogara. "My work is for people who really want something special." 
---
Check out The Real.Est. List, the ultimate real estate guide and resource directory for all those who buy, rent, sell or dwell in NYC. Want to get listed and put your business in the Spotlight Gallery? Click here to get started or email us.       
Brick Underground articles occasionally include the expertise of, or information about, advertising partners when relevant to the story. We will never promote an advertiser's product without making the relationship clear to our readers.