Transitions
Jackson Heights to Central Harlem: It's busier, more convenient and we're hoping family friendly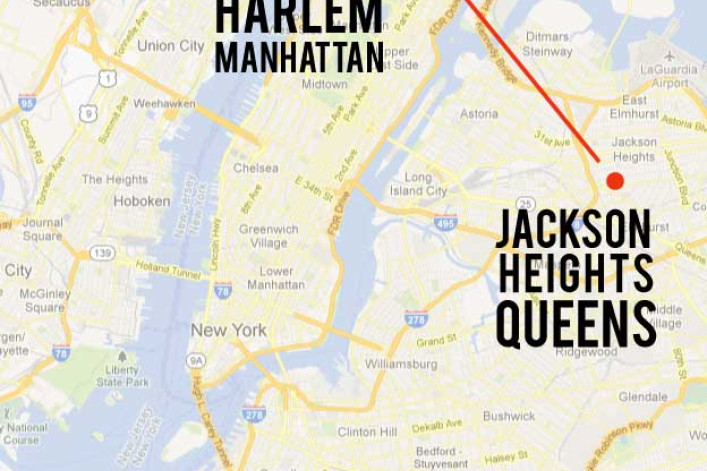 There wasn't really one concrete reason to leave Jackson Heights, though in a way there was also every reason to move away.
I had moved in with my partner into his two bedroom, one-bath apartment on the sixth floor of an old building on 35th Avenue and 88th Street. The apartment had spacious proportions--a true eat-in kitchen, and a large master bedroom. Though it really needed some updating (particularly the bathroom), there was nothing truly wrong with it. Nothing, other than being in Jackson Heights.
I'm not saying Jackson Heights is a horrible neighborhood by any means. But it didn't feel right for us and our lifestyle anymore.
I started working in New Jersey, so the commute (yes, even though it would have been the "reverse commute") was considerable: an hour and a half by car. (Though to be fair to subway riders, the overall subway situation from Jackson Heights is okay, with the E, R, F and 7 trains all serving the area.)
And although you could say that Jackson Heights actually has every convenience--grocery stores and bodegas, many restaurants, and close proximity to Manhattan via the subway--it was lacking. The grocery stores in our immediate vicinity all sold the same run-of-the-mill grocery items, the same (often tired-looking) produce. Meanwhile we've been trying to make conscious efforts to eat clean, organic, and seasonal foods. Nowhere was there a bakery to buy fresh, tasty, whole grain breads or interesting cheeses.
As far as restaurants go, it was much of the same. There were many, many restaurants of the same cuisine (mostly Indian, within a few blocks radius). Some were reliably good-- but I couldn't tell you the name of any of them. They all kind of blended in with each other, and none of them offered a dining experience really worth seeking out and repeating.
In that sense, Jackson Heights is very much a neighborhood-y area. A place where people have their corner delis and find their favorite eateries without having to go consult an online guide. But we invariably found ourselves in Manhattan when we wanted to go out.  
The apartment itself was okay--and for $1,950, it was very good value. But the walls were so thin that (I swear) I could hear the sizzle of my neighbors frying bacon. And I could also smell the bacon.
With the proximity to Manhattan (about twenty minutes give or take to Midtown on the E, R, F or 7 lines, including the wait) it was easy to get in to enjoy an evening out with our friends.
The thought of a move into Manhattan was very enticing. We felt our incomes would easily support a spacious two-bedroom in Manhattan, and a garage.  So we began to look, just to see what was out there. We agreed that we would only take on a move if we absolutely fell in love with a place.
We had a laundry list of must-haves and we would stick to it religiously (unless something bowled us over so that we could give up on one item). We looked in Lower Manhattan, around Battery Park City (walking distance to my partner's office). The apartments were so tiny and so overpriced. A parking spot in a garage would have run us about $400 a month.
We also looked in the far-west Midtown area--in those sleek luxury towers. The area would have been better for my commute to New Jersey.  There, the prices were also extremely high for little space.
As the search went on, it started to become clear that the neighborhood that made most sense for us to live in was Harlem. We knew from spending time in the home close friends of ours in Hamilton Heights that the apartments in Harlem were generously sized and still affordable. It would be easy for me to get to New Jersey from there.
The George Washington Bridge is very close by, so by car, my ride would be cut down to about 40 minutes. It's a good amount of time to be in a car, listening to NPR before the work day starts. And the garages here are much, much cheaper. I pay $200 a month for the convenience of parking just barely a block away from home.
Plus, we'd be close to our friends. While being close to friends may just be a bonus to some, we got news that made it the selling point. We found out that we would be having a baby! And all of a sudden having our support network immediately around became very important to us.
We saw more than 15 apartments in Harlem, this time focusing on three bedrooms (room enough for an office and guest room). In the end, we came back to one of the first apartments we saw in a modern building on 145th Street. The price--$3,300, plus a 12% broker's fee--was on the top end of what we wanted to spend. But the convenience factor won us over completely.
The apartment has everything we wanted: three bedrooms, two baths, dishwasher and washer/dryer and a spacious living/ dining area. There's a 24-hr doorman, which takes getting used to, but we're finding it's great for receiving packages (of which we have many, since we're outfitting a nursery). Huge bonus: our gym, New York Sports Club, is right downstairs. Our garage is a street away, and there is Duane Reade and Pathmark for quick grocery shopping.
Speaking of grocery shopping, though, I can't overemphasize how much I love Fairway Market. That place really has everything anybody can need--bread, cheese, organic produce, seafood counter and butcher … you name it.
The subway (express stop on the A Train) is across the street. And across from the building is Jackie Robinson Park, with a swimming pool and the bandshell where they hold one of the free Metropolitan Opera summer series events. 
And while I admit this neighborhood is a bit busier than our last (145th Street always has heavy traffic), it's been a really positive move in most respects.
I say this even though we did experience some thing awful a few weeks ago: somebody yelled a homophobic slur at us. We were waiting on the subway platform, minding our business, and there it was. We're not under any illusions this kind of ignorance is an isolated phenomenon anywhere in the city, but it was still pretty shocking. And especially upsetting because it happened so close to home.
But we defy that kind of sad, ignorant action and just keep making our home here.  And our new place really is starting to feel like home as we outfit it for parenthood.  
We see our friends at least once a week--it's great seeing them for quick visits during the week instead of just on weekends. (We live 5 blocks apart now.)
We've had dinner at each other's places, of course, but Harlem has really great restaurants within walking distance to our places. Maison Harlem  has delicious food as does Covo. Bier International has some of the best beer anywhere in the city and it's also very family friendly. We hope that living in the city will prove as family-friendly as we've heard and we're curious and excited about getting to know Harlem as first-time parents!
---
Transitions highlights New Yorkers' first impressions as they transition from one  neighborhood to another. Want to tell us your transition story? Drop us an email.
Related:
Moving to NYC? Here's a crash course in finding an apartment here
Jackson Heights to Prospect Heights: From loving my apartment to loving my neighborhood
South Harlem to Midtown East: Moving for a great elementary school
Harlem to FiDi: I feel safer, things are more convenient, but I miss greenery (and families)
Astoria to Harlem: A neighborhood that feels like the UWS (circa-1985)
Brick Underground articles occasionally include the expertise of, or information about, advertising partners when relevant to the story. We will never promote an advertiser's product without making the relationship clear to our readers.