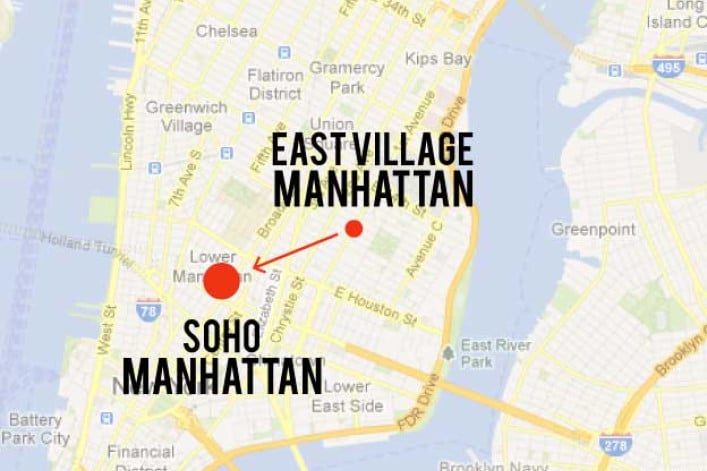 For three years, I lived in the East Village on Avenue B in a penthouse, duplex apartment with a fantastic private terrace,  three bedrooms, and two bathroom unit. I lived there with my best friend, her amazing black Lab and some revolving roommates.
We even had private elevator access that opened onto our floor and our own washer and dryer, but along with this came the responsibility of paying for own hot water. It was a very fun, colorful and social living situation.
Eventually I packed up and moved to Europe for six months. When I returned, I was intent on finding a similar living situation. I found my new place--in Soho, on Crosby between Broome and Grand--on Craigslist. 
The location is great for work--I walk to my office in West Soho, an area now being coined as "Hudson Square"--in about 12 minutes. The apartment is really cool, with cathedral ceilings and enormous, sunny windows. It is a three-bedroom, one-bath apartment, with an open living room and kitchen area plan.
I love my new apartment, close proximity to work, easy access to trains--I'm near the 6 on Spring and Lafayette; otherwise I can catch a medley of trains at the Canal/Broadway stop or walk west and hit up the 1 (which is on Houston and near my work in Hudson Square)-- and my considerably cheaper rent--I now pay $1350 in a 3BR share as opposed to paying $1550 in the East Village. The only reason it's that much cheaper is that I'm in a sixth-floor walk-up now.
However, I have to admit that I miss the small-time neighborhood feel of the EV. I can still go back and walk down my old street and greet the bar and restaurant owners by name and recognize many of my neighbors. That sense of community is lacking for me in Soho, especially with streams of anonymous tourists pouring through the streets.
Where once I was overwhelmed with bodega choices--and knew which ones had the best sandwiches or the cheapest beer--I now have much slimmer pickings, and no personal relationships. As with any new neighborhood, I know there will be growing pains and that new relationships will form.
Although I was glad to say goodbye to some of the noise and filth of my old neighborhood, I do miss that character. The noise and filth is what makes East Villagers especially unique! It's a friendly middle finger to the gentrification of many other neighborhoods in New York City.
Some of the places I loved in the EV were Back Forty, because it has the most incredible burger, Spina and Gnocco because of their amazing homemade pasta; and pizza at Eleven B is a must--it's perfect. Vinny is the owner and he is a neighborhood staple, and incredibly generous. We brought Vinny and his staff cookies for Christmas.
Boxcar has a great back garden and can make you any mixed drink you desire! Evelyn Drinkery is great for a larger group of people for drinks and great music. Yuca Bar has an unreal brunch menu. And Paquitos! That's a Mexican place that looks like a hole in the wall until you enter it--huge back garden, simple ingredients and always a happy and fulfilling meal!
It has been fun trying to find new favorites in my new area. Funnily enough, Back Forty East was on my street in my old neighborhood and now Back Forty West is on my street in the new neighborhood. I have yet to try out their burger to see if it matches its East side sister.
I really like Cafe Habana (the corn), s'Nice (bean burrito, always) and rbbts for their Bedford sandwich (a magical combination of turkey, scrambled eggs, avocado and muenster cheese on multigrain bread).
I haven't checked out the nightlife yet in Soho but hopefully will find some new go-to's.
Because grocery stores in SoHo are basically nonexistent and I really miss the aforementioned bodegas, I'm spending far more money on food because I'm forced to order in or eat out. So even though my rent is cheaper, I'm still spending more.
Always looking for a silver lining, one cool thing is that I'm a big online shopper, and a lot of my favorite stores are now just around corner like Anthropologie or Bloomingdales. I order things online and then return them at the local store which is much easier than schlepping to the great shopping areas from the EV.
---
Transitions highlights New Yorkers' first impressions as they transition from one  neighborhood to another. Want to tell us your transition story? Drop us an email.
Related:
Moving to NYC? Here's a crash course in finding an apartment here
How to find a rent-stabilized apartment in NYC
The SoHo Memory Project: One eye on the past, and the other on the $45 million penthouse across the street
East Village to the Upper West Side: Escape from drunken revelry & stoop abuse
East Village to Carnegie Hill: Our friends call us old, but it feels more like home
Brick Underground articles occasionally include the expertise of, or information about, advertising partners when relevant to the story. We will never promote an advertiser's product without making the relationship clear to our readers.