Transitions
Brooklyn Heights to Harlem: Escape from multi-million dollar mansions and unfriendly neighbors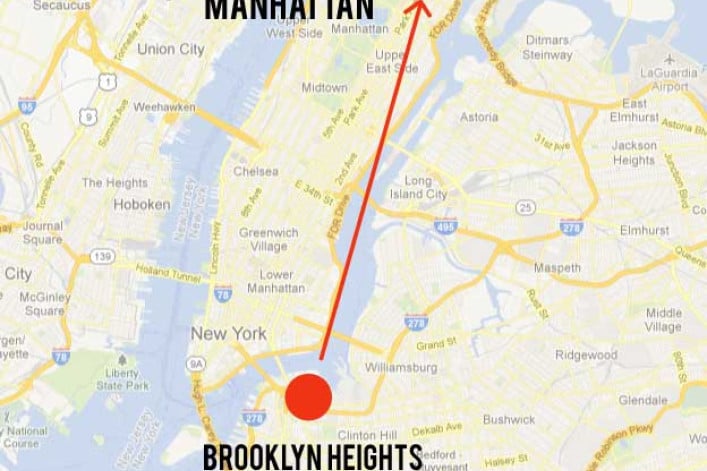 Ever since I was a child growing up in Clinton Hill, I'd dreamed of living in Brooklyn Heights, specifically on Garden Place, often dubbed by brokers "the nicest block in Brooklyn."  Growing up, a number of my friends lived there, and the contrast between my family's historic, if run down, brownstone in a pre-gentrified area, and the well-renovated mansions with gaslights and pretty facades fueled an unstoppable teenaged lust for real estate. 
Finally, as a result of my willingness to finance my prospective landlord's past-due real estate taxes via prepaid rent, I was able to find a gigantic floor-through in the ugliest house in the neighborhood.
Who cared if the bathrooms still had the pink and blue tiles common in the Eisenhower administration, or the stove manufacturer went out of business before I was born? The 13-foot ceilings, multiple fireplaces, ornate details, parquet floor, and vast amounts of space were truly droolworthy.
But after a few years, the spell wore off. The 40-minute commute to Midtown was long, the restaurants on Montague street often mediocre, and leaving the neighborhood by car often meant losing a half hour to traffic and another twenty minutes to walk to the closest affordable garage. 
In addition, lugging overpriced groceries several blocks and up multiple flights of stairs was uncomfortable, there was no place to put an A/C unit, and jogging through the neighborhood meant dodging thousand-dollar strollers, professional dog walkers, and the thick throngs of tourists on the Brooklyn Bridge, all while inhaling exhaust from the BQE.
Also, people were simply not friendly; I spoke around one word per year to my upstairs neighbor.
The third time the water started pouring down the inside of my bedroom was the tipping point; it was time to move.  But where? 
I looked at over 150 houses and condos in brownstone Brooklyn, and there were simply no good deals to be had. 
Even an "estate condition" co-op would have required nearly doubling my monthly payments, and the prices for "problem" buildings with rent-regulated tenants were stretched.  Generic townhouses were priced at $1,000/brick, and fancy new condos seemed like generic middle class apartments with a $25,000 never-to-be-used kitchen and a $250,000 increase in price.
The culminating insanity was a completely rebuilt Brooklyn Heights townhouse with two sets of washer-dryers (because who wants to bring clothes downstairs?), an amazing, yet impractical, 'farmhouse' sink embedded in a $150,000-plus kitchen, and backyard full of outdoor speakers that looked like singing rocks.  The Champagne and wraps at the open house were fantastic, as was the $7 million price (it sold for $8 million).
This is when I started thinking about Harlem.
I purchased a renovated, three-family townhouse in Harlem for less than $1m last year. Thanks to an FHA loan (at 3.875%) and a modest, five-digit down payment, I became a homeowner. The tenants cover most of my mortgage and expenses, and my net after-tax costs are around $800/month for 1,500 sq ft, a roof deck, yard, basement.  Since then, prices have skyrocketed, and recent comps are close to 50% higher than what I paid two years ago.
So far, the new house has been great.  I've got a dishwasher, a giant washer/dryer, sinks with one-touch faucets and sprayers, a hot water circulator, actual cabinets, and real tile.  I can park the car in front, which makes visiting Fairway, Costco, or Home Depot worthwhile, and I can store food and liquor in the basement. 
Quality restaurants are few and far between (Yatenga, Red Rooster stand out), but they're gradually colonizing the area, and the high-end coffee spots are packed, leading me to think that entrepreneurs will open more soon. 
Whole Foods should open soon too, making the area safe for UWS organic foodie refugee parents, and the quick walk to the 2/3 train on 135th and Sixth makes my trip to Midtown far faster than before--it takes about 20 minutes to get from Harlem to Times Square.
The neighborhood is far more diverse than Brooklyn Heights, both racially and economically; we've got financiers living on the same block as Section 8 recipients. People are far friendlier.  I see plenty of "aspiring actresses" walking around at night. 
Longer term, the demographics of NYC as well as the expansion of City College, Harlem Hospital, and Columbia University should create job and population growth, contributing to the rise in home values and the development of more exciting stores and amenities.
Downsides of the neighborhood are the litter (many Harlemites seemingly can't be bothered to use trash cans), community centers that effectively function as unregulated nightclubs, the lack of upscale bars and restaurants, due to zoning restricting them to at least 200 feet from the ubiquitous churches, and groups of crazy kids driving dirt bikes up and down the avenues.
I miss decent Asian and Mexican food, and a liquor store that doesn't confine you to a plexiglass cage.
All in all though, I'm satisfied with my purchase, and I've probably made more in equity appreciation than I did by working since I moved here.
---
Transitions highlights New Yorkers' first impressions as they transition from one  neighborhood to another. Want to tell us your transition story? Drop us an email.
Brick Underground articles occasionally include the expertise of, or information about, advertising partners when relevant to the story. We will never promote an advertiser's product without making the relationship clear to our readers.