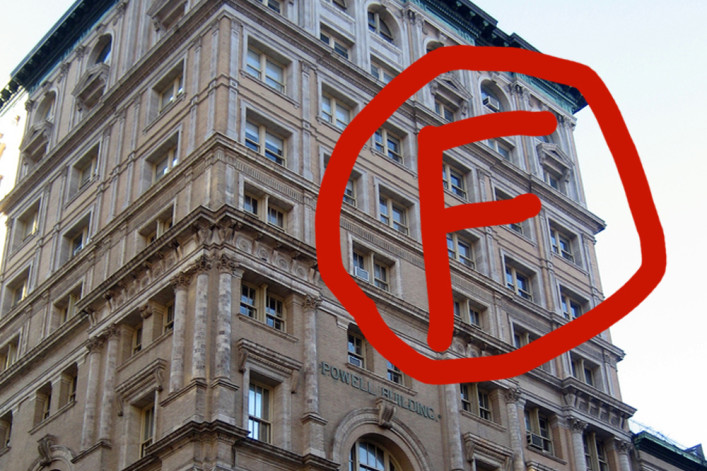 If you're looking to buy a NYC apartment (where the average price of a NYC apartment was $1.425 million the last time we checked), there's a decent chance you are also in the market for a mortgage.  
You may already know that in order to be taken seriously as a buyer you should be pre-approved before you step into your first open house.
But it's only once your real estate search is over and you're ready to move forward on an apartment that the real financing fun begins.
We asked some experts to spot some of the most common hurdles tripping up NYC buyers these days and give us their suggestions for overcoming them.
1. Being self-employed or having an irregular income.
If your income is slightly unpredictable and tends to fluctuate between feast and famine, you may seem like an unpredictable borrower in the eyes of the bank.
"That's really, really hard," says Robbie Gendels of National Cooperative Bank. But it's not impossible for self-employed people to get a loan. You just have to be meticulously organized in documenting absolutely everything you earn, Gendels says. A lender will ask you for your last two years' tax returns including all the schedules -- and of course the same goes for those submitting estimated taxes every quarter.
Documentation is especially important if you receive your earnings in cash.
"No one likes to declare cash earnings," says Gendels. "But you must create the documentation and paper trail."
If you know that you may one day need to take out a mortgage to own a home in the future, do yourself a favor and declare every penny you earn.
Another helpful trick? Put down a higher-than-20% downpayment. This way, you are not only reducing your debt burden, but starting at 25% downpayment ensures you are getting the lowest rate you can.
2. An insufficient or bad credit history.
An anemic credit score  will kill a loan. Credit scores (of which your credit history makes up about 35%) are essential to securing a loan and keeping rates low. 
A good credit score out of the maximum 850 would generally be north of 700, though a more conservative estimate would just start at 720. Given that a stellar score is important, anything lower than "good" is automatically bad news. 
But what if you are a foreign transplant who simply hasn't had time to build up your credit history? Or what if you've built bad credit for yourself in the past due to late payments or maxing out credit cards? 
Even in such cases, all is not lost if you start early.
"It's possible to rehabilitate a credit score in a year," says Gendels."Be prepared, be proactive, make informed decisions."
Contact one or all of the three agencies --Equifax, Experian and TransUnion--to find out exactly where you stand. Find out if there are any discrepancies on your credit report that may be dragging down your score and have them fixed.
For those who need to build up their credit, early action is also key.
"If you can, get a secured credit card. Or you may have to rely on 'alternate sources of credit' at first, like getting utilities in your name," Gendels says.
Anything you pay regularly, like rent, can help. And then, of course, you need to make sure you maintain those accounts well, so you can ask a representative to write you a letter stating that you are a tenant/customer in good standing.
3. An appraisal that comes in too low.
A low appraisal basically says to the lender that the property you are trying to buy is not worth as much as you're paying for it. That's a common problem in a strong market like this one where bidding wars have become commonplace; appraisers rely on historical sales data--what people paid for similar properties a few months ago, not what they're willing to pay today.
"The first course of action in combating a low appraisal is to renegotiate the price with the seller," says Gendels.
If the appraised value is not too far from the offered amount, the seller may be open to that option--or at least agree to split the difference. In that case, a low appraisal may turn out to be good news to you as a buyer.
If that doesn't happen, and you really, really want this place, you could try to appeal the appraisal, or try to get another one. There is no guarantee another appraisal will bring in a different value, of course.
"Another thing to do, if at all possible, is to put more money down and reduce the amount you are looking to borrow," says Gendels.
If none of these scenarios work out and you do end up moving on, don't write it off forever. After all, if the sellers find themselves in the same situation over and over again, they may eventually decide to budge on the price. Keep an eye on the listing, and if you see any movement on the price... pounce!
4. The condo or co-op building fails to get approval.
There are a few factors that can cause a building to be rejected, such less an owner-occupancy ratio of less than 51 percent. 
"This may happen in a newer condo, where the sponsors have not yet sold their units, for example," says Gendels, who will preapprove buildings to avoid last minute surprises. "Or, there may be outstanding insurance claims against the building. Or perhaps there is not enough positive cash flow."
In such cases, Gendels says, you may have to approach a direct lender--a.k.a. "portfolio" lender--like National Cooperative Bank, that plans to hold onto the loan in their own portfolio instead of sell it.  The requirements and standards of portfolio lenders are often more flexible than loans that need to conform to Fannie Mae guidelines in order to be sold in the secondary market.
Richard Martin of Quontic Bank, which also does portfolio lending in addition to traditional mortgages, says that having their own guidelines for lending allows them to do more "out of the box" mortgages than the FNMA lenders and big banks. 
"I like to say that we will do almost anything for the right client as long as the deal makes sense," says Martin. "This would include weaker co-ops and condos and even newer condos where the big banks will not lend until they are 50% sold." 
5. Not enough post-closing funds or a too-high debt to income ratio.
Being low on your own funds is a difficult obstacle to surmount.
"There are times when I do recommend that people wait to build savings or improve credit, but it is a seller's market now and buyers feel as if properties are getting away from them--so many people want to act now," says Martin. "It is tough to convince them to wait."
If you've exhausted your avenues for beefing up your post closing funds, or generating more cash for the downpayment in order to lower your loan amount, a portfolio loan with more flexible requirements may still be an option.
"In terms of guidelines, we accept lower credit scores, are more flexible with self-employed borrowers, allow a bigger mortgage relative to income and do not have high post-closing liquid asset requirements," he says. "Since the sub-A paper mortgage market dried up there is really either banks like us or the FHA product which allows higher loan-to-values, lower credit scores, etc.  It is sort of the new sub-prime…but not nearly as risky."
6. Inexperience and incompetence (on the part of the lender).
If the first question a real estate agent asks when you view an apartment is "Are you pre-approved?", the second may be "Is your lender familiar with co-op and condo purchases in New York City?" or even "Where is your loan officer based?"
Dealing with a lender or loan officer who is not familiar with the NYC real estate market--with its co-ops and condos and condops, loft conversions, etc.--can lead you down a bumpy path--or worse.
Based on her experience with buyers, real estate agent Ross Ellis of Halstead Properties says it's not absolutely necessary to go with a lender whose loan officers and underwriters are located nearby. However, she does stress the importance of their being completely versed in the market you are buying in. If you cannot ensure that is the case, or if you can't even ascertain that information, that may be something you want to include in your deliberations.
---
Related posts:
The two most beautiful words a mortgage applicant can hear
Hell is applying for a mortgage...as a self-employed writer
Looking for a mortgage or refi? Or want to upgrade the place you already have? We've got you covered
What does it take to get a mortgage in this town?
The art (and horror) of the deal
Here's some expert advice for buying and renting in the dog days of summer
Tips on financing the biggest purchase of your life, NYC-style
How to make or break your appraisal
Q & A with my appraiser: "Cleanliness has no impact on value"
How to not get scr*w*d by an appraiser
To get a mortgage, first prove you don't need one
Yes, you are still nuts to buy without a mortgage contingency 
To debit or not to debit? The 411 on automatic mortgage payments
NYC Real(i)ty Speak: MORTgage means death in Latin
4 reasons why your apartment may no longer be mortgage-worthy 
Brick Underground articles occasionally include the expertise of, or information about, advertising partners when relevant to the story. We will never promote an advertiser's product without making the relationship clear to our readers.