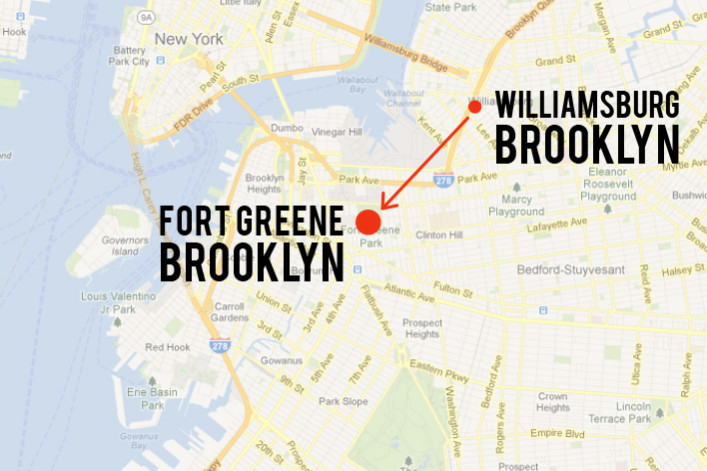 There was an accumulation of things that pushed us out of Williamsburg. Not to sound like a hipster pretending to be a wizened Brooklynite a la "I remember back in the day…" but the street we lived on--Berry Street--did go from deserted to nightlife-galore in one short year.
The record store below us in the building played regular concerts, on the corner of our block they opened a wine bar, and then there was the whisky bar that opened literally right below our window.
We were eavesdropping on too many smokers' conversations and partaking in too much secondhand smoke coming into our apartment. It was affecting our sleep patterns. In short, living there wasn't pleasant anymore. We were over-saturated with the Williamsburg hipster vibe. 
Then there was also the fact that we were getting sick of our apartment itself.  
Space-wise it just wasn't working any more. It was a loft and our then-four-year-old daughter's room was actually the walk-in closet. We needed our own separate bedroom and we also needed a workspace. It really felt like we were ready to transition from one phase in our lives to the next, even if it was only from early 20s years to late 20s.
Also, our loft was HUGE with extremely high ceilings--but the heating system was crap, so we froze our butts off in the winter whilst paying really expensive electricity bills.
Our "guest room" was in "the mezzanine" space and that meant that in the summer it was basically a sauna.  And for all that, the landlord was going to up the rent. 
After two years on Berry Street, we were so ready to move on. 
Seeing as we were renting, we had about a month to find a place. We wanted to stay in and around the neighborhood we had gotten to know so we did search within Williamsburg, just a little further out (several blocks' radius) from our address and then venturing out to adjacent neighborhoods like Greenpoint.
We used Craigslist and searched on our own, but  then we also approached a few real estate companies directly. We had a rough time of it.
All the places we liked and applied for in the area kept falling through. There was so much competition and sometimes landlords would change their minds halfway through the application process. One time, we submitted an application on an apartment that turned out not to be on the market at all. 
Timing started getting tight and we'd pretty much seen everything in area. Our daughter would be starting school soon. And that's actually what gave us the idea of searching in Fort Greene.
There was a private school in Fort Greene with an approach based on immersion in French and Mandarin--the two main languages spoken in our home.  
Though we already had our eye on another school, we were so excited about finding this one that we committed to them right away. We weren't having any luck in our apartment search elsewhere so we decided to look in Fort Greene as well. 
The place we have now is the first and only place I saw in Fort Greene. We just went for it, without really knowing what we had settled for. Our must-haves included two bedrooms, lots of lights and a dishwasher.
Easy access to laundry and proximity to the subways were also a priority, and of course--especially after our whisky-drunken-revelers experience--we wanted peace and quiet. 
This place officially has two bedrooms, but it's really more like 1.5 because the second bedroom is still pretty small--but it's enough for now. The living space is quite big and gets tons of natural light from three exposures and three skylights. Plus, despite the small kitchen, there is a dishwasher. There's a washer/dryer in basement. 
Rent is $2,700, which is about the same as the old place (although they were about the raise the rent on the old place, so good timing on that!). 
We simply love the neighborhood.
First of all, we can walk or bike to school everyday--so nice and convenient. 
It's a little less convenient to go into the city than from the Bedford Station on the L train, which is what we used before. But we don't really mind--even my husband who commutes to Midtown Manhattan for work.
We take the G and transfer for the A or C, or else we need to walk further (15 minutes) to Atlantic, and from there we can go anywhere. The Atlantic Terminal is super convenient for transport and shopping at Target. 
The neighborhood offers so much that we wouldn't ever have to leave if we didn't want to. 
Firstly, there's the park. Great for working out--a good size for running, and it also has stairs to make you feel like Rocky. Beautiful view from the monument. 
Then there's the flea market. It's just a block away in the summer and in the winter it's held inside the beautiful Williamsburgh Savings Bank. I also love the Saturday farmer's market. They have a compost drop off which I think is just great. 
Having BAM so close by is wonderful. I'm a documentary filmmaker and I love that they show the more "interesting" films at the BAM Rose Theatre. It's a great resource for kids, too.
And I don't even know where to start listing all the amazing places to eat--and all just within a few blocks radius! We have everything here from Mediterranean tapas at Olea to South African cuisine at Madiba to absolutely awesome croissants at Baguettaboutit. (I'm French, so you can take my word for it!)
All the boutiques and stores are filled with treasures - like Thistle and Clover and French Garment Cleaners.
If I could add anything at all that would make me love it here even more, it would be to have a pool close by. I love to swim but just can't be bothered to go the YMCA in Park Slope. But I have the park as my gym and Lucky Lotus Yoga where I get my fix a couple times a week.  
Have I said already, that we love this neighborhood? Well, we do and in fact, we're ready to take our love to the next level and make a long term commitment. We like our rental a lot, but we know we will be buying a home soon.  
---
Transitions highlights New Yorkers' first impressions as they transition from one  neighborhood to another. Want to tell us your transition story? Drop us an email.
Related:
Moving to NYC? Here's a crash course in finding an apartment here
Park Slope to Fort Greene: A better commute--and cheaper, roomier apartments
Bed-Stuy to Fort Greene: From an up-and-comer to already there
Top 10 misconceptions about Brooklyn (usually by Manhattanites)
Williamsburgtopia: Hipsters like to party, make music, do art, look good. What the f*** is wrong with that?
Brick Underground articles occasionally include the expertise of, or information about, advertising partners when relevant to the story. We will never promote an advertiser's product without making the relationship clear to our readers.