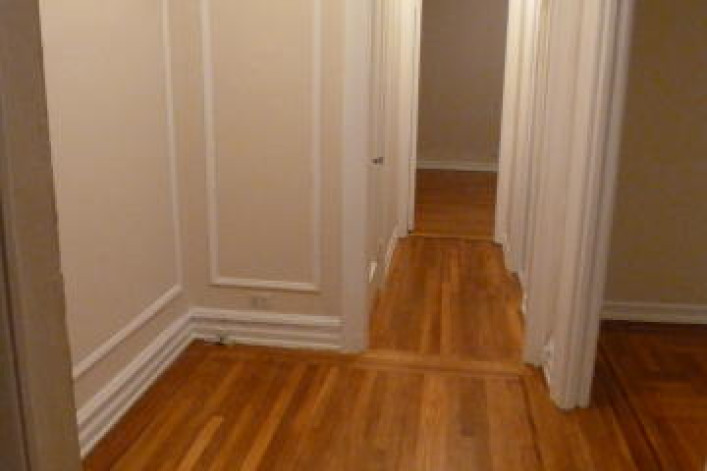 It was a happy accident that Sidney, my broker, suggested we return to the West 181st street area, aka Hudson Heights. I had liked the location, which reminded me of a Parisian enclave with its leafy trees and trellised stone steps.
I first looked here in the beginning of my search—back in April 2011. And I'd never quite forgotten the charms of the neighborhood:  the low-rise scale, thriving mom & pop stores (including an excellent wine store) and a street emptying into the openness of the Hudson River. The Starbucks on the corner was the only hint of the new world on the street.
On a Wednesday afternoon, Sidney, Chris and I met at 870 W. 181st, a large pre-war coop building that hugged the slight curve of the street heading down the embankment.
The lobby instantly clicked with my aesthetic: a columned marble lobby—not gleaming, but also not shoddy. We took the elevator to the third floor. The agent recognized me from a previous visit (not in this building), which was no surprise to me now that I'd been on the circuit a couple of years, where often I felt like I saw the same faces, just different apartments.
The first thing that struck me about No. 35, a one-bedroom unit, was the classic pre-war details: gleaming original wood floors, picture frame molding and high ceilings. I was happy upon entering. A long hallway opened to a 7-foot foyer alcove, where I could place a piano or bookshelves—even a home office.
The good-sized living room led to the eat-in kitchen, which needed renovation, but the assets included a west-facing window and river view.
The other expense I worried about was the bathroom. Happily, most of the prewar detail was left, though it needed a cosmetic makeover. The tiled floor, though not to my exact taste, was in good condition and was in keeping with the aesthetic.
Each room had only one window—but with high ceilings and an open layout, it seemed gracious and had a nice flow to it. I liked how the bedroom had enough separation from the living room to give the apartment some dimension.
It was dark by this time, so I asked the brokers if I could return the next day during day light. And when I did, this time with handyman boyfriend in tow, I saw new possibilities.
The light was still an issue, but my beau suggested knocking down one of the walls between the kitchen and living room, which would almost adjoin the windows in each room and create nearly a double-size window.
Together we poked around the closets (good-sized, but all in need of fixtures to maximize the space), turned on the faucets, rattled the windows. We tried mentally placing my furniture in the 650 square feet, envisioned where a home office might fit … talked about how much stuff I'd have to jettison to fit.
He hated the picture frame molds. I didn't mind them. We both liked the quiet and the fact that the building was pet-friendly for the days he came over with his dog. I asked the seller's agent if the building was piano-friendly and he said:  "We encourage pianos here."
That plus an asking price of $249,000 and I was sold.
The next day, Friday, Sidney and I consulted on an offer. I gave him a quick financial overview of my cash assets to assure that I'd have enough liquid assets left over after a downpayment — something co-op boards looked at in applicants. We made an offer not low enough to alienate the seller but high enough to show I was serious.
By morning, we had a counteroffer—still higher than I wanted to pay for an apartment that needed kitchen and bath makeovers. We asked to split the difference and sweetened our offer by $500 extra.
By Saturday evening, we had a deal. By Monday morning, I had a new lawyer working on a contract. I sent an email to Mary, my loan coordinator at Wells Fargo letting her know I needed to reactivate my loan. That evening, I broke open a bottle of bubbly and celebrated my return to Manhattan.
Next up: Back in the numbers game
---
Elle Bee is a lifelong renter determined to buy an apartment in NYC. She is documenting her experience for this column, Diary of a First-Time Buyer. 
Related posts:
What I learned from 150 apartments before I finally bought one
Ask an Expert: How often do co-op maintenance fees go up? Do they ever go down?
Beyond the board interview: 5 good reasons to visit prospective buyers at home (sponsored)
Moving to NYC? Here's a crash course in finding an apartment here
What's included (and what's not) when you buy a NYC apartment (sponsored)
A single guy reveals why he took the co-op plunge -- and how he basically lives for free
Unraveling NY real estate spin--one white lie at a time
To pass your co-op board interview, read this first
16 things I wish I knew before buying this place
The 7 worst places to live in a building
Your next place: 9 questions that separate the New Yorkers from the rookies

Brick Underground articles occasionally include the expertise of, or information about, advertising partners when relevant to the story. We will never promote an advertiser's product without making the relationship clear to our readers.