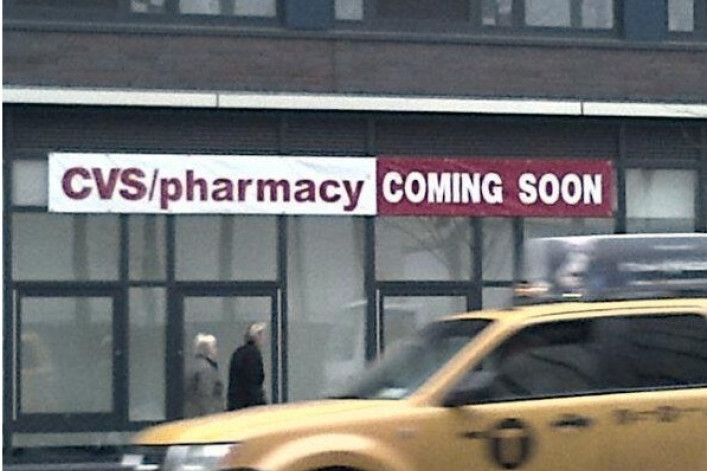 While walking along Tenth Avenue near West 53rd Street the other day I spotted a sign that said, "CVS/pharmacy: Coming Soon."
Now, in a city peppered with Duane Reades and other assorted pharmacies one would not think this is noteworthy news. However, the nearest Duane Reade on Tenth Avenue is many blocks away on West 37th and the nearest CVS is on West 42nd Street.  There are many on Ninth Avenue, but in NYC an avenue is actually a world away.
So this new CVS is a real game changer. Welcome to the dance floor, CVS. 
This newcomer to Hell's Kitchen, I'm sure, is due to the ever-growing need for amenities for those in new developments popping up here and there, particularly for those living in tony Mercedes House, up the block on 54th and Eleventh Avenue.
It inspired me to ask some neighborhood friends about what else they're missing in Hell's Kitchen.
My friend David, who lives on West 46th Street, says, "I wish there was a Capital One Bank in the West 40s West of Eighth Avenue," because that's his bank, and seriously, who wants to deal with ATM fees? 
Sean, who lives on West 52nd, laments the fact there is, "no exceptional pizza in Hell's Kitchen."  
Personally I am just fine with the influx of 99 cent pizza joints in the area, and if I'm in the mood for fancier (think fried pizza or a brick oven pie topped with prosciutto), I love Don Antonio. But I understand from Sean that he wants a walk-in-for-a-slice-place that has higher quality than a buck can offer. 
It is also worth noting that currently, if you are a woman in Hell's Kitchen, do not try to clothe yourself. There are no typical chain stores like Banana Republic, Gap or Old Navy anywhere in the area. I miss Daffys.  (There were two close by that closed in October.)
I am not aware of any women's shoe stores or anywhere at all to buy female underwear (aside from granny panties at aforementioned Duane Reades.) Thongs! I need thongs! And by thongs I do not mean the many male thongs shown in windows along Ninth. Some of the window displays are very risque displaying mannequins with better abs than any man I will ever know. 
I've mentioned the sorry state of grocery stores in my area before. Unfortunately there is no Trader Joe's anywhere nearby; the nearest are on the Upper West Side and in the Flatiron District. I have to rely on FreshDirect and trudge uptown to TJs monthly for low-cost coconut and almond milk, almond butter, frozen kale and the like.
And in such a gay-friendly area, I'm shocked that there are no gay spas offering mani/pedis, shaves, etc. to men. Although I hear there is a great men-friendly spa at The Out on West 42nd between Tenth and Eleventh, I am surprised there are no cheap, casual, walk-in spots like the local places I go for my own mani/pedis. See also: manscaping. I can't be sure, but I suspect a place for that is needed.  
There are no bookstores in the Kitchen—but then again, there are few left in the city anyway….  
I dream of a time when Eleventh Avenue is a wonderland. Instead of being populated by car dealerships and suspicious looking industrial buildings, it could sport banks, pharmacies, clothing stores and the city's biggest Trader Joes.
Until then I will have to be thankful for small favors, and plan to be the first in line to enter the CVS on Tenth when it opens.
---
A brief break from bitchin': 9 seriously awesome things about Hell's Kitchen
More posts by Kelly Kreth:
My worst nightmare becomes reality: The arrival of (real) bed bugs
15 things I've learned from 'Million Dollar Listing NY' so far
The 20 deadly sins NYC rental agents should never commit (but do)
Escape from the UES: Goodbye douchebaggery, hello Hell's Kitchen
Dear Neighbor: I am your worst nightmare
Living next to a bridge & tunnel club: KY Jelly wrestling, all-night noise, no regrets
Brick Underground articles occasionally include the expertise of, or information about, advertising partners when relevant to the story. We will never promote an advertiser's product without making the relationship clear to our readers.