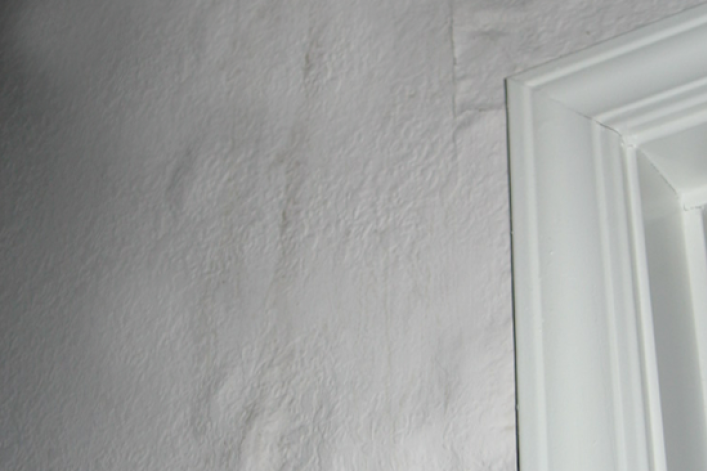 Q. The plaster in the middle of my living room wall started bulging a little where it backs up against my shower.  
What could be causing it? How concerned should I be? Who is responsible for fixing it--me or my co-op?
A. A leak is almost certainly the cause, say our experts, and the first thing you must determine is its source.
 "With plaster, the water will just sit and cause the bubbling you are seeing in your wall," says Alex Ushyarov, a general contractor and the co-founder of home improvement website Click and Improve.com.  "A plaster ceiling, on the other hand, will eventually give in and the portion of the saturated plaster will fall."
It's possible that shower water is getting into the walls through a faulty showerhead, poor or nonexistent caulking or grouting around tiles and faucets, worn out fixtures, etc., says Ushyarov.  The fix, in that case, is fairly simple--replacing worn fixtures, regrouting and recaulking.
However, warns Ushyarov, "water from leaks can travel and can go undetected depending on the ceiling type for quite some time," and so it's possible the water is traveling into your wall from the apartment above or below. You will need an experienced professional such as a licensed superintendent or professional contractor to trace the leak to its source. 
As for who is responsible for fixing it, that depends in large part on where the leak is coming from.
"In a cooperative, the building is responsible for all internal systems, including plumbing up to the point they exit the building walls and enter an apartment," says co-op and condo attorney Dean Roberts of Norris McLaughlin & Marcus. "An interior pipe leaking in the wall is the cooperative's duty to fix, for example, while a leaky faucet is a shareholder's responsibility."
Agrees real estate attorney Adam Stone of Regosin, Edwards, Stone & Feder, "if the condition was caused by a leak in the pipes behind the walls, the coop would most likely be responsible. But if it was caused by the coop unit owner's negligence, like leaving an open hole in the shower tiles, the coop would not be responsible. Of course, the governing documents of this particular coop building would have to be reviewed for a definitive answer."
Note that even if the co-op has to fix the problem, you will likely have some touch-up work to do.
That's because although your building must close up the wall after repairs are made, it doesn't have to paint or replace wallpaper, says Roberts.  As for any re-tiling,  he says, "that has always been a hard call. In theory it's like wallpaper, attached to the wall and a shareholder responsibility. However, in many of the co-ops I work with the building does tile replacement, especially Mitchell Lama co-ops."
Your co-op insurance policy may also be helpful if the leak is coming from inside the wall, says apartment insurance broker Jeff Schneider of Gotham Brokerage.
"Coverage will usually be found under both your individual apartment policy and the building's master policy, so you should report the incident to both your own insurance agent or broker and to the managing agent," says Schneider. "If the water damage results from a sudden accidental break in a pipe or overflow, it is also usually covered by insurance."
No repair work should be done until insurance adjusters can see the damage, says Schneider.  "If that is not practical, you should at a minimum at least report the damage before work begins and take digital photos."
Also remember that a moisture related issue that "can cause pest issues like fungus beetles or psocids," says pest control expert Gil Bloom of Standard Pest Management. "It is important to use a dehumidifier during correction or before sealing or resurfacing."
---
Trouble at home? Get your NYC apartment-dweller questions answered by an expert! Send us your questions. 
See all Ask an Expert.
Related:
Ask an Expert: Ripping open my kitchen to fix a neighbor's leak--fair or foul?
Who pays when it rains indoors? (sponsored)
Ask an Expert: Do I have to pay for my neighbor's water damage?
Apartment insurance coverage for mold: Here's what you need to know (sponsored)
There's an apartment insurance blacklist too. Here's how to stay off of it. (sponsored)
Brick Underground articles occasionally include the expertise of, or information about, advertising partners when relevant to the story. We will never promote an advertiser's product without making the relationship clear to our readers.