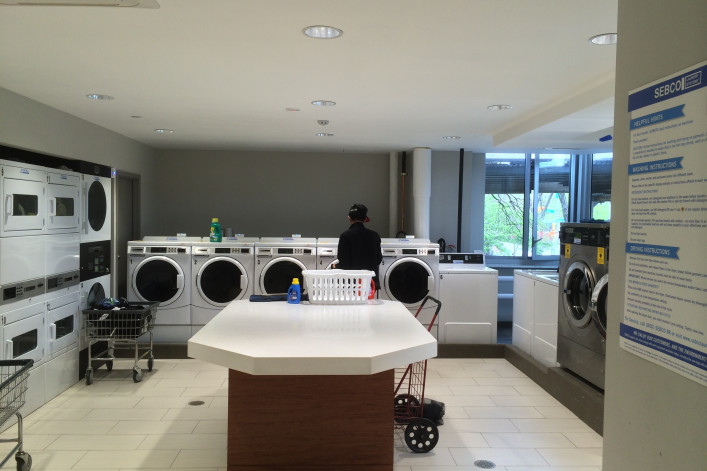 They say when you buy a home, you should buy the worst house (or apartment) on the best block. Let's say you followed that adage and got yourself a real fixer-upper. If you're on a budget, you'll probably want to do as much of the work yourself, as we did.
When we first walked in to our Harlem pre-war, one-bedroom 900-square-foot apartment, the place had the vibe of one of those old homes in movies where everything is covered in dusty, white sheets just waiting for us to prance around and unveil it.
Well, white sheet was right. Except it was white paint that had basically just been slathered over everything but the floor. Then there was old water damage bubbling underneath patches of crumbling walls. And of course, the bathroom needed gutting.
Now, after undergoing renovations for over a year--and being about two-thirds of the way through everything we want to accomplish--I've learned a ton.
If this is your first home and first renovation, you may find these warnings, um, I mean lessons, particularly useful. Here's what I've learned so far:
1. The meaning of a lot of strange words.
Long nose pliers, bullnose tile, toilet rough-ins. Get the lingo down and impress your friends with your new tricks!
I remember walking into a tile shop with a friend one day to place an order for the bathroom re-model. After I had rattled off my tile and grout selections, my friend turned to me and said "I understood 'tile' and that's about it." 
She didn't appreciate my excitement over grout dye and a marble saddle to complement the penny round we had chosen.  She was confused when the guy suggested 'a nice pencil' to round off a corner instead because there is no such thing as tile that is finished on the 3 and 6 inch side. (He meant pencil tile.) 
Even before you get to a shop, do the research and get familiar with the terms. Visit online forums, watch re-runs of Bob Vila on YouTube. The professionals you deal with will really appreciate not having to explain every little thing. Plus it'll help you find what you need quicker. At the very least know the difference caulk and grout.
FYI: long-nose pliers are also called needle-nose pliers and are incredibly useful for gripping and cutting wires. Bullnose tile has a rounded edge for a finished look; the rough-in is the all important measurement you need when buying a toilet – let's leave it at that.
2. Paint arithmetic.
True story: I was once in line at the paint counter and the person in front of me showed the clerk a picture of their deck and said "how much paint do you think I need to paint this?"
Don't be that person. It's like showing somebody a picture of a foot and asking them to guess what size shoe it needs.
I never thought there was so much to figuring out how to paint a room. But in fact, when painting a whole room, you should calculate the size of the room including how high the walls are, minus the areas for the doors and windows and baseboards and molding. Paint calculators are very important, especially when you're shelling out close to $30 bucks a gallon. Visit any paint purveyor's website and use their paint calculator to figure out the amount you'll need. (I used this one.)
Paint cans will also mention how much coverage you get, but once you have the necessary measurements it's okay to ask the clerk for help – that's what they are there for.
3. More math: Renovation trigonometry.
You may not be able to do all the work yourself, so when you hire somebody to do work for you, remember that there are three aspects to any project: cost, time, and quality of the results.
You can either take your time and get good results within budget. Or you can push for a fast turnaround without sacrificing quality and that's going to cost you. Or go with the contractor who promises fast work at the lowest price, and you are pretty much guaranteed crappy results. It's your call.
But since any professional renovation/remodel in NYC is going to cost you a pretty penny anyway, you may as well get the best results possible.
When we were looking for a contractor for our bathroom remodel, we had all sorts of offers. One person offered to do it for half the price anybody quoted us, and he could finish the bathroom in under two weeks.
How? By tiling over the existing wall and floor tile. Mind you there was already an inch and half worth of old tile layered into the wall. What's one more? He explained that as long as the wall wasn't so thick that it touched the door hinges we should be fine.
A more reputable firm quoted the same time frame for a gut renovation, but their price was way outside our budget. We ended up paying half that for a job that took twice as long to complete.
4. You will need access to a car.
And you will need to get to the suburbs. Home Depot in the city sucks. There, I said it. The stores are often tight and over-crowded (particularly on the weekends) and as a result sales people are often harried hot messes.
Small hardware stores are good for small purchases. But to stockpile 6 mil plastic sheet rolls and canisters of patching compound, then do yourself a favor and head out of the city on the weekends with a car--yours, a friend's, or a Zipcar.
Go early and you may actually have fun strolling through the wide aisles, sipping coffee, getting advice from overly-enthusiastic, semi-retired employees, or chatting with the suburban DIY couples looking to fix a crack in their front lawn porcelain fountains.
I personally like Paramus, NJ for these types of trips. About a twenty-minute drive from the George Washington Bridge, Route 17 has Home Depot, Lowes, and Benjamin Moore. You can cover them all in one morning, and still have time for a quick lap around Ikea, West Elm, and the Container store (for idea gathering) which are all in Paramus, too.
(And also there's a much less crowded Trader Joe's, but that's by the by).
5. Don't start stripping paint unless you're prepared to see it through to the bitter end.
This little nugget of advice might be the most important thing I include in this piece.
I rue the day I looked closely at the millwork. The stalactites of paint encrusted to the poor, 100 year old window casing. Doorbell cables sloppily snaking through every room of the apartment under a leathery blanket of paint. Avert your eyes--or replace the woodwork rather than strip.
If you don't believe me, then believe a professional. After trying the silent paint remover (it works, but only on flat surfaces), Citrix paint peeler (it works, but only penetrates 2 layers of paint), milk paint remover (works, but good luck getting to the layer of milk paint first) and so on, we decided to call a company that sells industrial strength remover.
And when I described our situation they said: "Hm. And there's no way you can live with it? Because I'm not sure we can help."
6. You don't always need to tip the super first.
We didn't. Maybe I'm a lucky fool, but my super loves me anyway. He calls my husband 'compadre'. Before we started the renovation I learned online that it's customary and advisable to tip the super some money to (as one streeteasy commentator put it) "grease the way."
I felt it would be a bad idea to set that precedent. We agonized over the decision to tip or not. In the end we felt so strongly about the principle of the matter that we decided not to tip and let the cards fall where they may.
If you give somebody money for no reason other than "he'll make your renovation go smoother", that's not a tip, that's protection money. (But hey, if you feel differently about this in your building, then by all means, get greasy.)
7. Learn to advocate for your walls.
You'll be surprised how difficult it is to figure out your plaster walls. Is it gypsum block? Lime? Should you dry wall over it and call it a day or pay for a skim coat? How hard is it to get a smooth finish with spackle compound? (Very.) How to install anything into the walls? It is notoriously difficult to find the studs behind plaster walls. I haven't found one yet. I've managed just fine with the appropriate screw anchors. (See? Lingo.)
8. Anything out of the ordinary is extraordinarily expensive.
You'd think smaller things cost less, but that's not the case at all. "European- sized" or "apartment-sized" appliances are specialty items that can cost twice as much as standard Kenmores.
Also, you'd think working with "found" or scavenged materials would be cheaper, but it's not. Handymen and contractors like their big box store 2-by-4's. Anything out of the ordinary costs extra. Extra money, and extra effort in research and sourcing.
9. Don't change something just for the sake of changing something.
In other words, choose your renovation battles carefully. Like some people who collect bride's magazines before their wedding, I hoarded shelter magazines in preparation for owning my own apartment.
From day one in the new space, I was trying to figure out what I could move without bringing the roof down over our heads. But--while I'm far from being what I like to call a Pre-war Purist--a few weeks in the space made me realize that it would be stupid, not to mention expensive, to change the layout of the apartment, or even the pre-war feel of the place.
Why knock down a wall to create a pass-thru kitchen when there is absolutely no need for it other than to make everybody shut up already about how you can knock down a wall to create a pass-thru.
10. Speaking of "making everybody shut up"…
...Just tell everybody to shut up already about your renovation. People often think it's ok to freely opine on our renovation. I don't know why they think that. It's our space and our process.
Did I say "What would you do if you were living here and paying the mortgage?" No, I did not. I said "Welcome to my home, don't mind the ladder."
Related posts:
10 things to do to your NYC apartment before you move in (or out) (sponsored)
10 first-time renovation mistakes even New Yorkers make
NYC Renovation Questions: What are the best paint colors for an apartment?
Ask an Expert: Can I get approved for a wet-over-dry renovation before I buy?
Introducing Click and Improve.com: Easy one-click home improvement & repairs for stressed-out urban dwellers(sponsored)
NYC Renovation Questions: How much do architects charge?
Can't afford/find a two bedroom apartment? The right one-bedroom just might work
Want to renovate? Here's how to get the money
Here's why you may be overpaying for your NYC renovation
NYC Renovation Questions: Getting that punch list completed (without coming to blows)
Brick Underground articles occasionally include the expertise of, or information about, advertising partners when relevant to the story. We will never promote an advertiser's product without making the relationship clear to our readers.