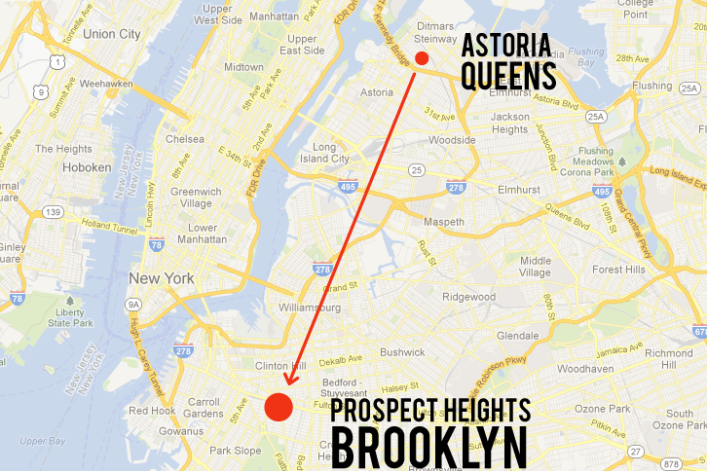 I grew up in Doha, Qatar. I was born and raised there as an expat and moved to the States after high school. I went to the University of Florida, and then moved to Korea. After Korea I traveled for a year and then found my way to New York. 
I didn't have a job or a place to live. I booked a one way ticket and came toting just a backpack, suitcase and guitar (who doesn't love a good cliché?). 
I looked for places on Craigslist with no filter for location. I knew nothing about New York geography. I didn't yet know what borough I would best belong to.
I wound up in Astoria, Queens, because the apartment was the most comfortable choice --it was a nice 3 bedroom, one bathroom with hardwood floors in a modern apartment building with four floors. The rent was $675 each (I had two roommates) plus utilities.
My room was small. The closet was not in my room; I had the closet in the hall. The redeeming quality was all the natural light it got. It had five big windows that faced the garden area in between the apartment buildings.
It was a safe and easy transition into a big and scary city...two blocks north of the Astoria Blvd stop of the N, Q on Hoyt and 28th. Around the corner from the Beer Garden. 
I did have some favorites: The Beer Garden, Crescent and Vine (a wine bar) and Astoria Park is very pretty along the water. It's great to go there to watch the sunset or for a short run.  
Fast-forward half a year or so. Once I found my footing, I started to get a little restless. The roommates were cool, the apartment was nice but the area started to generate less and less interest in me for adventure.
I was losing motivation to explore my 'hood. I rarely stayed in Astoria to go to a local bar or restaurant, I would always jump on the subway and venture the hour down to Brooklyn for a free concert, or make my way to Manhattan to get some funky ethnic food. 
As the year passed, I got to know the city, made friends, found work and started to figure out my niche. This is an ongoing process no doubt, but I started to feel Brooklyn beckoning. 
For lack of a more eloquent way to put it--Brooklyn is happenin'. It's where the action's at--or at least the action that I want to be involved in. It seems that so much of the artistic and innovative loveliness that New York generously offers somehow originates or is connected to Brooklyn. 
Now, I fear I might be generalizing a big borough here. This is based purely on my personal experience--based on what I choose to see and do in the different boroughs.
But the Brooklyn I saw was gritty and dynamic. It had character and history. Not to say that Astoria was lacking all this, but simply to say that Brooklyn was full of it. Indeed, I decided to move from Astoria not because I didn't like it, but because I really liked Brooklyn.
After the New Year, I started aggressively searching and chasing Brooklyn spots on Craigslist. Unlike my first go around, this time I had a very specific idea of what I wanted. The new place needed to be close to good bars, restaurants,  coffee shops, Prospect Park, my friends, and to multiple trains.
For the apartment itself, it was really imporant for me to have a good social space and compatible roommates. I was really looking for an easy social atmosphere. One where I could come home and have casual unwind chit chat with the roommies on the couch. 
I also wanted to live in a house. And since I was used to paying around $750 in total rent (including untilities) in Astoria, I did not want to have to adjust my lifestyle to pay for higher rent. 
Because of that, it took me what felt like forever to find a place, though in real time, it was about a month. I looked obsessively. It's a full-time job trying to find the right place and sifting through all the ridiculous posts on Craigslist. (Number one pet peeve: posts IN ALL CAPS. Why are you shouting at me?!)
Anyhow, I finally found a place on Washington Ave and Pacific Street in a three-floor brownstone in Prospect Heights. We have the bottom--a 3-bedroom garden apartment. I share it with two roommates and the rent is $633 each plus utilities. I've been here a few weeks now and I love it.
Any change takes time and adjustment, but with each day I feel more and more at home.  My neighbors are down-to-earth and welcoming. The location is wonderful. 
I'm running distance from Prospect Park—which I have been taking full advantage of and I'm close to all sorts of funky bars and restaurants.
There are a ton of great places! Cornelius and The Vanderbilt on Vanderbilt Avenue, The Sunburnt Calf, Tom's Diner, Zaytoon's. Tom's Diner is awesome.
If I want to go out spontaneously for a beer for just an hour, I can! It's not a huge 4-hour ordeal messing with the trains etc…
Brooklyn is also so much more convenient than Astoria. In Astoria my only trains were the N or Q and the Q didn't run into Queens late nights or on the weekends so I would often wait a half an hour to get the train. 
In Brooklyn, there are more options. I live by the C train, which is not super reliable but I also have the G train fairly close and the Q. 
Again, I know Brooklyn is huge, but it somehow has a close knit community culture to me. I'm walking distance from most of my friends, biking distance the city and close to all sorts of fun, quirky Brooklyn-y things like, go for a run in Prospect Park, drink really good beer, go to the Botanical Gardens, cozy coffee shops, go thrifting, beer at a bar with a garden/outdoor area.
This area of Brooklyn has the excitement and innovation of a big city, while maintaining a homey familiar feeling.
I've already met and befriended several of my neighbors. I couldn't tell you one of my neighbors' names back in Astoria. I think living in a brownstone (compared with an apartment building in Astoria) lends to this neighborly, friendly behavior.
I can't wait for the warmer weather so I can start to have friends over to my little backyard for a barbecue.
Of course there are some tradeoffs for having a good location and backyard. My room is tiny with only one small window, in Astoria I had five huge windows. But it seems to me that, unless you're a millionaire in New York, your apartment is always going to have a "but." The laid-back roomies, location, and the backyard more than make up for the "but."
I can't see myself moving in the near future. I've invested much more in this apartment just in the few weeks I've been here than in the whole year I was in Astoria. In retrospect, that was a pretty good indication that I wasn't destined to be in Astoria for very long.
I'm glad I lived there to start though, because it gave me a chance to meet New York and discover where I belonged--in Brooklyn. 
---
Transitions highlights New Yorkers' first impressions as they transition from one  neighborhood to another. Want to tell us your transition story? Drop us an email.
Related posts:
Moving to NYC? Here's a crash course in finding an apartment here
Top 10 misconceptions about Brooklyn (usually by Manhattanites)
An expat's view of 8 NYC neighborhoods (in 6 months)
Jackson Heights to Prospect Heights: From loving my apartment to loving my neighborhood
From the West Village to Prospect Heights: "I was Manhattan-ed out"
Lower East Side to Astoria: Nightlife for the 30-something set at last
Astoria to Alphabet City: Escape from the N/Q trains
Astoria to Upper Manhattan: Glad to be back
Brick Underground articles occasionally include the expertise of, or information about, advertising partners when relevant to the story. We will never promote an advertiser's product without making the relationship clear to our readers.