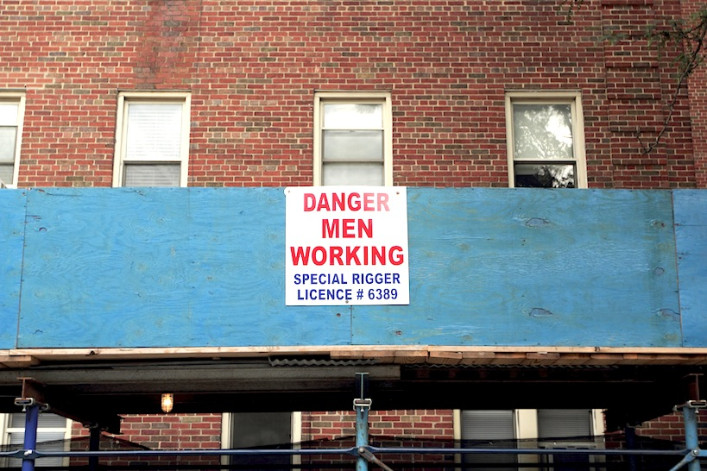 Scaffolding that's a nuisance, a door that denies entry, and storage for the digital age! Six New York City citizens spill what they'd love to change about their homes.
A place to store a suitcase: My husband travels a lot for work and we've used it as an excuse to keep his luggage parked in a corner of the apartment. But the truth is, it's too much of a hassle to rearrange items in the closet to fit the suitcase back in there. The closets are so stuffed, as soon as you take something out, it's like everything else in there pops into the empty space naturally.  - Marta, Upper West Side
A scaffold-free existence: I can't remember anymore when they put the damn scaffolding up around my building. It's been years and years. It ruins the light, the view -- everything -- in my ground floor apartment. Plus, sometimes people play on it, or do their pull-ups like it's a gym. It's costing the building thousands of dollars. Last I heard, the scaffolding was still up because there was nobody to disassemble it. The scaffolding companies have a racket going on.  - Doris, Harlem
When are they going to invent iBookshelves? I need more bookshelves. I thought maybe now that I have an electronic reading device, I could control the clutter on my shelves. But there's always something to put up there. I wish I could convert my books to digital, like I did with music for my iPod. - Andy, Carroll Gardens
Doors that don't collide: I would change the door to my hallway closet to a pocket door. Because if I ever leave the closet door open or even just ajar (which happens a lot), the closet door swings open and actually blocks the front door from opening all the way when I come back home. It's a pain to have to reach in with a hand and swing the closet door away from the front door just to get in. On the other hand, it's better security than some flimsy door chain. - Violeta, Hamilton Heights
A lot less heat: I hate the heat. I've complained to the management company, and they say it's on a thermostat so that the heat comes on automatically. Then why do they set the thermostat so high? They are throwing money out our windows, because almost everybody in the building has their windows open and it'll probably stay this hot until May.  - Lila, Upper West Side
And of course, more closet space:  I know we're supposed to de-clutter and live simply and all that. But my apartment was probably built for a time when the women all just had five dresses, two pairs of shoes and a hat box or something. I need bigger closets. - Sara, Meatpacking District
---
Related:
The 7 worst places to live in a building
Introducing Click and Improve.com: Easy one-click home improvement & repairs for stressed out urban dwellers (sponsored)
BrickUnderground's Renter's Survival Kit
Brick Underground articles occasionally include the expertise of, or information about, advertising partners when relevant to the story. We will never promote an advertiser's product without making the relationship clear to our readers.