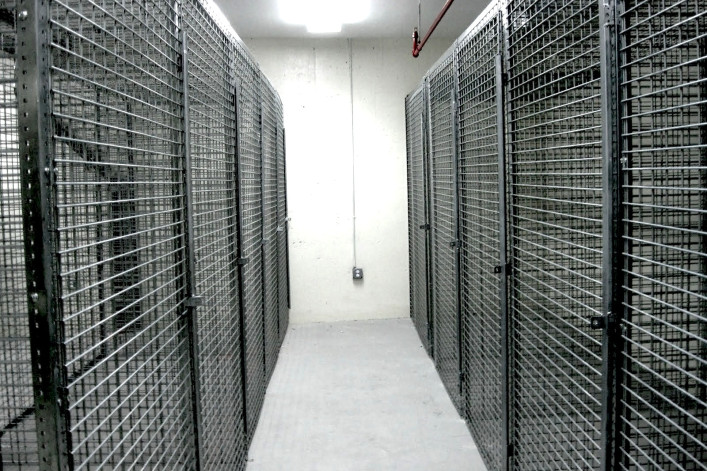 In Manhattan real estate, $801,000 is a price tag that wouldn't normally raise an eyebrow. Especially given its dimensions: 800 square feet and a 20-foot-high ceiling. But this particular price-tag wasn't for an apartment-- it was for a storage space in famed Upper West Side building The Dakota. 
Only a few blocks south, at the new One57, a storage unit in the building can be yours for as little as $110,000. But what you get for that money is just a 30-square-foot wire mesh cage.
These (clearly top-of-the-line) examples aside, most New York City storage spaces don't approach the six-figure mark. Oftentimes, of course, building storage isn't even for sale and only available for lease from a rental, condo or co-op. But however it's offered, there's no denying it's one hot commodity in New York City's real estate market. Here's everything you need to know.
1. Getting your hands on some
If you're looking for a new place to buy or rent, it would behoove you to ask not just whether there's storage in the building, but whether there's any for you. Storage spaces tend to be snapped up pretty quickly and wait lists can be years long.
In fact, if in-building storage is of particular importance to you (you skiers and cyclists and pottery enthusiasts), find out early on whether storage units trade with apartments, or if there is a waiting list, and how long exactly it is.
(Don't always take a broker's word for it either -- check with the managing agent and super as well as a potential neighbor or two.)
The demand for storage varies widely from building to building. In many buildings in Manhattan "only" up to 40% of units are guaranteed storage right away, says Josh Goldman of Bargold Storage, a company that retrofits building basements with steel storage locker facilities. (Bargold then leases directly to the residents, with 25% of revenue going to the building, much like a laundry-room vendor.)
Demographics of the building play a key role in what kind of storage facility is installed and how it is managed, says Rob Ellman of Orsid Property Management. In a building with smaller units, storage will be more valuable.
If the apartments are large enough to generally hold everybody's stuff, you're more likely to have vacant storage units sitting around empty.
Transfer policies also differs from building to building.
"There is no set guideline," says Ellman. "Some buildings sell the storage units if they need to raise capital. Others have a policy that the purchaser gets the unit although they have to pay a monthly fee. If there is a waiting list, usually when the apartment transfers the storage locker goes to the next in line on the waiting list."
2. What you'll pay
Renting a basement storage unit in a Manhattan apartment building typically costs around $60-$80 a month, sometimes more, rarely less. (Unless all you're getting is a roughly 5x5 bin - those can sometimes around $50.)
If you're buying one instead of leasing one, the cost is often bundled in with the price of the apartment, and not as a separate amenity.
"I have heard of the rule of thumb 'half the price per square foot of the apartment it comes with.' But pricing is difficult," says Elliman, because there aren't as many comps to draw upon for data and the demographics of each particular building play such a huge role in the determining the value of a storage unit.
3. What you get
Generally, a full sized wire cage will be around 6x7 feet. However, it is frequently possible -- sometimes even necessary -- to customize the units according to the demand, the user, and the space dimensions.
These cages are secured with a padlock and the contents are visible from the outside.
Goldman says, for Bargorld, every job is a custom job, but generally steel lockers are about the size of a passenger elevator.
"We have been making lockers the same way since the 80's," Goldman says. "But what we do now is each locker is barcoded. Our people in the field have a scanner on them when they go to check on the lockers. They enter data for each scanned locker and this allows us to note discrepancies like lockers that are supposed to be in use, but are unlocked."
4. How it works
For those lucky enough to get a storage unit, or have their number called off a waiting list for one, there will likely be licensing agreement to sign. This dictates what can and cannot be stored in the storage space.
That usually means no living creatures or otherwise live organisms of any kind (yes, that absolutely includes pets, live pet food, and plants, and yourself), hazardous materials, or things that are moist and could cause mold or mildew.
"Under normal circumstances, storage facilities are very low maintenance and would not really affect a building's budget. It's more a matter of policing the facility, i.e making sure people are not storing things they are not supposed to -- turpentine, paint, anything flammable," Ellman says.
The licensing agreement usually also outlines when a space may be accessed. Sometimes, a building may even only allow storage of items that are not used frequently (sleeping cots or christmas tree stands) and require that you make an appointment to have the super open a locked storage room. This may be because other things are stored in the same area as the storage bins or lockers (for which the tenant would hold the key).
There may also be language stating that all property is stored on tenant's sole risk. This is what your personal co-op or condo insurance, or renter's insurance, is for. 
Your apartment insurance covers belongings stored in one's own basement, says Jeffrey Schneider of Gotham Brokerage. However, coverage will only extend to fire, theft, vandalism and water damage due to burst pipes. Damage from environmental flooding is not covered (e.g. a super-storm Sandy-like experience.)
5. A surging demand for bike storage
While there's no denying the popularity of in-building storage cages, there is one variation that's becoming more popular than any other: Basement bike racks.
"It's going to be another top amenity," Goldman says. While bike racks have always been popular, they are increasingly in-demand as the city becomes more bike-friendly. 
For existing storage clients, Bargold builds bike racks for free (if the building wants it and space allows) and then leaves it to the buildings to manage. Bike storage fees also vary from building to building and, of course, neighborhood to neighborhood. Some buildings will charge a yearly fee of $50, some $150.
"It's up to the building," Goldman says. 
Related posts:
Dear Ms. Demeanor: Thy neighbor's (filthy) storage units
Storage locker burglary was the super's fault. Who pays?
Rats ate the photos in your storage bin? Tough.
Bed-bugged storage (Part 1): Is your stuff safe?
Brick Underground articles occasionally include the expertise of, or information about, advertising partners when relevant to the story. We will never promote an advertiser's product without making the relationship clear to our readers.