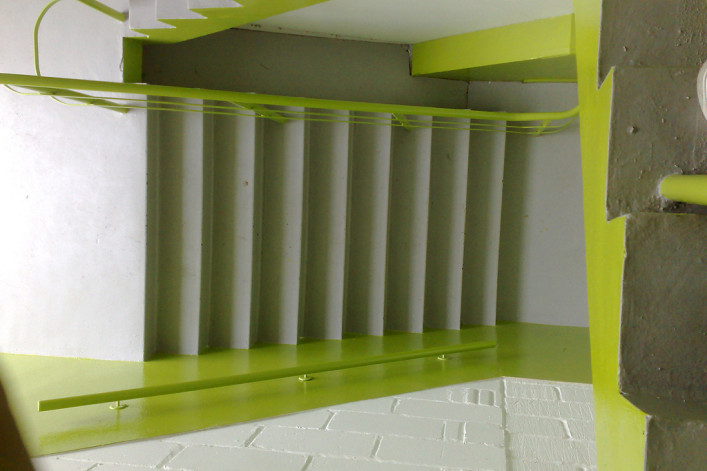 In my previous column, I gave some tips for surviving in a tenement-sized apartment. This time, I thought I'd focus on something else I know quite a bit about: Surviving in a walk-up.
When I first moved to Manhattan I lived on the sixth floor of a walk-up tenement. I was young and so excited to finally be living in NYC in an apartment I could afford alone, the stairs didn't seem daunting at all…at first.
But that wide-eyed optimism soon turned to a combo of achiness and cynicism, and after four years of panting up 186 stairs--yes, I counted--I had had enough.
(One of my major aggravations--getting to the bottom of the stairs only to realize it was raining and my umbrella was upstairs. I spent a small fortune buying umbrellas at my corner bodega.)
I spent the next two years in a first-floor apartment, and then the following year in an elevator building.
But the siren call of a budget-friendlier walk-up proved too hard to resist. For most of the last seven years I lived in a fourth-floor walk-up (where I endured two horrible wintry months of having a broken foot in a cast while trying to scale stairs daily), and only recently moved to a second floor unit in yet another walk-up.
The key to surviving a high-floor walkup apartment is leaving the house as little as possible (so good planning is key) and carrying as little as you have to up and down the stairs.
1. Free delivery is your BFF
Use UPS or FedEx to receive big packages because they will give your delivery three tries, plus pick up packages at your door (as opposed to USPS which does not). 
Sign up for Amazon.com's flat-rate service, Amazon Prime, which provides free two-day delivery and access to streaming movies and shows and Kindle books. After a free 30-day trial, a yearly subscription is $79. They ship UPS.  
FreshDirect will not only cart heavy groceries and beverages to your door, but will also sporadically offer free delivery. If you don't like waiting for their random freebies you can pay a flat fee for a 

FreshDirect Delivery Pass which offers unlimited delivery for one month for $12.99, six months for $69 and one year for $119.

Note: FreshDirect 

does not deliver to walk-ups above the 5th floor, or deliver more than three cases of beverages above the 4th floor. My suggestion: Become friends with a downstairs neighbor who will accept your deliveries so you only have to carry them up a flight.

 
Seamless Web enables you to order take-out delivered straight to your door from local restaurants.
Furniture delivery can be daunting and costly in NYC. Many national companies don't understand NYC living and only deliver to curbside—a big no-no for the many New Yorkers who reside in walkups. Be sure to scan for "white glove delivery" (the discount site Overstock offers this for most of its heavier items) to have bulky items delivered to your door. 
2.  Become a great tipper
Make sure you take into account that delivery folks are going above (literally!) and beyond in carrying wares up to your cut-rate palace in the sky and should be compensated for it, particularly if the deliverables are extremely heavy and cumbersome. Also be sure to tip your frequent deliverers like UPS during the holidays. 
3. Go high-tech
Thankfully technology has advanced a lot over the last decade, so gone are the days of having to procure movies at the video store and carrying 24-packs of water home from the store. 
4. When in doubt, DIY
Avoid needless trips to the bodega downstairs by buying your own coffee/cappuccino/smoothie makers. 
Instead of lugging cases of seltzer—who doesn't love seltzer?—buy a SodaStream (www.sodastream.com) and turn ordinary NYC tap into carbonated goodness in an instant without leaving your apartment.
Forget bottled water and go the Brita water filter route.
If you can afford it, outsource your laundry. For about 85 cents-$1 per pound you can have it picked up and delivered, rather than walking up and downstairs with heavy loads of dirty clothes to the basement laundry room (if you have it) or even further to the local laundromat.  Depending on your appetite for risk and possible water damage if something goes wrong, consider sneaking a ventless washing machine and dryer into your apartment that can attach to your sink.
5. Remember that it takes a village
I am known for asking guests who traipse upstairs to see me to mail letters for me and/or toss my garbage for me on their way out. Anyone who wants to consistently visit you on the top floor is a real friend so giving them a "parting gift" upon their departure probably won't bother them. 
6. Forgo the gym membership
Running up and down stairs is great cardio and if you do so while carrying heavy packages frequently enough you will get buff without forking over tons of cash to do less organic exercise.
My ass never looked better than when I lived in apartment #6FN. 
7. Get in a New York (walkup) State of Mind
Tellling people you live in a sixth floor walkup apartment makes you seem more hardcore than any neck tattoo ever could, so embrace it.
Man up psychologically on those days when you are sick, exhausted or drunk (If you are are real New Yorker there will be days you are all three simultaneously). Pump encouraging music on your iPod as you crawl, lurch, or curse your way up the stairs. Stop at each landing if you need to, send a text to a friend or simply eavesdrop on the sounds emanating from the nearest apartment and construct an entertaining story for yourself about what lurks behind each door.
Related:
Moving to NYC? Here's a crash course in finding an apartment here
The 8 best websites for finding a no-fee apartment in NYC
Farm to City: I am the Stair Master
How to raise 4 kids in a 4th floor walk-up (no, we're not joking)
More posts by Kelly Kreth:
15 things I've learned from 'Million Dollar Listing NY' so far
The 20 deadly sins NYC rental agents should never commit (but do)
Escape from the UES: Goodbye douchebaggery, hello Hell's Kitchen
Dear Neighbor: I am your worst nightmare
Living next to a bridge & tunnel club: KY Jelly wrestling, all-night noise, no regrets
Brick Underground articles occasionally include the expertise of, or information about, advertising partners when relevant to the story. We will never promote an advertiser's product without making the relationship clear to our readers.