Transitions
Yorkville to Ridgewood: Some conveniences are gone, but mom-and-pops (and space!) make up for it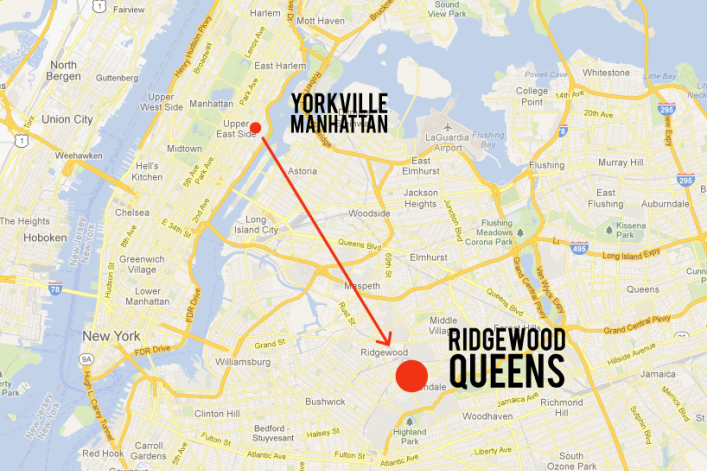 It was time for me to get out of Manhattan -- out of Yorkville, to be more precise.
Among the contributing factors: The cost of living kept growing (although wages/economy are stagnant), there was a lack of cultural diversity, an over-crowded 6 train, an overabundance of Starbucks, Dominos, and 7 Elevens, my slumlord, and my tiny studio with a high price tag of $,1515 per month.
But to where? As a Manhattan real estate agent for years, I knew the island like the back of my hand--but not much about the areas on the other ends of the bridges and tunnels.
So, I opened up my Real Estate Agent Twitter List to find a broker/agent who was an expert in the outer-boroughs, particularly Brooklyn, and I found Barbara Rogers.
I emailed her and spoke to her about all the usual criteria: size, price, location.
She sent me a listing in Ridgewood, a multi-ethnic neighborhood that straddles the Queens (Ridgewood) and Brooklyn (Bushwick) border. Technically it is in Bushwick but has the Ridgewood zipcode -- 11385.  She said it was very "up and coming." So, I checked it out. I'm always game.
I rented that apartment -- a two-bedroom with outdoor space in a townhouse for only $1,500 a month -- and I have officially (wink, wink) deemed the area Queenswick. 
The townhouse I moved to has less of that transient feel that you can get in numerous Manhattan rental buildings. And I'm already loving my new neighborhood. It has a nice, working-class neighborhood feel and is untouched by the rampant gentrification going on in Manhattan and many parts of Brooklyn and Queens.
There is no Starbucks or Dominos on every corner. Instead there are places like the Cozy Corner Tavern (I love a good dive bar with friendly staff and patrons), Gottscheer Hall (delicious German food and beers), Silent Barn ("a communal stew." DIY art and music venue), Mesa Azteca (tasty margaritas and Mexican chow. Try the "Bloody Maria") and La Azteca Taqueria and Bakery(food and service is great and open late!).
I also like the fact that my new neighborhood is not an evacuation zone. (My old Yorkville apartment is in a flood zone -- Evacuation B to be exact-- and I evacuated for Hurricane Irene. During Sandy, big trees were down everywhere).
So, what do I miss about Yorkville? Not much. But at least a few things: Beanocchio's (the homemade soup, great coffee and Nutella hot cocoa), Le Moulin a Cafe (the chocolate eclairs are to die for!), and Auction House (ask for Adam Delia, fantastic bartender).
Also, I miss the fact that everthing you need is within a five-block radius and most things are open 24 hours a day. And the 24-hour access to taxis was nice, too.
But did I mention I love the independently owned mom and pop shops in my new neighborhood!?! And hold your hats guys, I get along with my neighbors; unlike in Manhattan, we actually talk to each other!
Another big plus is that I have cut my commute time down. Before, the 6 train was consistently overcrowded, the Second Avenue subway was nowhere near completion, and I lived all the way on York Avenue.  Now I actually can make it to Union Square on the L from Myrtle Avenue/Wyckoff Ave in half the time -- about 25 minutes!
Well, now that I have let the secret out, get here before it becomes Billyburg 2.0.
---
Related posts:
Upper East to Upper West: Less uppity--and further from the grocery store
Debra Hoffman, UES broker: Deciphering one of the city's most popular (and surprisingly affordable) 'hoods
An expat's view of 8 NYC neighborhoods (in 6 months)
Kips Bay to Yorkville: Far from the subway, but quieter and less transitional
Brick Underground articles occasionally include the expertise of, or information about, advertising partners when relevant to the story. We will never promote an advertiser's product without making the relationship clear to our readers.