Troubleshooting
Introducing Click and Improve.com: Easy one-click home improvement & repairs for stressed-out urban dwellers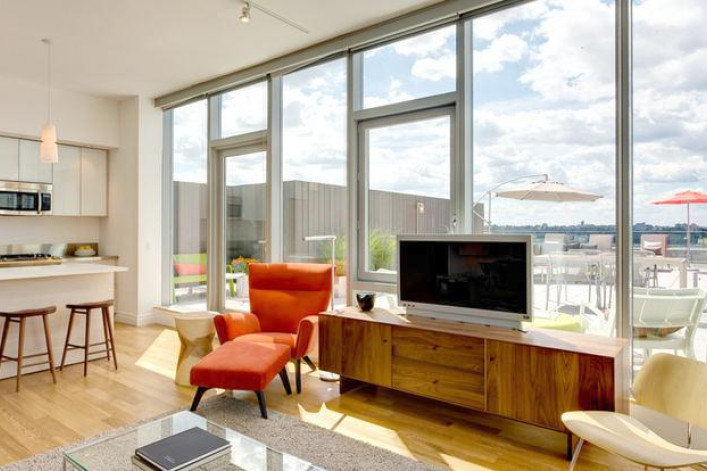 The clock is ticking. Your future mother-in-law is coming to town and your apartment hasn't been painted since the last Bush inauguration. (You remember it distinctly because the guy recommended by your super also "painted" your oak floors and Bichon Frise.)
There's no time to ask for referrals, check references and gather estimates. Enter Click and Improve.com, a year-old website that offers a slew of à la carte home improvement projects (and the fully vetted contractors necessary to do the work) just a 24/7 mouse click away. 
Say, for instance, you want to hire an apartment painter. You'll need to know the size of the room (up to 40-square feet $349, up to 170-square feet $374, up to 250-square feet $399, more than 250-square feet $429), the height of the walls (8- to 10-feet or more), and the extent of the wall damage--anywhere from no damage (no extra charge) to extensive damage defined as "large cracks and dime-sized holes on more than 50 percent of the walls" which increases your tab by $200.
Within a moment you'll have your price and you can decide whether or not to hire. 
Once you get the price, pre-payment is as easy as digging for your credit card -- and, presto, the once arduous task of finding the right contractor is over and you didn't even break a sweat. Best of all, using the site is free; there's no membership required.
Immediate flat-fee prices are available on everything from replacing a door lock ($79-$199) to mounting a flat screen tv ($74-$109), switching out a light fixture ($174) or changing your bathroom vanity ($275). There are hundreds of projects from which to choose as well as a full range of services like "Cleaning," "Handyman" (for clients with many small repairs), "Pest Control," and "Junk Removal" (the latter charges by the item and has cool, real-time graphics that calculate costs).         
Click and Improve.com's very reasonable prices reflect the fact that contractors do not have to market their services directly to consumers.
Major bonus: Each contractor in Click and Improve.com's network -- from plumbers and electricians to painters and straight-up do-it-all handymen -- is carefully screened, and each is the owner of his or her business, fully licensed, insured, and bonded. Good performance is assured by the prospect of future referrals by Click and Improve.com.    
"The site was created in part because there is kind of a cloud of suspicion or at least misunderstanding that lurks over the home improvement industry," explains Anthony Marrero, chief of operations for the site, which earns a percentage of the revenue from each contractor's fee. "We give people a safety net." 
How it works
1. Browse sample jobs.
Enter your zip code into the pop-up screen to browse a full range of potential jobs, with everything under categorical headings, from "Kitchen" and "Bathroom" to "Electrical" and "Painting."
Choose from a variety of common projects like "Repairing an Under the Sink Leak" ($224), "Repairing a Hot Water Heater ($149), "Replacing a Sliding Glass Door" ($199), "Installing a Ceiling Fan" ($249) or "Hard Wiring a Smoke Detector" ($149). There is real-time live help directly on the site for questions and a full catalog of home products available for purchase through Remodlr.com. 
2. Set the date.
After deciding on a project (or many, as there are some sweet discounts available bulk purchases) you pre-pay for your service and a Click and Improve.com team member schedules a date and time for your service (usually offering a choice of two possible dates/times). 
3. Sit back and enjoy.
When your job is finished, you'll be asked to sign a certificate of completion. Click and Improve.com won't release your payment to the contractor(s) until a week after the work is completed, giving you plenty of time to express any dissatisfaction. You have a week to follow up with Click and Improve to resolve any issues -- and they are highly motivated to resolve them satisfactorily. 
"The whole idea of Click and Improve is that we want your repeat business. We want you to be happy," explains Marrero. "Click and Improve is really a home improvement portal. It's a helpful tool even if a homeowner is not ready to commit. It's also a great site to help consumers budget for future projects."
Still curious?
Here are a few common questions and answers from the Click and Improve folks:
What if you have a lot of small home repairs, but not one big job? "Let's face it, you're not going to a get a contractor to come into someone's home to install a hook -- but, if you are a homeowner who needs a lot of varied work done or a lot of home improvement fixes, Click and Improve can do that," says Marrero. "In those cases, we ask the homeowner to send us a wish list. What we'll then do is pair you off with one of our providers who does all of those things -- and possibly shave a little money off the total estimate."    
What if you're just shopping around for estimates? 

"If you're just wanting to get some feedback on a potential job that you're not yet ready to do, we are happy to help," says Marrero."You will never have to deal with a contractor who wants to sell you a product or service that you do not want. Click and Improve contractors will not haggle you into paying more money or encourage you to get repairs or products that you do not need."
What if a job was misdiagnosed and it actually requires a more extensive repair?  

Additional costs are not typcially part of the Click and Improve experience, but it happens from time to time. 

"If the contractor goes into your home and finds that the amount paid is not enough to cover the intended service, that's disclosed before any work is done," says Marrero. "Then it's up to you, once you are fully informed and educated about why the additional costs are needed, to decide if you want to pay the difference. Then and only then would we move forward. If you've changed your mind at that point, you 

are immediately issued a full refund via your credit card company, which typically takes 24- to 48-hours to process. 
Brick Underground articles occasionally include the expertise of, or information about, advertising partners when relevant to the story. We will never promote an advertiser's product without making the relationship clear to our readers.