Neighborhood Intel
BrickUnderground's 2013 Real Estate Forecast: The 9 biggest trends in NYC real estate this year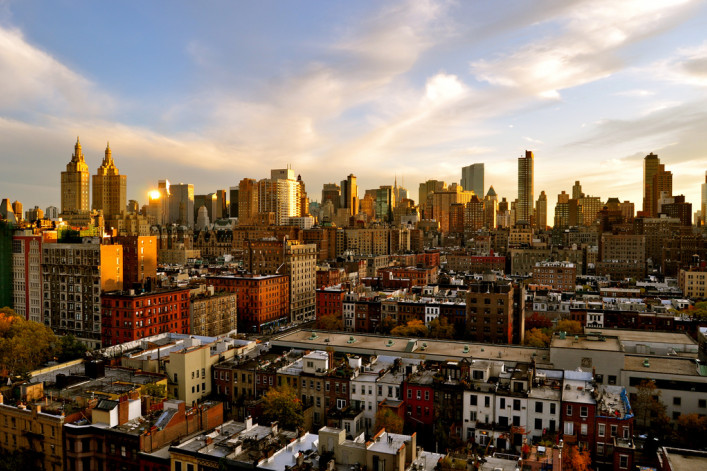 Wondering what to expect in NYC real estate in 2013? A dozen agents, lawyers, mortgage brokers, property managers, and appraisers tell us what they think the year will bring. 
Here's what you need to know to swim with the sharks without becoming lunch:
1. Tight-fisted lenders, shrinking inventory, buckets of cash to send co-op, condo prices up
Tight inventory will drive prices higher:  "The challenges in getting a mortgage will continue to play out in 2013, keeping housing inventory very low as sellers with low or negative equity will opt to do nothing," says real estate appraiser Jonathan Miller of Miller Samuel. Construction lending remains tight. Low inventory (supply) is likely to press housing prices higher in 2013, bolstered by record low mortgage rates and improving employment rates (demand). "Renting or buying," says Miller, "the outlook is likely to be expensive." 
The biggest year for all-cash deals EVER: A well-regarded mortgage broker who asked to remain anonymous says he has never before seen so many cash buyers. He expects the trend to continue and predicts that cash buyers will make up even more than the current 25 to 35 percent of the market.  He also predicts that it's the $3 million and up segment that will thrive in 2013. 
A drought of starter apartments, and gradually climbing prices: "Prices will continue to rise gradually, possibly in the five to 10 percent range but there won't be any huge upswing," predicts real estate broker Ari Harkov of Halstead Property. "Foreign money will continue to flow in via cash deals and the entry level segment--$500k to $1 million--will continue to have extremely low inventory, with renters looking to buy and avoid paying increasingly high rents."
Aggressive buyers = higher prices: "We are heading for a very strong spring residential market," says  Doug Perlson, CEO of web-focused real estate firm RealDirect. "A lot of buyers missed out on properties due to competitive bidding and low inventory [this year] so we'll see much more aggressive buyers coming up in 2013. More aggressive buyers means higher average prices across the board...."
Effects of higher tax increases for the wealthy: Federal capital gains taxes (what you pay when you sell an investment) are expected to increase at the top rate from 15 percent to at least 23.8 percent. This might result in wealthy buyers holding off selling their properties (out of shock), or even increases in ticket prices for those high-end units.
International influx, and post-Sandy bargains downtown: "We expect strong interest from abroad, especially considering the political uncertainty in Italy and changes in real estate tax in the U.K.," says Victoria Vinokur of Halstead.   But she expects sales prices in certain downtown buildings to go down as much as 15 or 20 percent  post Sandy. 
2. Don't expect a break in rents just yet
"We may be near the top of the rental market price boom but I don't think there'll be much of a reprieve in prices," says Miller, the appraiser and market analyst. "Credit will remain tight, keeping many would-be buyers from taking advantage of low mortgage rates and keeping them in the rental pool. We'll also see a continued improvement in employment numbers in NYC which is another key driver in the rental market."
Because there is a lot of money to be made in the rental market, buildings that were once meant to be condos are converting to rentals.
Andrew Barrocas, CEO of real estate brokerage MNS, cites 142 North Sixth in Williamsburg as an example.
"Some developers find that their building is worth more if it's sold as a rental building so they convert to rental and sell the building," he says. "And just about every new building coming on the market that's over 100 units is going to be rental."  
3. The action tilts toward Brooklyn and Queens
What neighborhoods will join the popular club in 2013? Lots, according to our sources.
Barrocas is bullish on Brooklyn, particularly Greenpoint along the waterfront and all along the L train route in Bushwick for rentals. 
In Manhattan, says real estate agent Sharon McIntosh of the McIntosh Company, "TriBeCa sales will slow down because of super storm Sandy [but] continue to be a place for Wall Street singles and young couples. A neighborhood that will benefit from TriBeCa's slowdown is the East Village. Lots of new construction and the kinds of funky shops and restaurants that are quickly disappearing from Manhattan."
Gary Malin, president of real estate brokerage Citi Habitats, sees a brighter picture for the so-called SoPo (South of Power) 'hoods.
"All downtown Manhattan neighborhoods will remain hot, especially the ones on the west side along the High Line," says Malin. At the same time, some sticker-shocked buyers will head "to the outer boroughs that are an easy commute....Astoria, Long Island City and Sunnyside in Queens are all poised for serious growth in 2013."
In their latest blog entry entitled "Top NYC Neighborhoods for 2013 Real Estate Investment," the brokers at RealDirect offered many opinions including one linked to a hipster baby-boom.
"Greenpoint is ripe for massive growth as Williamsburg residents are starting to have children," says Perlson.  
RealDirect broker Kumar Laidley pegs Roosevelt Island as the next hot 'hood.
"With the announcement that Cornell is planning to turn the island into a state-of-the-art tech campus, Roosevelt Island went from sleepy bedroom community to the heart of NY's tech hub," says Laidley. "Brand new Four Freedoms Park has transformed a once neglected area into a breathtaking open space." 
Another RealDirect broker, Leia Furer, made up a name for the neighborhood she thinks is hot: West TriSoHo-- "the lovely micro- neighborhood that runs from Spring Street to Vestry along Hudson Steet all the way to Hudson River Park.." She likes its cobblestone streets, cast iron buildings, proximity to the riverfront and the new shops and restaurants.
4. Mortgage rates low--and lenders lying lower
Interest rates will stay historically low, not increasing until unemployment rate falls to 6.5 percent, according to Federal Reserve Chairman Ben Bernanke. (It is currently at 7.7 percent.) However, getting financing will continue to be a major challenge for buyers.
One mortgage insider predicts that the amount of money lent out to buyers in 2013 will be the lowest of all time. People are dropping out of the mortgage business quickly but that means "the survivors are the best qualified. Now the right brokers are giving mortgages to the right buyers."
5. Co-op and condos focus on keeping up with the Jonses--and off AirBnB
With a new crop of spanking new residential developments getting set to hit the market in 2013--resetting buyers' expectations yet again--co-op and condo boards may have to consider improvements to their buildings--and leveling assessments to do so--in order to remain competitive among buyers, says Malin. 
Staying compettive will also mean answering tough questions about disaster preparedness,  says closing attorney Adam Stone of Regosin, Edwards, Stone and Feder. 
"Purchasers will be asking questions about how the building handled the storm, whether mechanical equipment is housed at lobby level or below... how responsive the building was to its owners after super storm Sandy," says Stone.
Co-op and condo attorney Dean Roberts of Norris, McLaughlin & Marcus thinks that the prime issue for board members will be their personal vulnerability to lawsuits. 
"The Dakota case has created a new awareness of the potential liability that may go along with board membership," says Roberts. "Members must understand that standard Directors and Officers (D&O) policies do not cover all situations. I recommend having a managing agent or broker invite an expert in to explain to the board the limits, deductions and exceptions of their D and O."
Robert Braverman, a co-op and condo attorney at Braverman Greenspun thinks personal safety concerns around short-term rentals are going to be the big issue.
"Condominium boards are going to become even more vigilant in pursuing illegal transient occupancy which has, unfortunately, reached epidemic levels with the increasing popularity of web-based rental services," says Braverman.
6. New construction projects get smaller, but the apartments get bigger, while concessions shrink
The condos that are being built now are "boutique condos"--smaller than what has gone before, according to Barrocas.
He cites several reasons.
There is a shortage of land to build on, it is challenging to get financing for the over-$100m you'd need for a large condo development, and the boom in the rental market makes rental projects extremely attractive, he says.
Stephen G. Kliegerman of Terra Development Marketing, agrees that "the majority of new product will be higher-end larger homes starting in the $2,000 per-square-foot range and climbing to well over $5,000. The focus will be on two-, three- and four bedroom residences of 1,500 to 4,000 square feet. The buyers will be New Yorkers who have weathered the recession...as well as foreigners searching for a safe haven for equity."
Buyer resistance to paying the typical closing costs will continue, predicts Stone, in part because "the pre-2008 days of almost automatic instant equity gains are over…. At most buildings sponsors will continue to pay closing costs and include extras that were unheard of pre-2008."
Still, Kliegerman says developers will be thriftier overall when it comes to concessions.
"I do not see developers offering any concessions in 2013," he says. "With inventories at such low levels and the demand for new development product incredibly high, developers have little reason to offer concessions in the current market.  Buyers should be more focused on securing the residence they most desire before prices rise as inventories for the next 24 months will remain low."
Real estate broker Mike Akerly of Akerly Real Estate, which represents a number of new Brooklyn developments, says the pent-up demand for new construction there shows no signs of easing.
"Our team has seen an incredible response to new condo launches," he says. At one Prospect Heights project his fall, "seventy-five percent sold in three weeks. At a new condo at 268 St. Marks Avenue in Prospect Heights  where we haven't yet launched sales, we have a list of dozens of buyers who have requested showings even before the drywall is up."
A sizzling rental market will put more pressure on new construction supply.
"With the booming rental market, many sponsors are forgoing their condo declaration plans and moving forward with lease plans for their new buildings," says Akerly.
7. Fading tax abatements and smaller buildings extract big price in amenities
Since many of the new projects that are coming on line in 2013 have fewer than 100 units, these buildings won't have the footprint to support more lavish amenities.  Yet fitness centers, roof decks/outdoor space and extra storage room will remain popular. 
"Developers want to create a lifestyle and sense of community in their buildings, using the shared spaces to accomplish that. In individual apartments, washers and dryers have become de rigeur, even in rentals," says Malin.
Bicycle storage is important in an increasingly bike friendly city. Gyms with a focus on core training, spinning and low impact aerobic training are here to stay and you'll see "an increase in the use of remote doorman systems as real estate tax abatements fade and developers and boards look for ways to reduce expenditures," Kliegerman predicts.
8. Must-have contract provisions: Inspection rights, bed bug history and financing contingencies
Even if you are a highly qualified buyer, you still need a mortgage contingency in your contract allowing you to walk away with your deposit if you can't obtain a mortgage commitment.
Your lawyer should also negotiate a funding contingency which protects you after the commitment letter if the bank fails to issue you a mortgage for any reason that's not your fault, says Stone, the closing attorney.
"Lenders are taking hard looks at buildings' financials," says Stone. "We've had instances where the bank keeps sending the loan back for underwriting clearance on many issues that are beyond the control of the borrower and ultimately refuses to fund the loan."
Malin advises having a right to a thorough professional home inspection built into all contracts. 
In addition, bed bugs will still be something to be concerned about, notes Stone, so your attorney should include a contract representation as to no bedbugs or other vermin in the apartment or adjacent units.
9. More smokers will get smoked out
Second-hand smoke, drifting through vents and under doors, will be the new hot button issue this year.
According to Malin, Mayor Bloomberg's announcement of a new initiative that awards a $10,000 grant to community groups who  "convince residential buildings in their neighborhood to go completely smoke-free, will keep this controversial issue in the headlines in 2013." 
Related posts:
Moving to NYC? Here's a crash course in finding an apartment here
Everything you ever wanted to know about sponsor apartments but were afraid to ask
"Fringe" neighborhoods: Hot zip codes for less
How to buy pre-construction smart
Don't think about buying a new condo until you read this
How to spot a smoke-free high-rise: Look for this sticker
Amenities: Icing on the real estate cake 
Brick Underground articles occasionally include the expertise of, or information about, advertising partners when relevant to the story. We will never promote an advertiser's product without making the relationship clear to our readers.