The Market
What Is a Mitchell-Lama Building Anyway? A Guide to One of NYC's Greatest Real Estate Deals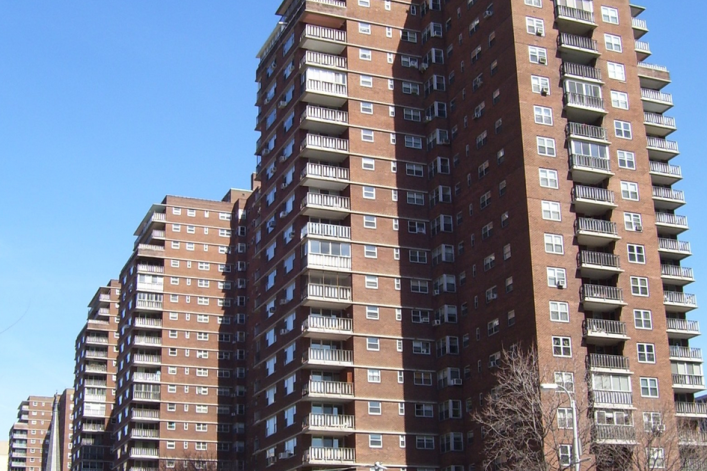 Chances are that if you moved to New York within the last couple of decades, the name Mitchell-Lama means as much to you as "co-op" to your average Idaho teenager. In part that may be because no Mitchell-Lama apartment buildings have been constructed since the 1970s.
Even if you live in one of the 170 remaining affordable housing complexes constructed under the Mitchell-Lama program (or aspire to), you may be puzzled about the exact nature of your rights and responsibilities.
As an attorney working day-to-day with dozens of Mitchell-Lama buildings for 25 years, I am familiar with their intricacies and nuances as well as the modern-day challenges they face.
Here's a rundown of the basics, from what a Mitchell-Lama building is to how to find an apartment in one.
1. The Mitchell-Lama program was created nearly 60 years ago to provide affordable housing in blighted neighborhoods
Back in the 1950s and 1960s, vast swaths of New York City were deemed "blighted" and in need of urban renewal. 
These areas include many neighborhoods where, today, many if not most family sized apartments easily cost over $1 million, including Chelsea, the Lower East Side, the Upper East Side and the Upper West Side.
To stabilize these areas and encourage middle-class families to stay in the city, tenements were torn down and 269 Mitchell-Lama developments were constructed in their place.
The apartments were intended for middle-income, working residents--particularly nurses, police and teachers.  In exchange for keeping prices low, the buildings received tax breaks and low interest mortgages.
The Mitchell-Lama program produced many rentals as well as co-ops.  However, many of them have navigated the complex process  of buying out their mortgages and exiting the system, converting into market-rate co-op or condo buildings.   A number of Mitchell-Lama co-ops have exited the system as well.
The remaining Mitchell-Lama developments are supervised by the NYC Housing and Preservation Department (HPD) (a list can be found here, organized by borough) or the NYS Division of Housing and Community Renewal.
2.  The big differences between a Mitchell-Lama building and  a "normal" apartment building
Price: 
The purchase price of a Mitchell Lama co-op--known as the 'equity value purchase price'--has no relationship to actual market value. It frequently ranges from $4,000 to $35,000. On the higher end of the scale, the equity purchase price of a one-bedroom apartment in Chelsea's 15-tower Penn South complex is around $70,000--less than a tenth of the $799,000 median price of a market-rate one-bedroom co-op in the neighborhood.
Rents and maintenance are also substantially below market--a more extreme example being a three-bedroom Manhattan co-op with a monthly maintenance of less than $1,000.
Income restrictions:
To buy or rent in a Mitchell-Lama building, you must pass an income test that varies according to the number of people you will be sharing the apartment with and the size of the apartment. 
At the Rochdale Village co-op in Jamaica, Queens, for instance adults must earn a minimum of 40x the monthly maintenance of around $1,000 on the apartment, but not more than $96,180, to qualify for a 2-bedroom occupied by 2 to 4 people.   
Each year you will need to update your income information. If you exceed the maximum limit, you will not be evicted, but you will pay a surcharge on top of your rent or maintenance.   The surcharge is on a sliding scale and normally tops out at 50%.  So if your rent is $1,000, the maximum surcharge you will be charged is $500.
Succession rights:
Only family members who have been living with the original occupant for at least two years and have been included in annual financial reports can assume ownership of an apartment when the original occupant dies or leaves.
Resale:
Co-op owners can't profit on the sale of their unit. When a Mitchell-Lama shareholder surrenders their apartment they receive their equity value back (purchase price) plus any mortgage amortization that occurred during their residency. The shares themselves go back to the co-op.
Limited board review of buyers:
Buyers in a Mitchell-Lama co-op are reviewed by the government agencies in charge of supervising the building.  Unlike a freemarket co-op, the building's co-op board can only reject buyers on very narrow grounds such as criminal record.  With such small latitude, many boards hire a third-party to pay a home visit to acquire proof of any issues, like hoarding or the presence of pets where none is allowed, that could support a turndown.
Subletting:
No subletting is permitted, and the apartment must be your primary residence.
3. What it's like to live in a Mitchell-Lama building
These are not slumlord-style ghettos. The buildings are generally well-maintained if not particularly glamorous.  While they are not doorman buildings, they do tend to be well-staffed with porters, handymen and security guards.
Like rent-controlled apartments of yore, Mitchell-Lama apartments are prized possessions, with residents moving out feet first.  That means the population tends to skew to the older side.  Moreover, with no expectation of moving out until they are carried out, and with the cost of housing so low, many residents including renters have significantly remodeled their units. 
Often, residents who eventually exceed the maximum income levels choose to stay on and pay the surcharge described above.  This is not necessarily a bad thing, as in my experience, the most well-run buildings—with good, active boards and well-maintained premises---tend to have greater socioeconomic diversity among their residents.
4. How to land an apartment in a Mitchell-Lama building
Only a handful of buildings have immediate occupancies. Check this list for city-sponsored buildings with immediate openings. 
The remainder have waiting lists that are frequently 5 to 10 years long. Some are "open" lists, meaning you can put your name on it now.  Here's a list of city-sponsored Mitchell Lama's with open waiting lists, while information about state-sponsored Mitchell-Lama co-ops can be found here.
If a waiting list isn't open, it's "closed," meaning you have to wait until the waiting list starts accepting new names again.  At that point, if you meet the income requirements for that building and apartment size, you can submit a card to participate in a lottery for a spot on the waiting list. (Yes you read correctly: The lottery is for a waiting list spot, not the next available apartment.)
Because it can take years to move to the top of a waiting list, you may no longer qualify, income-wise, by the time you get there. 
This has led to a complicated kabuki-like dance as people who are getting close to the top of the waiting list begin to structure their incomes to meet qualification levels (for example, by deferring a bonus or commission until the following year).
Once an apartment becomes available you can take it, or wait for the next apartment if you don't like the first one. If you reject the second apartment, you go back to the bottom of the waiting list or may be ejected from it altogether.
---
New York City co-op and condominium attorney Dean M. Roberts represents a large number of Mitchell-Lama cooperatives of all sizes in New York and is considered an expert in the area. He is a partner at Norris McLaughlin & Marcus.
Related:
One of NYC's greatest real estate deals might be coming back--but is it good enough?
More by Dean M. Roberts:
The 7 biggest surprises for rookie board members
End of an era: Why co-ops should allow dogs
Beyond the board interview: 5 good reasons to visit prospective buyers at home
6 rules for dealing with unstable co-op owners
Fines, gyms and parking spots help boards keep co-op/condo owners in line
Brick Underground articles occasionally include the expertise of, or information about, advertising partners when relevant to the story. We will never promote an advertiser's product without making the relationship clear to our readers.