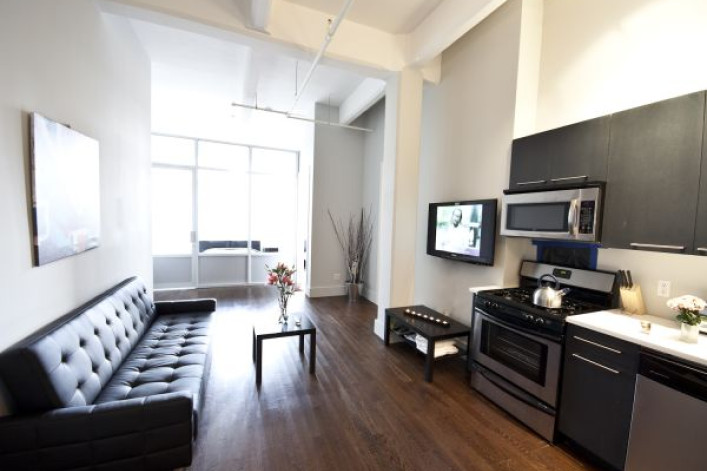 (Ed's note: We are continually updating this post with more resources as they come in.) 
Tens of thousands of New Yorkers are estimated to be without homes--at least temporarily--after Superstorm Sandy. As a result, short-term rentals are in big demand and short supply.
Mayor Bloomberg's appointment yesterday of a housing recovery czar is a step in the right direction. In the meantime, we've rounded up below some resources for short-term accommodations.  If you have additional tips or suggestions, an apartment or spare room to offer up, or you're a broker willing to reduce or waive your fee for Sandy victims, please leave a note in the comments.
Before you start searching, read our post-Sandy guide to your rights as a refugee renter or owner, and check to see if you qualify for financial assistance from FEMA. Be wary of scams, which are particularly prevalent in the world of sublets; don't hand over cash or wire money, and never rent a place sight unseen.
On a side note, for those looking to store/move some of their belongings while staying in short-term housing, Tuck-it-Away and Manhattan Mini Storage are offering free supplies, pick-up and storage services.
BROKERS
Brokers typically charge half a month's rent for a lease of five months or less and a full month's rent for up to 6 to 11 months, says Doug Heddings, president of Heddings Property Group.  
"That said, there is no standard, and for those who are verifiably displaced by Sandy, my firm will waive our portion of any fee charged," he says.
Other brokers may also reduce or waive the usual fees for Sandy victims, says Dawn Pfaff, president of the NYS Multiple Listing Service, which will launch a new search tool today for the public and non-members to help find short-term rentals that are vacant and available for immediate occupancy. (You can also request a list of available rentals by emailing [email protected].)
So far, Pfaff told us last night, most short-term rental requests are coming from storm-ravaged areas including the Rockaways, Long Beach, Sheepshead Bay and Breezy Point. There aren't many short-term listings (30-days, month to month, 3-6 months etc) in areas convenient to those neighborhoods at the moment. She expects the MLS inventory to grow as power returns and brokers can get back to the business of brokering.  
In the meantime, says Pfaff, there is a good supply of affordable, short-term rentals in commutable suburbs north and west of NYC, such as Rockland and Westchester County, that are vacant and ready for immediate occupancy.
REAL ESTATE SEARCH SITES
StreetEasy (*Update: The site has added a short term rental search, accessible from the main page). Those who want to their listings to included can email 

[email protected]

.
The New York Times (In Advanced Search, click on "Sublet"; note that not all listings will be short-term)
Craigslist (Under "Housing" click on "sublets/temporary.") But while you're at it, make sure to read our posts on avoiding Craigslist scams (here, here and here).
Sublet.com (but be wary of scams like this one)
Padmapper.com (This site aggregates listings from Craigslist among others. Check the "sublets" box.) 
UrbanEdge (The no-fee apartment resource now includes an extensive guide to short-term rentals for Sandy refugees.)
VACATION RENTAL WEBSITES
Airbnb (The company has partnered with the city to connect people in need with people offering free housing).
CORPORATE FURNISHED/HOTEL RESIDENCES
Note that these are often the most expensive option, but also the least risky, scam-wise.
Oakwood
Ave White Plains (Note: Apartments located in Westchester)
AE Hospitality
APARTMENT SHARES 
SpareRoom.com (the site will be free to use for the rest of the year in an effort to help those affected by Sandy; use the code NYCFREE)
Listings Project (excellent, free mailing list of shares & sublets)
SHELTERS
To find an open shelter in your area go to http://www.disasterassistance.gov/
You can also search for open shelters by texting SHELTER and a Zip Code to 43362 (4FEMA). Ex: Shelter 01234.
Related posts:
What now? A post-Sandy guide to your rights as a refugee renter or owner
Find a roommate online: Six websites that do the heavy lifting for you
8 tips for NYC Airbnb hosts, from a pair of Airbnb junkies
"Sophisticated business people" falling for $21,000 NYC sublet scam
Ask an Expert: A few safeguards for furnished sublets
Brick Underground articles occasionally include the expertise of, or information about, advertising partners when relevant to the story. We will never promote an advertiser's product without making the relationship clear to our readers.