Transitions
Alphabet City to Murray Hill: Close to everything and more space for the money. But fun? Not so much.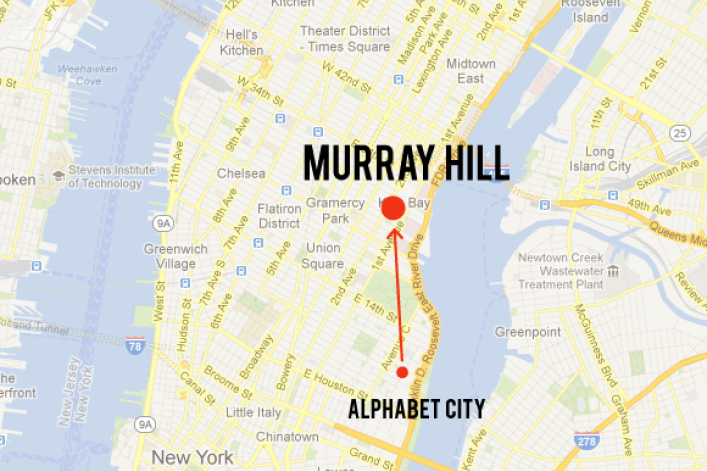 When I first moved from Queens to Manhattan in November of 2009, I moved to Alphabet City, on Seventh Street and Avenue A. One year later, I bought a studio apartment in a co-op building on 28th St. and Third Avenue in Murray Hill.
My Alphabet City rent was $1,100 for a small apartment. My mortgage on my $305,000 co-op in Murray Hill is $1,600 a month and my maintenance is $700/month.
My current apartment is great, but I do miss the amazing Alphabet City neighborhood. There were so many restaurants and bars nearby and there was always something going on. I used to frequent the Bourgeois Pig, a fondue restaurant and wine bar. They always had good wine specials during the week and it was only a block from my apartment. I also miss living so close to one of my favorite brunch spots, the Yuca Bar, on Avenue A. 
The best thing about living in the East Village was how "alive" it felt. 
At any time of day (or night) there were always people bustling around and there was always something to do. But, with that type of atmosphere also comes a lot more noise pollution. 
My co-op in Murray Hill is much quieter at night.  Residents seem less inclined to partake in livelier activities.
The neighbors in my new building in Murray Hill are a lot different than my East Village neighbors were. They are older -- in the 30's-80's age range -- whereas everyone seemed to be in their early to late 20s in the East Village.
One really nice thing is that in Murray Hill you get more space for your money. I wanted to continue living in the East Village, but when I decided to buy a co-op, I found I could get a much bigger space for a relative sum right in Murray Hill. 
Some of the ones I looked in the East Village didn't even have closets. Also, some had mini refrigerators or just a stove and no oven.
My new apartment in Murray Hill now has a fully renovated kitchen with full-size appliances, a dishwasher and three closets.
As far as transportation goes, I find that it is easier to get around the city from Murray Hill. I am only two blocks from the 6 train, two stops from Grand Central Station and only a few away from Union Square. 
Avenue A was a 10-minute trek from the subway. I was constantly taking cabs there because the hike to and from the subway was tiresome to say the least!
Having the subway lines closer to me—a huge plus. Also, when it comes to the daily work grind? Not a problem. I drive to Queens everyday for work, so living in Murray Hill has shortened my commute time because I am right next to the Midtown tunnel. 
If I had to pick a major downside to owning an apartment in Murray Hill I would say it is a lack of fun places to go out and dine in.
The restaurants in Alphabet City were small and locally owned with a "homier" feeling than those found in Murray Hill.
Everything here feels more corporate and there are so  many chain stores and restaurants. The restaurants, in particular, around my new apartment seem to all have multiple locations throughout the area. As far as the nightlife---there are a few decent bars including Blockheads, Tonic and Caliente Cab. 
Overall though, I think I made the right decision buying a co-op in Murray Hill. I absolutely love my apartment and even though I am not in the center of it all, I'm still so close to everything!
Related posts:
Riverdale to Murray Hill: "Murray Hill hurts my brand...but you can't beat the convenience"

East Village to the Upper West Side: Escape from drunken revelry & stoop abuse
Living Next to Union Square: It's a circus, but at least it's convenient

The Bronx to the East Village: No more cooking (or hauling suitcases to Whole Foods)
Q & A with a serial mover: "It's the number one reason why I'm broke and have no savings"
A move-by-move neighborhood guide for the people, buy the people
How to find a rent stabilized apartment in NYC
8 best websites for finding a no-fee apartment in NYC
Rejected by a landlord lately? Want to get that apartment faster? Here's your secret weapon (Sponsored)
Brick Underground articles occasionally include the expertise of, or information about, advertising partners when relevant to the story. We will never promote an advertiser's product without making the relationship clear to our readers.