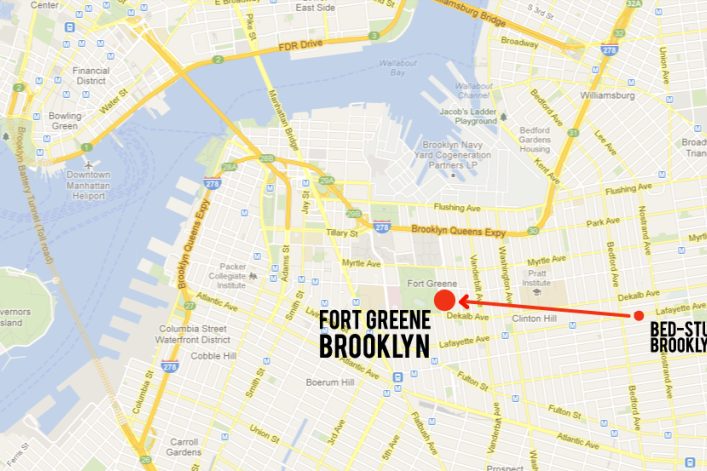 Before moving to Fort Greene in the beginning of September, I lived in Bedford-Stuyvesant for two years in a $1,700 per month two-bedroom with a friend from college. It was my first non-sublet in New York, so it was pretty exciting!
Bed-Stuy is an affordable compromise for young people in search of a hip place to live. You can find a great two bedroom in the $1,600-$2,000 range — much more affordable than a "hipper" neighborhood like Williamsburg.
I should specify that I lived on the very edge of Bed-Stuy, a couple buildings down from Bedford. I also lived on Lafayette Ave., a good street to be on. Anything south of Gates Ave. and east of Nostrand Ave. is going to feel a lot less safe. (I had a friend get mugged on Bedford at around Fulton on her way back to Prospect Heights.)
I spent very, very little time in Bed-Stuy proper, which did feel unsafe, and had generally little to offer in terms of restaurants and bars. My area was nice, but it was by no means representative of the whole neighborhood.
Fort Greene has been on my radar since I moved to New York in 2009. I've always enjoyed the restaurants (more on that later). Fort Greene has a very charming vibe and it's almost comparable to Greenpoint or Carroll Gardens.
It feels more like a neighborhood than part of a city, but it's still in close proximity to Manhattan at just over two miles from the Manhattan Bridge's cross into the city. I think the best way to sum up the vibe is that it's very brunchy — people are always out and about, holding hands on the sidewalk on their way to a cozy restaurant for two eggs any style and mimosas.
The other big perk about Fort Greene is its convenience. It is centrally located to suit nearly any commute, whether you work in Brooklyn or Manhattan.
Fort Greene is primarily served by the Atlantic Avenue — Barclays Center stop, which features nine subway lines (2, 3, 4, 5, B, D, N, Q, and R) and transfers to the BMT Fourth Avenue and Brighton Lines and the IRT Eastern Parkway Line. It's also close by to the C train at Lafayette Ave. and the G at Fulton Street. 
Specifically, Fort Greene is about 10 to 15 minutes to Wall Street by car, or 15 to 20 minutes on the train; 20 minutes drive to Union Square (or 20 on the train); and 30 to 50 minutes drive to Times Square in morning traffic (or 30 to 35 on the train).
One of the big negatives about living in Bed-Stuy, on the other hand, was the limited transportation. We lived on Lafayette Avenue between Bedford and Nostrand, so we were immediately off the G, which is kind of like not living near a train at all.
The G is notorious for its unreliability, frequent construction, and its frustrating six-car length — as opposed to the usual ten. You need to transfer to get almost anywhere, and as the G doesn't connect to the other trains at Atlantic Terminal, tis often requires an external walking transfer and a second swipe. That adds up on a daily basis.
Bed-Stuy also has the Franklin Ave. stop on the C train, which features the not-very-useful Franklin Avenue Shuttle — a two-car line that connects Franklin Avenue and Prospect Park via four stations. As the for C, it feels useful at night when the A is running local, but rather slow otherwise will all of the local stops. Like I said, public transit was seriously lacking there.
Another con was the general appearance of  Bed-Stuy. It is immediately east of Clinton Hill, a beautiful area full of brownstones and quaint streets. At around Classon Ave. (which is still technically Clinton Hill), things start looking shadier, dingier, and generally less welcoming. And don't get me started on the east side of Bed-Stuy past Nostrand Ave. I wouldn't live there.
When my roommate and I were originally hunting for apartments, we used an agent from Rapid Realty, and when he said, "I have a place to show you in Bed-Stuy," we said "No way!" The neighborhood definitely has a stigma to it.  We wound up checking out the apartment anyway--the one we wound up renting--and stopping by some local bars.
Our immediate reaction was, "This is Bed-Stuy?"
Our agent took things a bit too far, telling us how the neighborhood was coming alive and that "in a few years, your part of Bed-Stuy might even be called Clinton Hill." Given that the name Bed-Stuy implies a border at Bedford Ave., I don't see my old address changing neighborhoods anytime soon, but he had a point. The west side of Bed-Stuy is nicer than most people think.
I would say if you're going to live in Bed-Stuy, now is the time. The neighborhood is just starting to come alive — which, depending on your stance on gentrification, could be a pro or a con. I consider it a pro.
Since I moved to Bed-Stuy in 2010, a host of bars, restaurants, and shops have opened up on Bedford Ave. (the west border of Bed-Stuy) and Franklin Ave. (the next street over, which is technically in Clinton Hill, but most locals consider it to have more of a Bed-Stuy vibe).  Some of my favorites include Dough, Bombay Heights, and Do or Dine, which has become a foodie destination.
Fort Greene, meanwhile, offers Target and Pathmark for your mainstream groceries, plus several smaller neighborhood shops where you're more likely to find organic options and other offbeat cuisines. I especially recommend The Green Grape for a nice mix of the standard and the unexpected, plus a coffee bar.
Fort Greene also has the Brooklyn Academy of Music (BAM), which has a small movie theater and frequent performances. Plus, you have access to the shops in and around Atlantic Terminal, including Target, Best Buy, DSW, and Victoria's Secret. For gym rats, Crunch is also nearby.
Bed-Stuy had some standard supermarkets, plus the new Metropolitan Citymarket on Bedford, which offers an impressive array of high-quality, diverse foods, like a baby Whole Foods without the hefty price tags.
When it comes to dining out, Bed-Stuy had some nice options but Fort Greene is the definite winner in terms of quality, quantity, and diversity. My favorites in Fort Greene include The Smoke Joint, The National, and Olea. Fort Greene is also right by Park Slope, which offers its own fabulous food offerings.
Whenever I bring friends around to see my new apartment or to grab a bite nearby, they always comment on how charming and vibrant everything looks... and how they wished they lived here. A friend of mine who came over for my birthday party had never been to the neighborhood before, and now he's thinking about moving.
There's not much to say on the negative side of Fort Greene, except that the price can be prohibitive if you're just starting out in the city. Studio apartments are going to start around $1,500, and even that can be hard to find. And as with any great neighborhood, I have to prod myself to dine and drink elsewhere.
Even though Fort Greene definitely feels safer than Bed-Stuy, it's not without its sketchy spots. St. Felix St., a classic cut-through from Atlantic Terminal to some of the restaurants on Lafayette and DeKalb, can get very dark at night, and I've definitely seen people sleeping there and, less frequently, relieving themselves.
Fort Greene was a bit out of my price range until now, and I really wanted to move into the heart of the neighborhood. You can find some cheaper spots in north Fort Greene near the Navy Yard, and although the area is just as charming, it's about a 15 or 20 minute walk from Atlantic Terminal -- not nearly as convenient.
So far, living in Fort Greene has been a dream. I love my new 'hood and it's worth the $1,550 for a small studio.
I plan on staying for at least two or three years. For my current budget, I had to compromise on space, so if I move out it will probably be to have more room, but even then I hope to stay in the neighborhood.
I really can't think of a neighborhood I'd rather live in — not even Williamsburg or Manhattan.
---
Transitions highlights New Yorkers' first impressions as they transition from one neighborhood to another. Want to tell us your transition story? Drop us an email.
Related posts:
Park Slope to Fort Greene: Fewer strollers, more diversity
A move-by-move neighborhood guide for the people, buy the people
How to find a rent stabilized apartment in NYC
8 best websites for finding a no-fee apartment in NYC
Rejected by a landlord lately? Want to get that apartment faster? Here's your secret weapon (Sponsored)
Brick Underground articles occasionally include the expertise of, or information about, advertising partners when relevant to the story. We will never promote an advertiser's product without making the relationship clear to our readers.