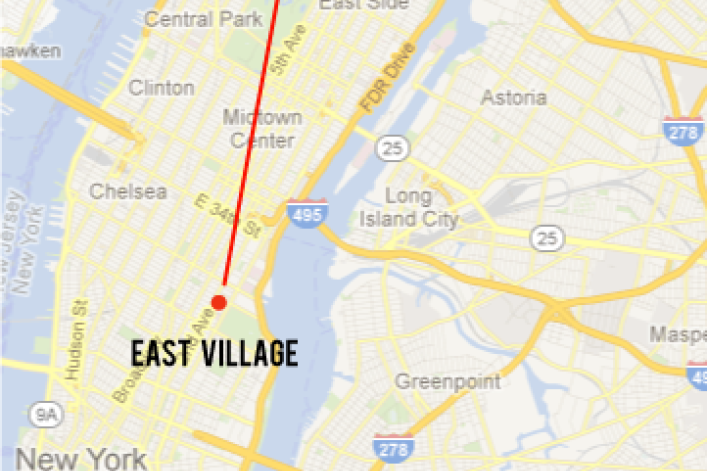 During my junior and senior years at NYU, I lived in a three-bedroom, third-floor walkup apartment on St. Mark's Place in the East Village. There was always something to do, somewhere to go, and something to see. 
I lived around the corner from longstanding establishments like Veselka and McSorley's, with speakeasy bars, ramen shops, creperies, and Korean BBQ just a few blocks away. I'm also a big fan of craft beer, so living near places such as Good Beer, Jimmy's No. 43, The Hop Devil, and Zum Schneider (among many others) was fantastic. 
My share was just under $1,000 a month. My biggest complaint was, unsurprisingly, space. I could only fit a twin bed, a small desk, and shelf in my room, which left virtually no floor space. At least I had a living room, which was a livable size but my kitchen and bathroom were cramped. The apartment (and the building as a whole) tended to gather dust and dirt easily, and mice would occasionally creep.
My lease was going to expire at the end of June, and I knew that I wanted to find a new place. For one thing, I couldn't justify the $300 rent increase for renewing (even when split amongst three people, was high considering the lack of space). Plus, after two years, I felt like it was time to move on. 
I knew that I wanted to try to stay in Manhattan, so I began compiling a list of neighborhoods in which I'd want to live. I wanted to try and stay close to Union Square, so I  was thinking East Village, SoHo, West Village, Gramercy, Lower East Side, and the Financial District. 
Finally, I included the Upper West Side: while further from Union Square, I had come to love the neighborhood for its diversity and community feel. I had occasionally explored the area over the past four years, when I wanted to get away from the bustle of everyday life in the East Village/Union Square areas. 
Even the busier areas in the 70s and 80s – especially around Broadway – felt a lot less claustrophobia-inducing. 
Fortunately, someone I knew from class who had a similar budget and living habits was also looking for an apartment and roommate, so we decided to look together. Thus began a month of replying to listings from Craigslist, NakedApartments, StreetEasy, and brokerage sites. 
On the last day we had given ourselves to look, our broker contacted us. Two listings on the Upper West Side had just come onto the market, he said, and one of them could just be "the one" for you. 
The first place was slightly underwhelming. The second place, on 94th and Amsterdam, was up three flights of stairs, but as we walked in, I was immediately taken with the spacious living room, the separate dining alcove, and eat-in kitchen. 
Further exploration revealed good-sized bedrooms, closets and plenty of light. The tenant also told us that she had never had any problems with bedbugs or rodents, and a laundromat was only a half a block away. We moved in a week and a half later, over the first weekend of this past August.
In my new neighborhood, the streets generally stay clean, and I'm not instantly surrounded by people when I step out of my building, unlike on St. Mark's. 
I can hear some street noise from my window, but it's mainly the sound of cars driving by, instead of fire trucks and drunk revelers. I live four or five blocks from three supermarkets (and a ten minute walk from Zabar's), and I can get to school (near Union Square) in 20 minutes, door-to door on the 2/3 express trains – the entrance to the 96th street station is only a block away.
There are plenty of restaurants and bars up here, and the general atmosphere is much calmer; it's still lively at night, but nowhere near as lively as St. Mark's. My old apartment hadn't been particularly susceptible to noise (it was in the back of the building), but I had lost track of the times I had come home at night – or left in the morning – to see vomit, urine, paper plates, and other garbage just outside the front door. That scenery got old…fast. 
My current apartment does have its little imperfections: the floors are slightly slanted, my bathtub is strangely placed, and my counter space is still limited. But it's pretty close to perfect, at least for now. I'm paying just under $1,400/month – a little higher than I had hoped – but I'm more than satisfied overall with my new neighborhood. I definitely want to stay here for a while, and can't wait to see explore what else it has to offer.  
---
Transitions highlights New Yorkers' first impressions as they transition from one neighborhood to another. Want to tell us your transition story? Drop us an email.
Related posts:
Living Next to Union Square: It's a circus, but at least it's convenient

Upper West Side to Hudson Heights: A lot like the pre-condo-ized UWS, for under $3,000 a month
West Village to the Upper West Side: The parent pilgrimage
The Bronx to the East Village: No more cooking (or hauling suitcases to Whole Foods)
Q & A with a serial mover: "It's the number one reason why I'm broke and have no savings"
A move-by-move neighborhood guide for the people, buy the people
How to find a rent stabilized apartment in NYC
8 best websites for finding a no-fee apartment in NYC
Rejected by a landlord lately? Want to get that apartment faster? Here's your secret weapon (Sponsored)
Brick Underground articles occasionally include the expertise of, or information about, advertising partners when relevant to the story. We will never promote an advertiser's product without making the relationship clear to our readers.