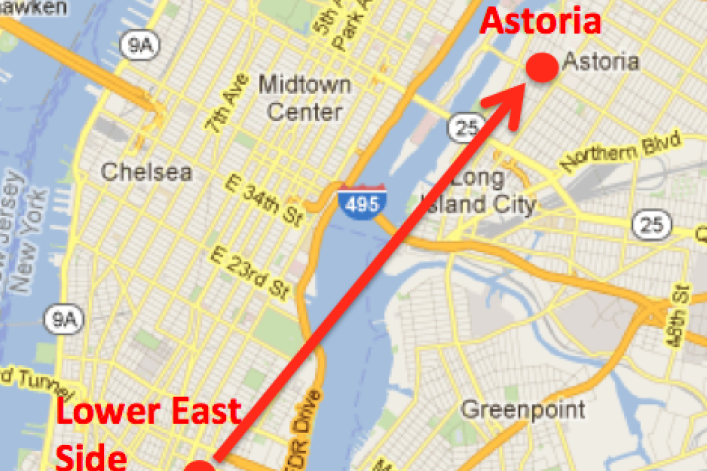 I moved to the Lower East Side in 2004 and lived there until 2010. First I lived on Orchard Street, then I moved to Ludlow, then Stanton, then back to another building on Orchard Street.
My husband and I were paying $2,200 for our last LES apartment -- a one-bedroom fifth-floor walkup.  Because a lot of other apartments in the building were empty, we actually got them to lower our rent to $2,000.
I know people said the Lower East Side was gentrified by 2004, and lost its edge in, like, the 70s, but when I moved in in 2004 it was mostly rock n' roll bars like Barramundi, Motor City and Whiskey Ward. It was definitely filled with arty, music kids. 
That was when the Yeah Yeah Yeahs, the Strokes and Interpol would hang out down there. It was sceney, but in a different way than it is now. 
Then it got more fashioney --  they built the Hotel on Rivington and tons of fashion people would stay there. It was kinda cool though since we used to go and visit the band members who also stayed there. I remember the guy from the Cure would stay there and we all thought that was pretty cool.
Then the Thompson Hotel came and that condo monstrosity known as the Blue Building.
When I first moved to my apartment, you could see some of the Williamsburg Bridge from my window, but they built an SVA dorm and blocked my view. 
And once the college kids moved in -- in late 2008 -- the Lower East Side was done. It was crazy loud all the time. I always chose apartments in the backs of buildings to keep down the noise (apartments in the front of these buildings always had revolving tenants for that reason probably). But still, it was insane. 
We decided to never go out on weekends on the Lower East Side. Instead we'd go out during the week, or go to Brooklyn on the weekends.
It felt like we were getting a little too old for the Lower East Side (my husband's 35 and I'm 32). That, and they were also raising our rent all the time. The kids who were living down there were probably just asking for more money from their parents, but we needed to pay our own rent.
Then a friend of mine moved to Astoria from the Lower East Side and we used to come meet her for brunch and really liked it. I also realized how easy it is to get to. 
I didn't really want to come to Astoria at all, and I had a slight nervous breakdown before leaving the Lower East Side. I was afraid no one would come and visit me if I moved to the outer boroughs... which isn't true.
My husband and I found a one-bedroom on the border of Astoria and Long Island City, on 35th Street and 35th Avenue (above Sunswick 3535 Bar), for $1,300. It's a fourth-floor walk-up in a renovated building, and it is definitely a great deal. Other one-bedrooms around here go for about $1,500.
I work on 23rd and Sixth, and take the M train, which is fine for commuting, but doesn't run on weekends or after 11. I'm also in between the N and Q, and the other side is the R and the M. At least where I live in Astoria it's pretty convenient.
It's not crazy cheap -- still NYC -- but it's more my speed at my age. I like how the bars here are mostly beer gardens, and neighborhood places -- they're not about blaring music.
There's tons of great food ... I feel like Astoria is all about the food. There's a Greek seafood place called Taverna Kyclades that's really good and a grilled cheese place called The Queens Kickshaw that also has nice coffees and kombucha tea, and feels very Williamsburg-y -- there's more and more of that these days. There's a cool boutique that I like to check out called Site.
I'd say the majority of the neighborhood is made up of families, but I've definitely seen some hipsters bringing up my rent.
Astoria is so big that we recently bought a scooter to ride around. They opened a farmer's market down by the water and we scoot there. Astoria Park is huge and has a pool, so we like to scoot there too. That's actually in the Ditmars area and living there can be pain in terms of transportation, but it's pretty and residential.
I still think, though, that if all things were equal, and we could get the same deal on the Lower East Side, sadly, I'd probably move back. 
One of the things I miss most is being able to walk to other cool neighborhoods on the weekends. Walking around in Astoria is just not as interesting... it's more residential, and you just don't have the same selection of boutiques and things as you do in the city.
I also like Manhattan for its spontaneity. You can just go do stuff. You don't have to plan it out, just walk or hop in a cab and you're there.
I do think I prefer going out in the outer boroughs. (Wow, I never thought I'd say that!) As I've gotten older and I'm not looking for people to hook up with. loud bars are not my scene anymore, but I still like drinking and the bars in Brooklyn and Queens are bigger, with more seating and the music isn't as loud.  I still love the restaurants in Manhattan as much as the ones in BK/Queens. I love eating in every borough!
---
Transitions highlights New Yorkers' first impressions as they transition from one neighborhood to another. Want to tell us your transition story? Drop us an email.
Related posts:
Lower East Side to Chelsea: Moving up and growing up
Astoria to Alphabet City: Escape from the N/Q trains
From Astoria, Queens to Upper Manhattan: Glad to be back
From the Lower East Side to Brooklyn Heights: No sleep 'till Brooklyn 
A move-by-move neighborhood guide for the people, buy the people
How to find a rent stabilized apartment in NYC
8 best websites for finding a no-fee apartment in NYC
Rejected by a landlord lately? Want to get that apartment faster? Here's your secret weapon (Sponsored)
Brick Underground articles occasionally include the expertise of, or information about, advertising partners when relevant to the story. We will never promote an advertiser's product without making the relationship clear to our readers.