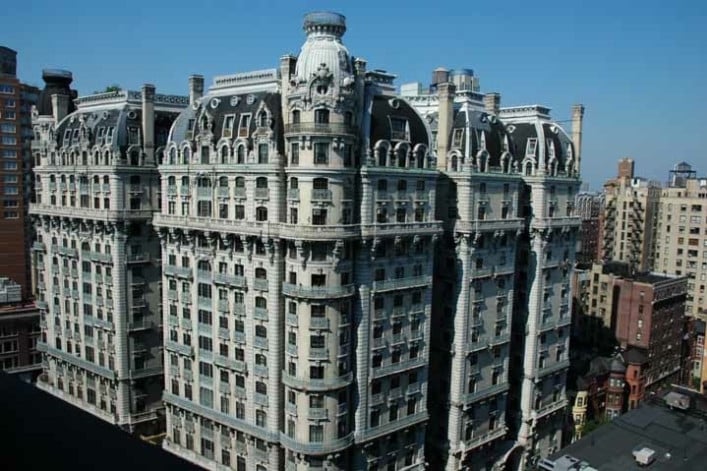 We're pretty into ABC's new supernatural real-estate-horror drama "666 Park Avenue" (see our interview with the show's producer here).
Following the season debut of the series last night, we thought we'd share some of our observations.
The ultimate lesson we learned from the show echoes our own real-life NYC real estate experiences: What you see is not always what you get. 
Myth: 666 Park Avenue is an actual building
While the building used for 666 Park Avenue is an actual New York building, it is not called the Drake and is not on the Upper East Side. The building (pictured) is the Ansonia, located at 2109 Broadway at 73rd Street. 
And while the Drake was constructed in 1923, The Ansonia's construction actually began in 1887. (It was finished in 1904 and was once a residential hotel.)
The Drake houses 203 apartments and 388 tenants while the Ansonia actually has approximately 390 units. There are 13 floors (naturally) in the Drake--the diabolical landlords' own penthouse is on the top--while there are 17 floors in the Ansonia.
Lastly, while the Drake is pitched as one of the few buildings of its caliber that is still rentals only, the Ansonia converted to condos in 1992 and allows apartments to be sold as rent-stabilized tenants vacate.
The real 666 Park Avenue, as the New York Times reported recently, is actually three floors of a prewar limestone building at 660 Park Avenue.
Myth: A part-time, totally inexperienced property manager/super would get a rent-free two-bedroom, two-bath luxury apartment in exchange for services
On the show, newbie property managers Henry and Jane are housed in a two-bedroom, two-bath unit (3B) in the Drake for free in exchange for their management of the building. And their job is only part-time!
In reality, they would be known as "resident managers" vs property managers, which are typically offsite companies that manage many buildings at once.
Also, while (full-time) supers and resident managers often get apartments as part of their package, they're hardly one of the building's most expensive apartments (in this case a huge third-floor two-bedroom, two-bath with multiple exposures and two gas fireplaces). And they're often on the ground floor.
A  similar unit to the one Henry and Jane have in the Ansonia is on the market for $11,000 per month according to StreetEasy.
Reality: New York City buildings have Peeping Toms
One character on the show is a playwright named Brian who stares at his next door neighbor through her windows. Living in NYC, it is not at all unusual to be able to see your neighbors or become morbidly fascinated by them (hey, it happened to me).
In fact, New York is one of the best cities in which to peep; consider the Standard Hotel, a full-glass walled hotel sitting atop the Highline where park visitors can peer in each hotel window from below. 
Reality: Elevators can sometimes have a mind of their own
In the pilot episode, one of the residents of 666 Park, a photographer named Louise, is caught half-in, half-out of an elevator. While we don't see exactly how it happened, we know supernatural forces are at play.
While I have never personally had an elevator mishap, unfortunately this has happened in NYC before. In fact, in an interview with BrickUnderground, fashion publicist Kelly Cutrone told us about her wacky elevator, which she described as  the "Disney Tower of Terror," suspecting it has a secret life. Oh, and then there's the man who was trapped for over 40 hours in a NYC elevator in 2008, and the tragic death of a NYC woman who was killed in her office building's elevator. 
Myth: If you move to NYC, everyone in your building and around you will be gorgeous
While it is not unlikely to find well-dressed, good-looking model types throughout New York City, it would be extremely rare to have everyone in the building, including the landlord, be superstar good looking like they appear to be at "666 Park Avenue."
Although I think this is what FiDi's William Beaver House aspired to be. If only brokers took their cues from central casting.
Reality: Your neighbor will steal unusual things from you
In 666 Park Avenue, we find out that several trinkets have mysteriously gone missing thanks to comments made by a young tenant named Nona and signs posted in the building's basement. Later in the episode we see Nona sneakily stealing a necklace from June, the naïve property manager.
This is not unusual in NYC.
For instance, my ex-boyfriend left his bike chained outside my apartment and by the next day it was gone. It was the second bike of his that year stolen, and they were not fancy bikes by any means. My super even took a soda out of a case at my door and a bag of bones thinking I wouldn't notice. No matter how little value something might have, in NYC, someone will could snatch it from you... whether or not they've sold their souls.
Related posts:
10 things I learned from YouTube about living in a micro-apartment
15 things I've learned from  "Million Dollar Listing" so far
What I learned from going home with strangers
The 20 deadly sins rental agents should never commit (but do)
Brick Underground articles occasionally include the expertise of, or information about, advertising partners when relevant to the story. We will never promote an advertiser's product without making the relationship clear to our readers.