Transitions
Riverdale to Murray Hill: "Murray Hill hurts my brand...but you can't beat the convenience"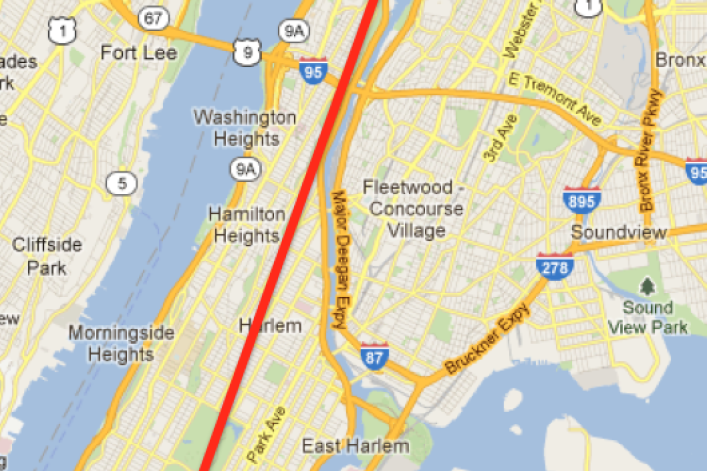 I lived in North Riverdale (at my parents' house) from August of last year until July of this year. The good thing about living in that neighborhood was that it's really quiet. 
I work in the Flatiron District where it's always loud, busy and dirty, and getting back to Riverdale at night felt calm and peaceful. It's a peacefulness you don't get in the city.
Of course there was no nightlife to speak of. And in the city, if you come home from work at 9 and you want something to eat, you have so many options. In Riverdale things close early.
When I came home late at night on the weekends, I usually relied on Metro-North (which was about a 5-minute cab ride from my house). It's a real experience on the weekends. You have high school and college students and young professionals drunk and eating street meat sandwiches on the train. It can be kind of funny but it's also annoying.
If I wanted to go out in the city it required A LOT of planning -- knowing the train times, hauling around a bag. In July, I moved to 36th and Lexington.  Now going out is so easy -- I can just make plans at the last minute. 
The apartment that I rent is in a co-op building, which reminds me of  the pre-war Upper West Side building my grandparents lived in -- it feels like home. 
The problem for me is I'm a 29-year-old single professional person and I'm living at the top of Murray Hill. I'm just so past that stage in my life. 
Where I live is definitely convenient -- it takes 15 minutes to walk to my office in the Flatiron District, I go to the gym nearby (Equinox on 33rd and Park Avenue) and I'm a season ticket holder for the Rangers and I can walk to Madison Square Garden.
But when I tell a girl where I live, I say 36th Street, not Murray Hill. I'm not "Bro"-ish anymore and I don't want her to think I am.
Honestly on the weekends -- unless I'm going to Walgreens -- I try not to go east of Lexington at all.  That's where the post-college partying is. The neighborhood is quiet during the day on the weekends, but at night it gets crazy.
It is pretty bad .. it's a lot younger than me, and a lot of people are having their first experiences in New York. That's great for them, but as New Yorkers, we can be snobbish.
I didn't originally plan to move to Murray Hill. I was looking in the West Village, SoHo, NoHo and, and though those are primo locations socially and the restaurants are awesome around there, the apartment quality I was looking for wasn't there. 
You want to feel safe. My building has a great doorman -- it feels mature, like a professional single person's apartment.
And in terms of convenience, the location cannot be beat,  I have a 15-minute walk to work and since I'm in the heart of midtown I can get to almost any subway line. There's no hassle with traffic, and I don't need to take a cab anywhere. If I wasn't a New Yorker, I might miss the experience of being on the subway, but I don't need that.
There are some local restaurants I like to order in from, like Libretto's, a great neighborhood place with really good pizza, and the Second Avenue Deli. But I don't spend that much time in the neighborhood, and tend to venture uptown or downtown more often. 
People say you set your brand. I'd say aside from the fact that Murray Hill hurts my brand, the apartment was right.
---
Transitions highlights New Yorkers' first impressions as they transition from one neighborhood to another. Want to tell us your transition story? Drop us an email.
Related posts:
From Murray Hill to the UWS: The real estate equivalent of growing up
My Murray Hill walk-up is still perfect -- if only the neighborhood would shut up
How to find a rent stabilized apartment in NYC
8 best websites for finding a no-fee apartment in NYC
Rejected by a landlord lately? Want to get that apartment faster? Here's your secret weapon (Sponsored)
Brick Underground articles occasionally include the expertise of, or information about, advertising partners when relevant to the story. We will never promote an advertiser's product without making the relationship clear to our readers.