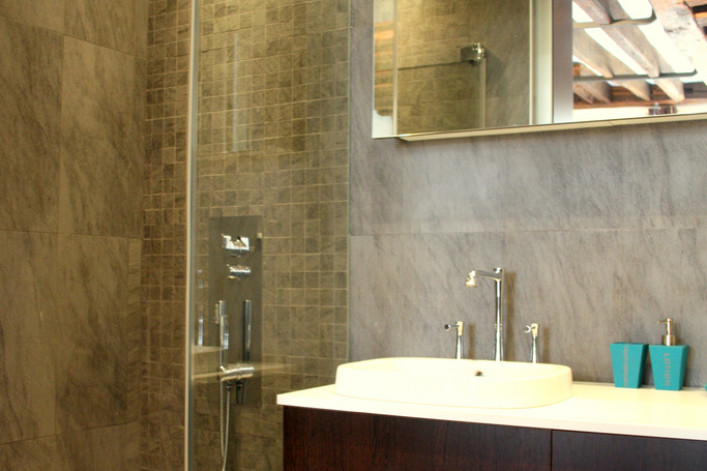 Q. I'm looking to renovate and don't know where to start. Are there any seemingly great ideas that have gone awry I should be wary of?
A. Even the most premeditated renovation can spawn some regrets in the aftermath. And when you're paying NYC prices, that's definitely something you want to avoid if you can.
Start by asking each of the professionals involved in your project to point out aspects that may bear rethinking.
"I find that architects make things pretty from the outside, and designers make them livable on the inside. The combination is ideal," says Manhattan interior designer John Lyle.
Your contractor can also be an invaluable sounding board.  
"If we are able to explain why a client's idea may not be the best, 99 out of 100 times they will appreciate us for it. If you have a contractor that is always a  'yes' person, then sometimes it's a red flag to stay away," says Alex Usharyov, a New York City general contractor and co-founder of ClickandImprove.com, a home improvement website offering hassle-free fixes for home repairs and typical renovation conundrums.
You should also run your plans by a real estate broker, who can point out mistakes that could potentially hurt you upon resale.
Here are six of the most common faux pas in the world of New York City apartment remodels, according to the experts.
1. Getting rid of the tub
If your apartment has just one bath tub, converting it into a walk-in shower may not be such a hot idea.  
"Walk-in showers don't appeal to families with children," says Usharyov.
Where does the baby get a bath? Lose the shower curtain and try adding a glass shower door to get the feeling of a shower instead.
2. Installing modern flooring in a prewar apartment
If you own a prewar apartment, installing a bamboo floor or another modern alternative could be a mistake when it comes to resale. Although attractive and durable, staying true to the architectural details of the building may be best.
If your oak or maple floors are in poor condition and cannot be salvaged, replace them with the same type of wood or something comparable.
Don't use pre-finished, engineered, or other materials like stone or tile either. These could depreciate the overall value of your apartment since many potential buyers are looking for prewar apartments with character and close-to original detailing.
3. Eliminating closets
Removing a closet in order to gain space in a bathroom or bedroom may seem like a good idea, but only if your apartment already boasts other closets. Often the apartments that are the easiest to live in and sell quickly are those with abundant close space.
"While more living space may seem appealing, buyers often tend to look at simple things like storage and closet space," says Usharyov.  An uncluttered living area will go further than a bedroom with a few extra feet.
4. Ungainly tile
Just because you see an 18"x18" tile in a stylish bathroom at Home Depot or Lowe's (where the bath models may be made for suburbia) doesn't mean it will work for your city space. Selecting a tile size that's too large for a small apartment kitchen or bathroom could be a costly and messy error to fix.  
Buy a few sample tiles and lay them out on your floor to get a sense of scale and proportion. Or better yet, hire a designer as we suggested above, who can help you with selections. He or she will not only suggest the appropriate size and material, but can draw the tile to scale on a floor plan so you can get an idea of what it will look like before the installation.
Also keep in mind when budgeting that mosaics and other intricate patterns are pricey (they can cost $60 per square foot and higher to buy and install) and labor intensive. Be sure to factor that into your overall cost (and timeline) so you can afford that rainfall showerhead you've been dreaming about.
5. Turning a two-bedroom into a one-bedroom 
One of the most common reno mistakes committed by New York apartment owners is removing a wall to enlarge a room--but losing a bedroom.
It may look great on paper (you can picture those huge holiday parties while everyone grooves under a disco ball), but in reality, if you give up a room, be prepared to rebuild the wall before putting the apartment on the market, or it will be classified as a one-bedroom instead of a two-bedroom. This could mean two things: a more limited group of potential buyers and a lower asking price. 
6. Combine two apartments in one awkward layout
Combining two apartment units may seem like no big deal, but a seamless transition is far from easy.
"More often than not, combining apartments results in an awkward layout with aspects many buyers will object to, like having to walk through a kitchen to get to the bedrooms, a bathroom in the wrong place, or all of the above and then some," explains real estate broker Gordon Roberts of Warburg Realty.
Compounding the error, says Roberts, sellers typically try to recoup the investment of the two apartments plus the steep renovation, "which inevitably is more than the market will bear." Add the hefty monthly maintenance bill of both units on top, and resale can be nearly impossible.
---
Wondering about renovating? We want to answer your Renovation Qs. Just send us an email!
Related:
Renovation Qs: Home Depot Vs. Ikea
Renovation Qs: How can I keep noise, dust and odors to a minimum so my neighbors don't hate me?
Renovation Qs: Why is it so expensive to renovate in NYC? And what can I do about it?
The 8 most common feng shui screwups in NYC
NYC renovation chronicles: A pre-renovation checklist for your contractor
A few tips for wallflower-proofing your apartment
Brick Underground articles occasionally include the expertise of, or information about, advertising partners when relevant to the story. We will never promote an advertiser's product without making the relationship clear to our readers.