Transitions
Upper West Side to Park Slope: Affordable outdoor space, fewer bankers and lawyers, and you can always see the sky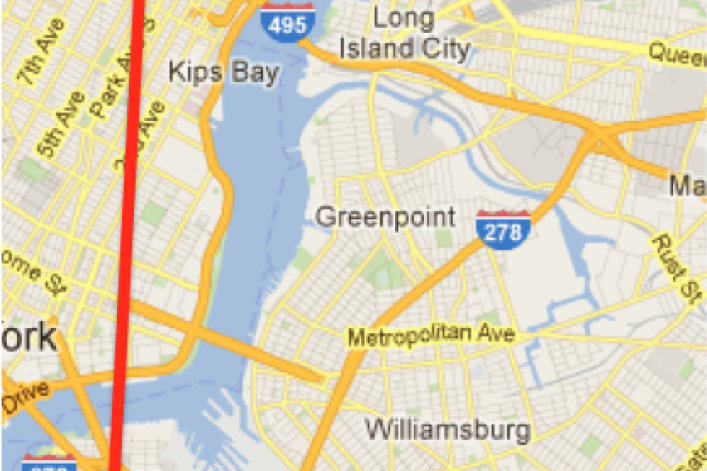 Since moving to New York in 2004, I've always lived on the Upper West Side -- first in the West 70s, then in the 80s, and finally in the 90s, in a two-bedroom rental on 94th and West End that I shared with my husband and nearly three-year-old daughter.
In June we bought a three-bedroom duplex in Park Slope.
One of the reasons we turned to Brooklyn was because we really wanted outdoor space. Unfortunately, I don't think you can do that in Manhattan without spending a ton of money.

In Park Slope we bought a duplex apartment with two decks for about $1.5 million.

Honestly, in a lot of ways the two neighborhoods feel very similar -- tons of dogs and babies and strollers in both, but Park Slope is much more eclectic and more diverse. I feel like I see people of all different colors more than I did on the Upper West Side.

A lot of the people walking around are also from neighborhoods next door, so that's where some of the diversity comes from.You also see a lot of younger people, since they've really gravitated toward Brooklyn.

There are also more people working in creative fields, and people with more flexible schedules like me [a freelance writer/editor]. You're not meeting as many lawyers and bankers, and there are a lot of people who do arts and non-profit work -- things that are harder to sum up in one sentence.

I work from home a lot, and when I was on the Upper West Side I always worked at Starbucks because there were two within two blocks. Here there are many more options. I mean, don't get me wrong, you're still often looking for an outlet or a free table, but there are more options of smaller, independent places. Right now I'm sitting in Kos Kaffe on Fifth Avenue.

Before we bought our place we also looked in Brooklyn Heights, Cobble Hill and Carroll Gardens, too.  One of the challenges was that there are just a few kinds of housing stock in Brooklyn -- there are the brand new, shiny developments that just aren't our speed and then there are the brownstones and single-family multi-level homes. The ones that were in our price range needed some work, and I didn't love the idea of having to go up three flights. I'm lazy.

We really just wanted a duplex, and there are just not that many duplex apartments in Brooklyn that are not within brownstones, but we did find one in a condo building that just has ten units. 

One thing that's nice about Park Slope is its semi small-town vibe. We have more space and outdoor space and the buildings aren't that tall, so you can always see the sky. 

But I definitely still feel like we're in the city. Plus we have all the conveniences of city living -- like FreshDirect!

I grew up in the New Jersey suburbs and it feels like a long time since I've been there. I have to admit there are times when the yard and car seems appealing. But, I still don't think I want to go have to get into the car to buy milk.

We're still new to the area,  and I'm not sure we're cool enough to be discovering new restaurants, but we're definitely knocking the well-established places off of our list. So far we've gone to eat at Franny's and Stone Park Cafe. 

I went to yoga at Park Slope Yoga on Union recently. I used to be a regular at my place on the Upper West Side. It's a little daunting to start fresh but it's also cool, and you find yourself being more open. It's a bit of an anthropological experiment, too. I  just love looking at people. 

Honestly, It's been a fairly smooth move. It's kinda by the playbook to make the move from the Upper West Side to Park Slope, because the two neighborhoods offer a lot of the same things  and appeal to the same demographic.

There are a lot of people here like my husband and myself. Sometimes I'll be walking down the street and say, "Hey, I have that stroller, and hey, I have her shorts, too." We all look like little clones some times.
---
Transitions highlights New Yorkers' first impressions as they transition from one neighborhood to another. Want to tell us your transition story? Drop us an email.
Related posts:
From the West Village to Prospect Heights: "I was Manhattan-ed out" 
From Park Slope to Fort Greene: Fewer strollers, more diversity
From Murray Hill to the Upper West Side: The real estate equivalent of growing up
Rent Coach: Best Brooklyn neighborhoods for a West Village refugee
How to find a rent stabilized apartment in NYC
8 best websites for finding a no-fee apartment in NYC
Rejected by a landlord lately? Want to get that apartment faster? Here's your secret weapon (Sponsored)
Brick Underground articles occasionally include the expertise of, or information about, advertising partners when relevant to the story. We will never promote an advertiser's product without making the relationship clear to our readers.