Room for Improvement
Room for Improvement: Dreaming of a rooftop garden, a few more windows and a dumbwaiter conversion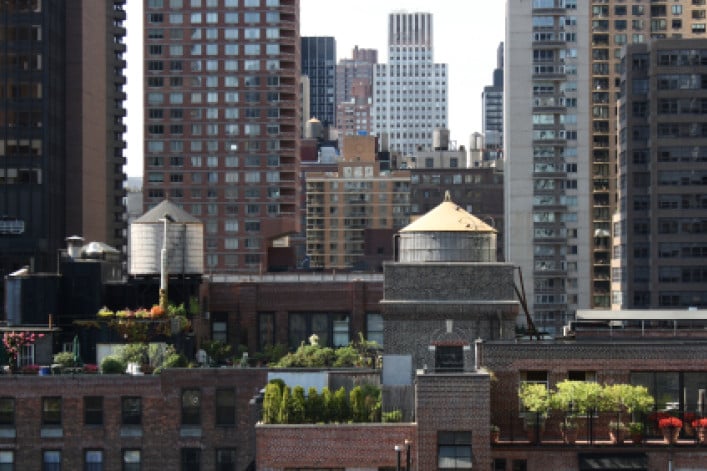 What is the one thing you would change about your apartment if you could? We asked five New Yorkers, and here's what they said:
Fewer odors: "I'd fix the smell of our apartment and building. Our super only works weekdays therefore the trash area overflows on the weekend making the common area smell like garbage. That combined with the fact that we live over a restaurant with a wood-burning oven that makes our whole apartment smell like burnt hotdog, there is often a very bad olfactory overload." - Josh, Chelsea
A swinging door: "I'd change the amount of space between the wall and the door when it's opened. I have to squeeze through to get in to my apartment through the  front door and also have to squeeze through my bathroom door.This really bothers me. I never realized how much a free swinging door can really affect your space." -Laura, East Village
Greener space: "I'd love to be able to design and plant a rooftop garden." - Joseph, East Village
Light and air: "I would add more windows. My living room has one skylight, but there are no windows in the kitchen, bathrooms or dining room.The cathedral ceilings need ceiling fans to rotate the air."  -Kathy, West Village
A fresh coat of paint and a dumbwaiter conversion:  "If I could change one thing about my apartment it would be to paint on the walls. This sounds like such an easy thing but I live in a pre-war building which has lots of architectural details, so just thinking about the process sounds very time consuming. I am sure I would start but never finish. I would also convert the dumbwaiter into a kitchen pantry. The owner of my building said this is something other people in the building have done, but again, the process just sounds like more than I am capable of." - Samarah, Sunnyside/Long Island City 
Related:
Then & Now: I still love the location but it's time to to head toward the light
BrickUnderground's Renter's Survival Kit
The 7 worst places to live in a building
Brick Underground articles occasionally include the expertise of, or information about, advertising partners when relevant to the story. We will never promote an advertiser's product without making the relationship clear to our readers.