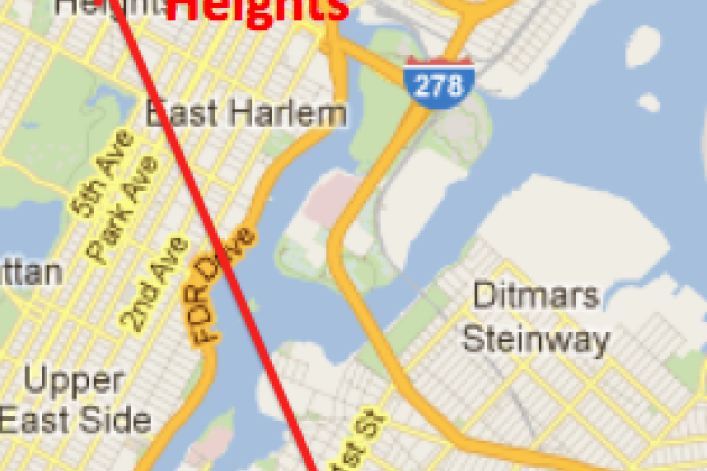 About a month ago, I moved from Astoria, Queens -- where I lived in a spacious one-bedroom for a year -- back to Manhattan, where I'd spent a number of years off and on since moving to New York from Texas in the 1990s.
I'm now on the Upper West Side, in Morningside Heights to be exact, in a share about 25 blocks from my very first Manhattan apartment 16 years ago. 
Manhattan is just where it's at for me. I've never been happy in the boroughs. 
For me, especially being an actor, I'm right where everything is. I don't feel like I'm living out of town. I don't have to travel very far for auditions or rehearsals or anything. In Manhattan, there are more trains running. When I was in Sunnyside or Astoria, it was like half of my life was spent waiting for a train. 
Also, I feel like I'm in the middle of everything, which is important to me. I want to be where my location is, where my life is. I honestly would rather live in a walk-in-closet-sized apartment in Manhattan, next to the train, getting wherever I need to go, having whatever I need at any time of day, any time of night, than have all this space and feeling like tumbleweed is rolling down the street. 
There were some good places in Astoria like the Time Café, which is on 45th and Broadway. I never ate anything bad there, everyone's really nice, and they have Astoria prices. (Full brunch is 12 bucks in Astoria. Ive never seen a 12-buck brunch in the city -- this is full blast, coffee, juice, mimosa, the works.) I also like Bare Burger, which is on 31st Avenue and serves grass-fed meat. That's a great place. Another place is the corner diner called Daybreak. I went there all the time. 
And that's actually the good thing about borough living -- you go to the same place all the time, so they start to wonder if you died or moved if they don't see you for a while. 
Still, there's no comparison to Manhattan for me, even though I now live in a dorm-sized room. I've  even got a twin bed. I have roommates. I can hear the train on 125th street. 
The subway is loud, it's obnoxious. But I'm so happy being back in the city I just don't care. I don't care about the noise. I got earplugs. Who cares?
The block itself is really quiet. The apartment's really clean. Everything's so convenient. There's a great Italian restaurant across the street (Pisticci), and loads more restaurants just around the corner (Toast, Bettolona). 

I'm right above Columbia University, and directly above the Manhattan School of Music. I hear these students practicing their stringed instruments, and their horns -- it's so great to be around the arts. I feel supported just by the energy as I write my stage show.

No offense to Queens, but I'm a city girl. If I wanted to be out of the city I would have stayed in Texas.
---
Transitions highlights New Yorkers' first impressions as they transition from one neighborhood to another. Want to tell us your transition story? Drop us an email.
Related:
From Hell's Kitchen to Astoria: I'll take Manhattan
14th Street to Carroll Gardens: "Even if we could afford to move back to Manhattan, we wouldn't"
From the West Village to Prospect Heights: "I was Manhattan-ed out" 
Rent Coach: Best Brooklyn neighborhoods for a West Village refugee
Find an agent with BrickUnderground's Agent Referral Service
How to find a rent stabilized apartment in NYC
8 best websites for finding a no-fee apartment in NYC
Brick Underground articles occasionally include the expertise of, or information about, advertising partners when relevant to the story. We will never promote an advertiser's product without making the relationship clear to our readers.