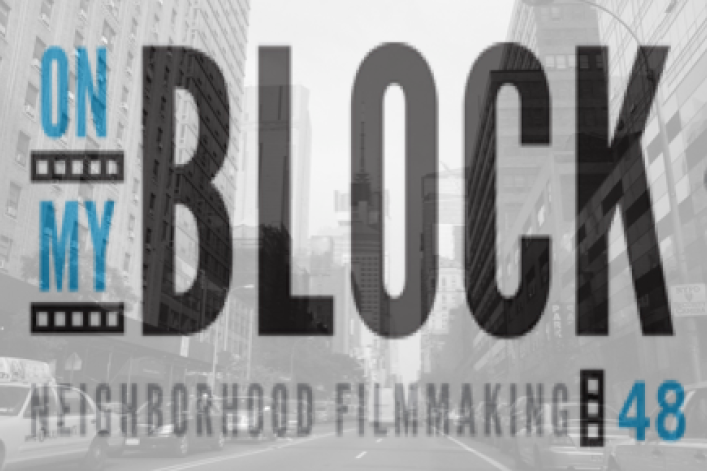 One issue many New Yorkers lament is just how anonymous the city can be. How many of us actually know our neighbors?

Just ask Ryan O'Hara Theisen, founder of the On My Block neighborhood filmmaking project, who's moved four times in six years—from Hell's Kitchen to the Lower East Side to Park Slope and now Carroll Gardens— but has never really met his neighbors.

"In Carroll Gardens, I love the restaurants and the trees and the quiet, but there is a whole other part of living in a neighborhood that wasn't there," he said.

He wants to change that with On My Block, which invites any borough resident—teenagers, senior citizens, even prison inmates--to create short documentary or narrative films using only their blocks residents as cast and crew.

O'Hara Theisen recruited Mary Crosse, a former co-worker who also happens to share a passion for filmmaking, to be the director of the project.

Crosse was also involved in a similar New York social experiment last summer called Conversation Dominoes, where she met and documented new conversations with new interesting people through her personal network.

Through the On My Block project, the team hopes to bring neighborhoods and communities closer, at the very least, provide the opportunity to walk next door after work and introduce yourself. Anyone can make a film with any type of camera, even an iPhone video recording.

To submit your video, you only have to meet a few requirements: Keep the story short -- one-to-five minutes; shoot it with your neighbors on your block; produce, edit and upload the film to Vimeo between August 1st and November 1st; and, title all films with your cross streets, e.g. 32nd and 3rd, if that's where you live.

Anyone can vote by "liking" the video on Vimeo once it's submitted, approved and uploaded. The top 15 films will be entered in an outdoor film festival in the fall, where the number of public votes, or "likes" on Vimeo will count as 40 percent of the final evaluation process.

At the festival, a panel of judges will determine the remaining 60 percent based on story, creativity and entertainment value. Awards will go to best narrative, best documentary and best in show.

On the website, you can sign up to get on the mailing list to be a filmmaker or a volunteer.

"We are really looking to connect with community neighborhood and city leaders as possible," Said O'Hara Theisen. "We're looking at politicians, church leaders, senior living homes, and prison systems, because they're part of the community, too. We'd love to hear from anyone who would like to be involved, is moved by this or would have the ability to put the word out there."
Related posts:
Neighborly nuisances, and how to avoid them
Top 10 neighbors we'd live to have
Brick Underground articles occasionally include the expertise of, or information about, advertising partners when relevant to the story. We will never promote an advertiser's product without making the relationship clear to our readers.