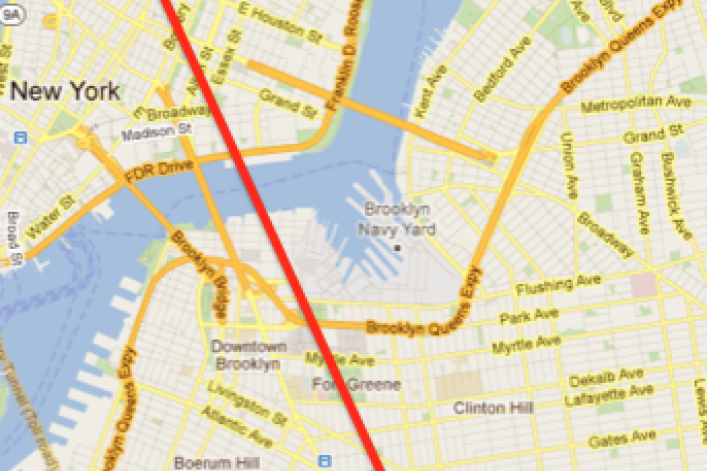 My wife and I lived in a one-bedroom on West 11th Street between Fifth and Sixth for three years after we got married. Before that, I'd gone to Cardozo Law School, so I spent almost seven years in and around that neighborhood.

The West Village is a great place to live when you're young -- whether your're single, dating or just married. There are so many great restaurants and bars. I loved Sushi Samba, The Grey Dog Cafe, and then some more off-the-radar places like Piadina, a small Italian place on West 10th Street.

I also loved the convenience -- where we lived was where all the subways come together. The A,C,E, B, D, 1, 2, 3 and even more were all within two or three blocks.

But a little over a year ago, after three years in the same apartment, we moved to a two-bedroom in Prospect Heights, Brooklyn, because we knew we wanted to have kids and would be priced out of the Village. For example, there was only one family in our old building and they lived in the penthouse -- you have to be really wealthy to live there with a family. Where we live now, there are a zillion kids. It's so kid-friendly.

And honestly, by the time we left, I was Manhattan-ed out. It's so crowded and dense. I wanted to have more space and just live in a more residential area.

It's also been great to have a real park, Prospect Park. It's a green park, unlike Washington Square Park. It's great to take walks and just relax on the lawns. In the summer, there's a free concert series there.

And Prospect Heights is always getting more restaurants and bars. Here there are two main roads -- Vanderbilt and Washington. Since we've been here, a new restaurant or bar or shop has opened up on one of those streets just about every month.

We love an Italian place called Amorina, and Ample Hills is the best ice cream I've ever had -- their salted caramel and Mexican hot chocolate flavors are amazing. They also have a play area for kids. 
There's something exciting about living in a place that's growing so much.
Another nice thing about Prospect Heights it's a very mixed neighborhood -- you have a lot of Section 8, subsidized housing but you also have the super-luxury Richard Meier building on the Park. Every building is different and it's a mix.

Some people are really worried about the Atlantic Yards project bringing in tons of traffic, people and just generally making the neighborhood feel too busy and crowded, but as a Nets fan, I'm excited about it.
We're not as close to as many subways as we were in the Village, but we have a car. In Manhattan it's annoying to have a car, but here it's great. We do our shopping at the Fairway in Red Hook, and we can even afford an outdoor lot, which is much less than in Manhattan. We pay about $160 and indoor lots are around $400.

I definitely miss some of the restaurants and the nightlife in the West Village, but I really, really  prefer Brooklyn. I like that it's residential, that it's a lot quieter. It works for our family.
---
Transitions highlights New Yorkers' first impressions as they transition from one neighborhood to another. Want to tell us your transition story? Drop us an email.
Related:
Is it a good idea to buy a co-op in a brownstone?
Rent Coach: Best Brooklyn neighborhoods for a West Village refugee
Find an agent with BrickUnderground's Agent Referral Service
4 reasons why a bad economy is good for Brooklyn real estate
Brick Underground articles occasionally include the expertise of, or information about, advertising partners when relevant to the story. We will never promote an advertiser's product without making the relationship clear to our readers.